Then I saw thrones, and those seated on them were given authority to judge. I also saw the souls of those who had been beheaded for their testimony to Jesus and for the word of God. They had not worshiped the beast or its image and had not received its mark on their foreheads or their hands. They came to life and reigned with Christ a thousand years." — Revelation 20:4
ISIS has discovered one way to bring Christians together. Pope Francis notes:
Speaking in Spanish to an ecumenical delegation from the Church of Scotland, the Holy Father noted those killed only said "Jesus help me."

"They were murdered just for the fact they were Christians," Pope Francis said.

"The blood of our Christian brothers is a witness that cries out," said the Pope. "If they are Catholic, Orthodox, Copts, Lutherans, it is not important: They are Christians. The blood is the same: It is the blood which confesses Christ."

Pope Francis said that in remembering "these brothers who have been killed simply for confessing Christ," Christians should encourage one another in the ecumenical goal, noting the "ecumenism of blood."
Amen. Let us remember the names of 21 new martyrs; let us speak their names in remembrance.
As they now stand amid the white-robed multitudes, and behold the Throne of the Almighty One, let us speak their names in prayer. As they shimmer within the great cloud of witnesses, let us — in the Communion of Saints — ask their intercession before the Lamb.
Let us ponder the increasingly chaotic world in which they were slain; let us consider the people who murdered them, who seem hell-bent on Apocalypse. It feels as though a world full of small fires, public and private, are simply purposeful distractions meant to prevent our noticing a bonfire being built — a coming conflagration.
Therefore, let us ask these new martyrs for their prayers:
+Holy Martyr Milad Makeen Zaky, pray for us, and for the whole world,
+Holy Martyr Abanub Ayad Atiya, pray for your ISIS murderers,
+Holy Martyr Maged Solaimain Shehata, pray for their salvation,

+Holy Martyr Yusuf Shukry Yunan, pray for the release of their all their captives,
+Holy Martyr Kirollos Shokry Fawzy, pray for all in the path of ISIS,
+Holy Martyr Bishoy Astafanus Kamel, pray for the displaced, for those made refugees by ISIS,
+Holy Martyr Somaily Astafanus Kamel, pray for the protection of our Holy Lands and our history,
+Holy Martyr Malak Ibrahim Sinweet, pray for those who act now in resistance against ISIS,
+Holy Martyr Tawadros Yusuf Tawadros, pray for those in immediate danger from forces of evil,
+Holy Martyr Girgis Milad Sinweet, pray for those infected with the virus of hatred and extremism,
+Holy Martyr Mina Fayez Aziz, pray for families being challenged, throughtout the world, by ISIS,
+Holy Martyr Hany Abdelmesih Salib, pray aid workers may draw together, unmolested, to give assistance,
+Holy Martyr Bishoy Adel Khalaf, pray for the targeted clergy and religious of the Near East churches,
+Holy Martyr Samuel Alham Wilson, pray for all people of good will, in every religion, every nation,
+Holy Martyr Whose name we do not know — you "Worker from Awr village" — pray for those in leadership, whose names we know all too well, that their motives may be purified of political intrigue, and for their salvation,
+Holy Martyr Ezat Bishri Naseef, pray for Jews, throughout the world, chosen of God and so despised,
+Holy Martyr Loqa Nagaty, pray for the "two lungs" of Christianity, East and West, to breath together,
+Holy Martyr Gaber Munir Adly, pray for the illumination of that which is All-Good,
+Holy Martyr Esam Badir Samir, pray that in beholding it, we will wish to serve it,
+Holy Martyr Malak Farag Abram, pray for the generation in power, that their egos may be put aside and their hearts might be opened to the Way, the Truth and the Life,
+Holy Martyr Sameh Salah Faruq, pray for the generations to come.

O New Martyrs, through a malevolent force as old as Eden you now number among the ancient holy ones; keep us particularly in your prayers, as once again we are focused on the mysterious lands where humanity first came into being, and into knowing, and where all will finally be revealed. Pray that we may put aside all that is irrelevant to the moment and, looking forever to the East, prepare our spirits for the engagements into which we may be called, whether we live amid these places of ancient roads and portals, or in the most modern of dwellings.

Mary, the God-bearer, pray for us,
Saint Michael the Archangel, pray for us,
Saint John the Forerunner, pray for us,
All Holy Men and Women, pray for us.
Amen, Amen.
I feel insufficient to the task. Add your own prayers in the combox.
UPDATE:
Deacon Greg is naming these martyrs in his Ash Wednesday homily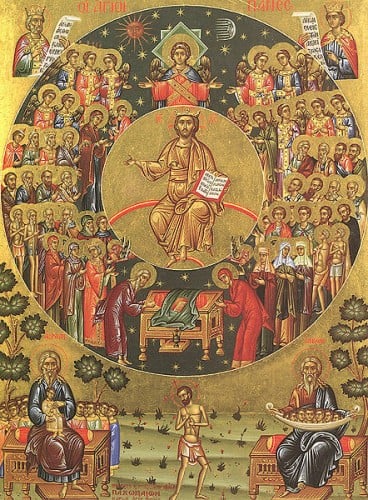 Related:
The Atlantic: What ISIS really wants: when people tell you what they are about, take them at their word until they prove otherwise.
This article only reinforces for me that the West lacks an essential tool that is utterly necessary to defeat ISIS: Can you guess what it is?
More:
Max Lindenman: "I've been warned that wearing a cross openly in Turkey means asking for trouble."
Catholic Answer: O Saints, teach us what you know.
5 Things You Can Do to Help