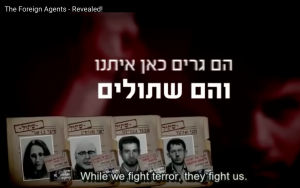 Israeli right-wingers are going off the rails and taking Israeli democracy with them.
The Jewish Home Party, which represents the interests of religious Zionist nationalist extremists, is sponsoring a "Transparency Bill" directed at shutting down left-wing NGOs.
If passed, the law would require any left-wing NGO that receives 50% or more of its funding from foreign governmental sources to reveal this fact in every single interaction with Israeli government authorities. They would also be required to wear special name tags when lobbying or testifying before committees in the Knesset.
Right-wing NGOs receive spectacularly larger sums of money from many anonymous foreign sources. But because these do not typically come from governments, they would be exempt.
Haaretz published this justification from Jewish Home Party Justice Minister Ayelet Shaked:
According to…Shaked, the bill's sponsor, "blatant intervention in internal Israeli affairs by foreign government through funding is unprecedented and widespread, and infringes on the accepted norms and rules of relations between democratic countries," she said, adding that foreign funding of organizations active within Israel "undermine [the state's] sovereignty and identity."
Now along comes "Im Tirtzu," a right-wing NGO, with a disgusting video that attacks four left-wing NGO leaders as "foreign plants" who suborn terrorism.
In the video (below) the individuals cited as supporters of terrorism are: Ishai Menuhin, executive director of the Public Committee Against Torture; Avner Gvaryahu, director of public outreach for Breaking the Silence; Sigi Ben Ari, an attorney at Hamoked: Center for the Defense of the Individual; and Hagai Elad, director general of B'Tselem, a human rights organization.
The American Anti-Defamation League along with a slew of other Jewish organizations have roundly condemned the video.
The best response that I've seen is a video by Breaking the Silence, an organization of soldiers who document the abuses of the IDF in occupied territories.
Its video points out the rank hypocrisy of Shaked and Im Tirtzu, reminding people that right-wing NGOs like Im Tirtzu receive hefty amounts of foreign funding from some very shady sources such as Pastor John Hagee, founder and national chairman of Christians United for Israel, and quite the classical antisemite:
Im Tirtzu gets its name from Theodore Herzl's famous dictum: "If you will it, it is no dream." Herzl laid out his vision for a Jewish state in his novel, "The Old-New Land," wherein he describes a utopian egalitarian state of Jews and Arabs linking arms in a nation characterized by perfect unity. It was an impossibly naïve idea. But it was a helluva lot better than the dystopia that Shaked and Im Tirtzu have in mind. I fear they may be getting their way.