Please note: This post contains affiliate links. You can read my full affiliate disclosure here.
I'm so happy to bring you this book review! Amanda Martinez Beck  has been a member of the Catholic Working Mothers Facebook group since June 2017, and I was thrilled to discover a few months ago that she was a fellow OSV author as well. And when I saw the subject matter of her book, I couldn't wait to read it.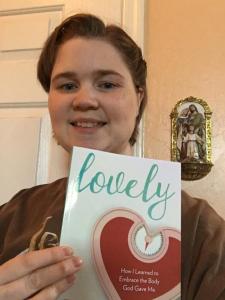 I was lucky enough to get a sneak peak at Lovely: How I Learned to Embrace the Body God Gave Me back in September, because Amanda asked me to write an endorsement for her. After reading it, I was happy to do so. It's really a terrific book, especially for those of us who have spent their entire lives feeling as if they are too overweight to be loved and valued in the eyes of society and, sometimes, in the eyes of God.
Just a day or two ago, in a Pro-Life vs Pro-Choice Facebook discussion group, I was called "tubs" by a pro-choicer who was angry he was losing the debate we were having. Even though I knew the guy in question was a complete jerk, it still stung. And it continued to sting even after the comment was deleted by admins and he was booted from the group.
It was prescient that Martinez Beck's book arrived in my mailbox the very same day. While re-reading it in preparation for this review, I was reminded that my body is a lovely body in the eyes of God, even if it is seen as shameful and imperfect in the eyes of the world. I was again moved by the spiritual insights she relates in Chapter 2:
I found myself a pilgrim, praying before the Blessed Sacrament in a chapel far from home. I looked up at the cross above the tabernacle, with the image of a broken man in agony, suspended between heaven and earth. In front of me was the monstrance, the crafted metal display stand for the consecrated host, Christ in the flesh.

My body tells my story.

The words pressed themselves against my heart, and I considered them. The story in front of me — on the crucifix and in the monstrance — was told in nails and wood, blood and sweat, in a body broken for me, to eat and to remember. It is a story I love, this story that the body of Jesus tells.

[…]

Look at the crucifix. See the broken and bleeding form of the Son of God. His body was broken for you and for me. Even in his brokenness and pain, the body of Jesus is good. This broken God-man lets his body tell us his story, and with tenderness and gentleness he invites us to embrace our own body's weakness. He invites each of us to see the story that our body is telling, leading us to the place where we can truly say: "My body is good, and I love the story that it tells." (21, 27-28)
My body tells the story of the ten children I have carried and nourished within my womb, and of the six children to whom I have given birth. It tells the story of a woman who has moved cross-country, who enjoys hiking in the White Tank mountains, who loves to indulge in a slice of creamy homemade cheesecake and a glass of sweet dessert wine while snuggled up on the couch watching a movie with her loving husband — a husband who frequently tells my that my body is beautiful, and wishes that I felt that same way about it that he did.
Martinez Beck concludes Chapter 2 with:
It is my hope that you will feel brave enough to look at your own story-telling body with joy instead of loathing. Maybe you just can't believe that your body is good, right now, right where you find yourself. I hope that changes as you read this book. Thank you for joining me on this journey, and believe me when I say that it is a journey worth taking. (28)
I can confirm it is a journey worth taking, and I can honestly say that this book has changed the way I look at my body. Where I used to always feel disgust, I can now feel joy. Not all the time, but more often than I used to. It takes time to form new habits, but this is one that is slowly but surely transforming my life.
As I said in my endorsement for Lovely,
Amanda Martinez Beck has written a lovely [and very appropriately-titled] book that teaches women about loving their bodies the way they are, and realizing that their bodies are perfect in the eyes of God even when the world is telling them that they are imperfect. She intersperses her work with moving vignettes from her own journey from an insecure, overweight child to a confident size-dignity activist, and provides insightful questions for reflection as well as guidance in accepting one's body — and by extension, one's self — as a valuable gift with inherent worth and dignity in the eyes of God. This book is a must-read for any woman who has ever looked in the mirror and wished she had a different body.
In fact, I love her book so much that I am giving away a copy to two lucky winners! (Sadly, I can only afford to ship to those in the continental United States.)
You can enter via the RaffleCopter widget below, and/or on Instagram. You may enter both drawings, but you can only win once. The contest begins today, December 6, the Feast of St. Nicholas, and it ends on December 11. I will draw the names of the lucky winners on December 12, the feast of Our Lady of Guadalupe.
If you'd prefer not to wait, you can purchase your copy of Lovely here (if you end up winning a copy, you could give it as a Christmas gift!). You can also listen to Amanda via the Fat & Faithful Podcast, and learn more about her at her website.
Good luck!