Several weeks ago* I was contacted by Sophia Institute Press and asked if I would like a review copy of "Around the Year With the von Trapp Family," and I was thrilled to accept. I love The Sound of Music as well as the tales of the real von Trapp family; I read Maria von Trapp's autobiography several years ago and found it fascinating.
Maria von Trapp wasn't only a former governess turned singing sensation, she was also a devout Catholic (hence her early plans to become a nun) and a talented writer. "Around the Year with the von Trapp Family" is part liturgical planner, part Catholic history textbook, and part biography of the Trapp family. (See the end of this post on how you can get 25% off!)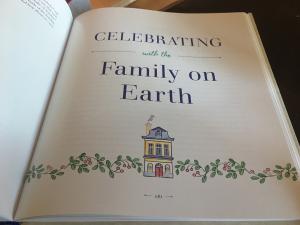 The book is filled with recipes, songs (musical score and lyrics), and suggestions for liturgical living, from Advent to Christ the King, and many of the saint feast days in between. Given that the book was originally published in 1955, some of the recipes could stand to be modernized a bit. For example, I'd love to try a plum pudding (page 22)  but I haven't the faintest clue how to go about following her recipe as she describes the process. Thankfully, other writers have provided more detailed instructions.
There are lovely illustrations done by Rosemary Trapp and Nikolaus E. Wolff. I was very impressed with the book itself in terms of its presentation. It's laid out beautifully, with holly embellishments and colored headers, along with a two-column text layout. It is not a small book, but more of a coffee-table book. It is available on Kindle, but I highly recommend purchasing a physical copy. It was a joy to read both visually and in terms of the content.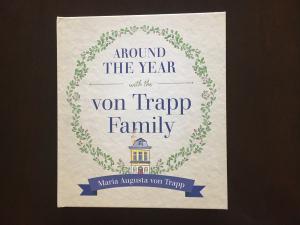 I found the imagery used by von Trapp to be very illuminating as well.
The great feasts of the Church — Christmas, Epiphany, Easter, Pentecost — are privileged to have an octave. That means that the feast is not over at the end of the first evening but is celebrated for a whole week. Octaves follow the feast like the train on a beautiful wedding dress. (32)
I love that imagery, especially with how it ties into Christ as the Bridegroom and the Church as His bride.
Nobody could stand a Thanksgiving Day dinner every day of the year. There can be mountains only if there are also valleys. It is a pity that the Reformation did away not only with most of the sacraments and all of the sacramentals, but also unfortunately, with the very breath of the Mystical Body — that wonderful, eternal rhythm of high and low tide that makes up the year of the Church: times of waiting alternating with times of fulfillment, the lean weeks of Lent with the feasts of Easter and Pentecost, times of mourning with seasons of rejoicing. Modern man lost track of this. Deep down in the human heart, however, is embedded the craving to celebrate, and, perhaps in a dumb way, the other craving to abstain, perhaps to atone. (72)
I'd never thought of the liturgical year as being like the ocean before.
No other time of the year has been so singled out by the Church as [Lent], in that a completely different Mass is provided for every single day, beginning with Ash Wednesday and continuing through the octave day of Easter; and again for the crowning feast of the Easter season, the eight days of Pentecost. If we keep the closed time as faithfully as our forefathers did — which means keeping away from all noisy outside entertainment, such as cocktail parties and and dances — then we shall find ample time for the imitation of Christ as it is outlined in every morning's Mass. (91)
I've been Catholic since 2003 and I didn't realize until I read this passage that there was a different Mass for each day of Lent! Wow!
von Trapp recommends a Lenten reading program (one that I think I may try to adopt this year) where you concentrate on reading three books: (1) something for the mind, such as a treatise on Church history or the writings of a pope; (2) something for the soul, such as the works of the saints or other saintly writers; and (3) something for the heart, such as a well-written biography of a saint.
I was amused by her thoughts on the latter, in which she comments about saint biographies that are not well-written:
But it  has to be a well-written biography, that is, a book showing a human being in the round, with all his shortcomings that had to be overcome by faithful cooperation with grace — and not the old-fashioned hagiography in sugar-candy style with its doubtful statement, carefully stressing that the saint is born a full-fledged saint by describing how the holy baby refused his mother's breast every Saturday in honor of the Blessed Mother (and, of course, the first words of these remarkable beings invariably must be a piously lisped "Jesus and Mary"). (92)
Also, did you know that pretzels and beer are Lenten foods? True story!
And here we should not forget that the pretzel, which is now quite popular at our parties, goes back to the early times when only bread made of flour and water, and a little salt, was allowed during Lent. To make it a little more appealing, it was first shaped in the form of a ring and a cross in memory of the Cross of Our Lord, and later it took on the present-day shape of two arm crossed in prayer. It is said to have been used in the monastery schools of the medieval abbeys as a prize for the pupils and that the name comes from the Latin word pretiolum. In Austria, southern Germany, and Poland, on St. Joseph's Day, March 19, a man would go around and sell pretzels on the streets, and the people would eat them for lunch, together with a "Josephi beer," a special dark, very malted beer. (97)
I think that pretzels (and beer for the adults) will become our new St. Joseph's Day tradition!
This part made me laugh out loud:
I told my children to always look for saints who had the same troubles and the same faults as they did and to ask their intercession. They must know how it is. Whereupon one day one of the little ones said to me, "Mother, I know now why you chose St. Peter as your favorite saint. He could get so mad that he once even cut somebody's ear off!" (158)
I identify with that on a personal level.. and I have smart-aleck kids, too.
The entire book is a treasure trove of tidbits for liturgical living, and I enjoyed it immensely. You can get your copy at Sophia Institute Press, Amazon, Barnes & Noble, or wherever books are sold. If you order from Sophia Institute Press and use the code radio25 at checkout, you can get 25% off!
*Apologies for the lack of posts recently! I received word on January 4 that my beloved grandmother, Violet, passed away, so I have been taking some time to grieve and making arrangements to attend her funeral. I flew to North Dakota this past Thursday, and returned home late Sunday night.