This is a guest post by Megan Harper, a member and moderator of the Catholic Working Mothers Facebook group.
In my postpartum sleep-deprived haze, while breastfeeding my second child, I came across a show on Netflix called Workin' Moms. I started watching immediately: I have only been a mom for two-and-a-half years, but I have been working full-time since five days after I graduated college, with breaks only for the occasional vacation and maternity leave. I was excited about the prospect of a show that I could actually relate to!
Please note: this post contains spoilers for the Netflix show Workin' Moms. If you are opposed to spoilers, stop reading now.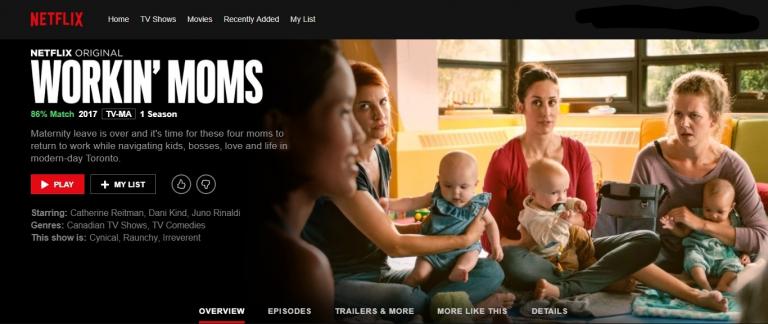 The first thing that struck me about Workin' Moms is that that it was obviously a Canadian show. Year-long maternity leaves were discussed in a matter-of-fact way, and the main character even mentioned to her boss upon her return that she had "only" taken nine months of her maternity leave. It would be really interesting if there was a United States version of the show, because I'd love to see them tackle the topic of 25% of Workin' Moms who are forced to return to work a mere 14 days after giving birth.
The show follows the lives of three best friends who had babies around the same time, and a new friend they make in a super-judgmental mommies group. It tackles topics such as pumping at work; formula-feeding versus breastfeeding; demands from bosses and coworkers to work late and miss out on evening family time — or suffer consequences; conceiving again within the first year after giving birth; finding childcare that is affordable, aligns with your values, and doesn't overstep boundaries; and the ways that being a parent — in particular a working mom — can change your relationship with your spouse.
It certainly doesn't shy away from darker territory. One of the four moms struggles with really terrible postpartum depression, bordering on postpartum psychosis. One could argue that this is treated lightly, and as fodder for comedy. By the same token, it might also be highlighting how people who are suffering from even really terrible postpartum depression might be coping with humor even while trying to tell you how bad things are for them. (As a side note, as a therapist myself, it really bothers me that this person seeks counseling from someone she already has a friendship with. That's an ethical breach.) The show also did a good job of showing the impact on the spouse of the mother suffering postpartum depression, so I don't feel that PPD was treated completely as a comedy gag.
***Content warning: abortion. Also, the following paragraph contains a significant spoiler.***
One thematic element in Workin' Moms that I had trouble stomaching was that the woman who ended up with an unexpected postpartum pregnancy decided to abort the baby. I am fully aware that extra babies cause extra stress, and that unplanned pregnancies can be difficult. However, as someone who has had struggles with infertility and pregnancy loss, it's hard for me to imagine not celebrating any pregnancy, and I found myself feeling the sting of my previous loss as this character moved on past her abortion, seemingly easily. Season 2 is not yet available in the United States, so I don't know if the topic comes back up again.
I am, admittedly, both a social worker and a Catholic; I oppose abortion, as it disregards the rights of the most vulnerable among us. The topic in this instance does contain some nuance in which the woman is facing a very difficult pregnancy that would mean strict bedrest, just as her husband has asked her to carry the financial burden of the family for a while. Ideally, I would have liked to have seen more support for the expectant mother, and for the pregnancy to have been a rallying point for the family, and I am sad it did not turn out that way.
From my "Workin' Mom" perspective, the season did end on a high note, with the main character ending up in a dilemma in which she has to choose between being there for her family in a critical moment or sticking with an incredible work opportunity full of prestige. This happened on a somewhat grander scale than it would for the average professional mother, but anyone who has worked out of the home while raising a family can relate to that kind of pressure in some way or another. You will have to tune in yourself to see how it ended up!
Overall, even though I was bothered by one thematic element, and even though I would like to see the struggle of being a "Workin' Mom" without any paid maternity leave represented, I am grateful that this show tells the underrepresented story of so many of us.