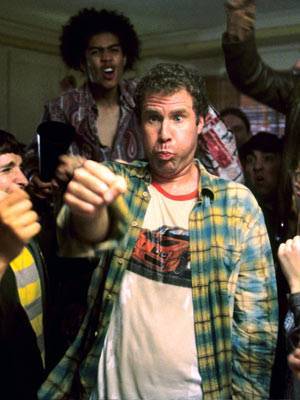 Judging from various comments received here and articles circulating the internet, it would seem gentlemen too have quite a bit to say on the topic of ladies fashion, what they prefer and what they consider appropriate. Pat Archbold writes an interesting piece about the loss of "pretty" and "innocence" in favor of "hot" and "trampy". It's a great piece; pop over and check it out. While I am not debating his thoughts on the matter, thoughts that I totally agree with, I want to expand on them concerning men's attire.
Men, see the above image of Will Ferrell, member of Hollywood's Frat Pack? While we may chuckle at his antics and make "cow bell" references that doesn't mean we'd marry him or even want to date him.
True story; I once had dinner with a 42 year old man who showed up for our date in ripped jeans, flip flops and a stained Weezer T-Shirt. And no, we were not going to a Weezer concert later. I'm not sure what compelled this grown man of 42, who would be dining with a 35 year old woman, to think it was appropriate or impressive to dress like a 20 year old kid for our date. All throughout the meal I couldn't help thinking that this was a not a man to be taken seriously. I never returned his calls. I am looking for a spouse. A man. Not an developmentally arrested man-boy who advertises the part by his attire.
So while it may seem like I give ladies a hard time about their attire, equally the same can be said for men. I would love to see the revival of suits, polished shoes, and hats… I'd even settle for a clean collared shirt and tie in most instances. And why do some men manscape their eyebrows yet leave the hair on top of their heads a complete unruly mess?
Men and women both have gotten away from dressing for the occasion. Everything is casual, too casual. Are there any men out there willing to join me and give up jeans, sneakers, and wrinkled t-shirts for 30 days? Here, I can even make some recommendations to illustrate the point.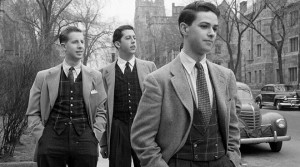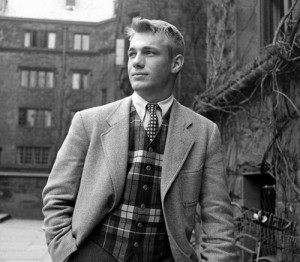 So what do you say, Gents? A little less Ferrell and more of the above?