… I never knew Bl. John Paul II, at least not while he was alive. Today marks the anniversary of his passing in 2005. Since that time I've come to learn so much about this man that was admired and loved by millions. Sadly, I never developed the same fondness shared by so many others because I didn't grow up knowing him. I was still going through RCIA when he passed away.
It wasn't till his funeral I learned anything about him at all, along with a large majority of other non-Catholics or fallen away Catholics around the world. It was a moment of universal bonding- mourning a long loved Pope or learning about a remarkable man whose loss grieved so many. Who was this man who broke so many hearts at his passing?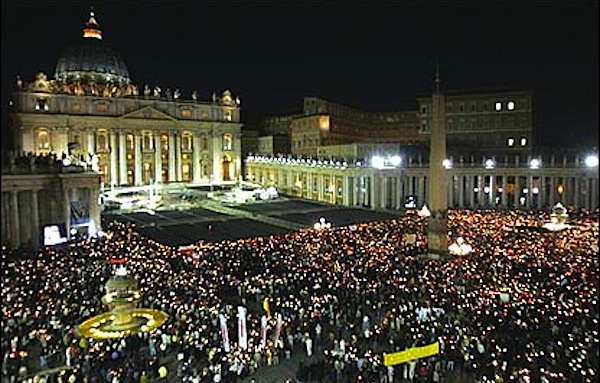 The day following John Paul II's televised funeral 32 people were waiting at the doors of the parish hall to sit it on an RCIA class and find out more about this man and the Church he served. The following year our parish saw a record number of converts. It was reported in the local Diocesan paper that parishes all over Charlotte saw the same record numbers of converts making their professions of faith the year after JPII passed away.
That year marking the first anniversary of his death also marked the return of my mother to the Church after a 40+ year absence. My grandmother followed shortly after on her death bed. They both loved JPII very much, even those years when my mom held no religious convictions and my grandmother was a devout Southern Baptist. I don't believe either really knew any more about him than I did. I think they thought he was a good man of God, devoted and joyful. But that seemed to be enough to make my mom weep bitterly at the loss of "her" pope when EWTN aired shows about his life.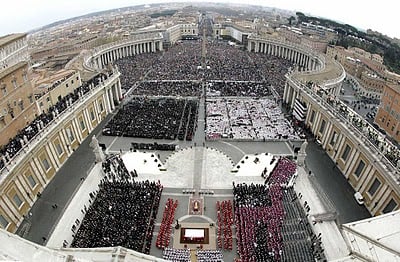 I feel like such an outsider when I talk of Bl. John Paul II or when people bring up how much he touched their lives. Pope Benedict is my Pope. Pope Benedict has been my Pope since the time I came into the Church in 2006. His is the smiling image that hangs on my wall. He is my son's Pope. I don't think I will have the same familial affection for Bl. JPII as I will for Papa Benedict. Even when I found myself in Rome for his beatification…
… I couldn't help be moved by the celebration of this man's life. Every metro stopped invited crowds of people chanting "Sancto Subito!" to fill the train cars heading into the city. Their cheers were at every street corner. Everyone was a little Polish that day. The entire city of Rome was decorated with banners bearing his image. I was there for the vigil too, among the crowds singing, dancing and preparing for a sleepless night in the streets. But I didn't stay because I felt like a party-crasher. I was the person who shows up at a party and has no idea who is the host.
But that's ok though. He may not have been my Pope, but I still deeply admire and revere him. I am astonished at all the lives he touched and those he moved to conversion, and whether I know him well or not, that alone is cause for joy at his memory.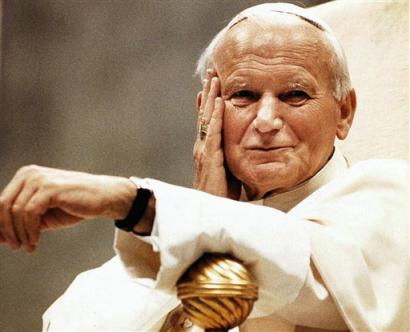 Thank you, Bl. John Paul II, for restoring the faith of my family.