… I've taken on a side project called The Catholic Five. It's basically five Catholics sitting around talking about Catholic-y things. The host, David Gray, has also started compiling video interviews of people telling their conversion stories. I love conversion stories, so I was pretty excited to share mine when David asked.
Conversions stories are always unique to the person telling them, which makes them so interesting because they are as diverse as people are, but more importantly conversion stories are tangible proof that God is active and present in each of our lives. If you ever feel alone or doubt that God is in some way involved in your life just think back to those significant moments in your past that led you to where you are today and you'll recognize that God was all over that.
Whenever I feel at odds with my faith or frustrated with God I take a long hard look back down that road I traveled. I know people say you should never look back, but how are you going to see how far you've come unless you turn around to look back every now and again?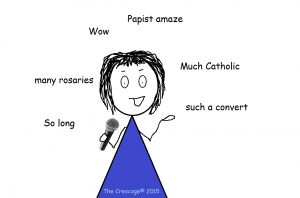 I know it's a long video, my apologies, so I won't be offended if you skip ahead or skip it entirely. I haven't watched more than 5 or so minutes of it myself, but I think I have some interesting points to make that might be worth something to someone.
I want to thank David Gray for putting this together and taking on the project of gathering people's conversion stories.