… Some reader comments are just too good to be kept hidden away in the com-box. Some deserve the light of day.
I really do have the best readers who contribute quite a good deal to the content here with comments and insights. I know some blogs don't even allow comments and I can see the appeal of that practice. It saves a great deal of frustration; however, you miss out on some wonderful opportunities for thoughtful dialogue.
It would feel weird to me not to have comments enabled, like talking to myself or talking at you rather than with you.
That being said, I'd like to share this one comment with you.
First some context.
A lot of people have expressed to me the almost schizophrenic spiritual state Pope Francis puts them in. Admittedly, I too have felt this same bit of anxiousness at times. I've even heard comments suggesting the Pope is to blame for the divisive polarizing atmosphere between the "traddies" and "trendies". They feel like he is constantly criticizing while we try and decipher who specifically he is admonishing.
Francis the Finger Wagger.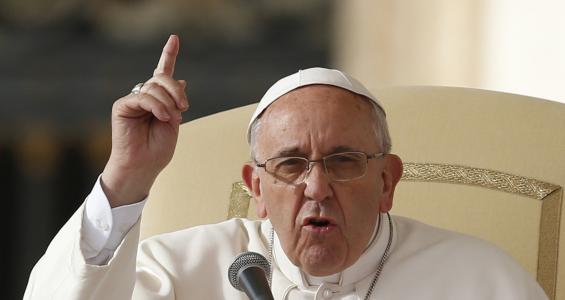 Instead of interpreting the popes words as criticism we can start to view them as an examination of conscience. Also, instead of trying to view his remarks through a political filter, view them through an internal filter.
Which brings us to the very helpful comment that prompted this post.
When Francis says something challenging 'uniformists,' instead of trying to figure out what group he's referring to, assume he means you, personally. Think of ways in which you can be rigid and cold towards others, and accept the challenge to better yourself as a Catholic.

When he criticizes cafeteria Catholics as in this homily when he discusses those who enter the Church with 'their own ideas', not the Church's, assume he's talking about you. Ask yourself what teachings you struggle with, what one's you wish didn't exist and why.
Basically, stop worrying about everyone else. Worry about yourself and your own salvation.
I'd also like to add that, as lay practicing Catholics, we can't do a toot about the pope's personal style and demeanor. He's going to do things how he's going to do them. We can't change the pontiff and it's arrogant of us to try or expect him to change for us.
The only thing we can change is ourselves and our reactions to his words.