… If you've been keeping up with the news, you'll know that in the streets of America this happened.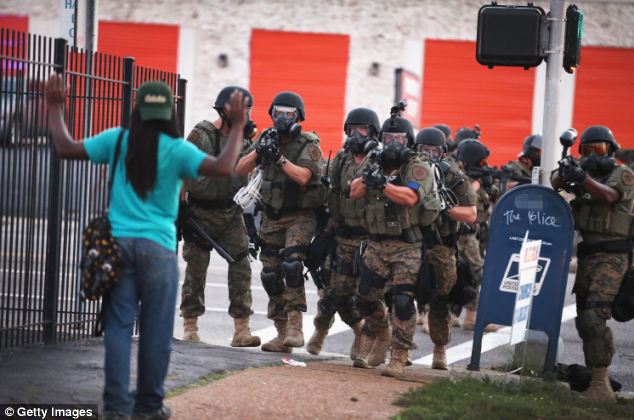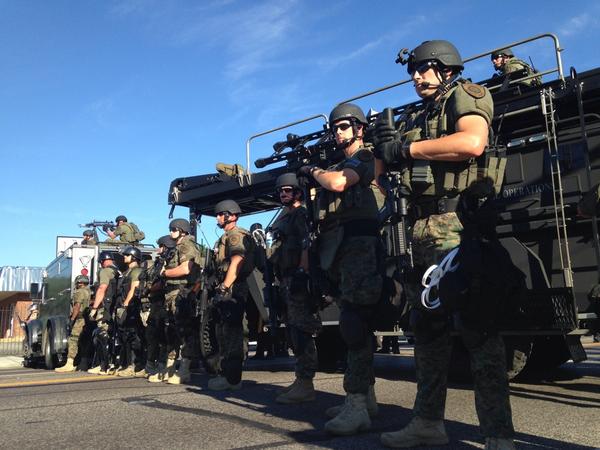 Mark Steyn makes some interesting points about what we've been witnessing in Ferguson and the effects of a severely militarized police force.
First, he rightly notes that in this day and age for a police cruiser to not have a dash cam is a deliberate and conscious choice made by the city's police department. There's literally nothing to see here, folks. Move along.
It's important, when something goes wrong, to be clear about what it is that's at issue. Talking up Michael Brown as this season's Trayvonesque angel of peace and scholarship was foolish, and looting stores in his saintly memory even worse. But this week's pictures from Ferguson, such as the one above, ought to be profoundly disquieting to those Americans of a non-looting bent.

The most basic problem is that we will never know for certain what happened. Why? Because the Ferguson cruiser did not have a camera recording the incident.

That's simply not credible. "Law" "enforcement" in Ferguson apparently has at its disposal tear gas, riot gear, armored vehicles and machine guns …but not a dashcam. That's ridiculous.

I remember a few years ago when my one-man police department in New Hampshire purchased a camera for its cruiser. It's about as cheap and basic a police expense as there is.

… And, if we have to have federal subsidy programs for municipal police departments, we should scrap the one that gives them the second-hand military hardware from Tikrit and Kandahar and replace it with one that ensures every patrol car has a camera.
And what about the disconcerting presence camo, riot gear, snipers, and tanks?
To camouflage oneself in the jungles of suburban America, one should be clothed in Dunkin' Donuts and Taco Bell packaging. A soldier wears green camo in Vietnam to blend in. A policeman wears green camo in Ferguson to stand out – to let you guys know: We're here, we're severe, get used to it.

… when the police are dressed like combat troops, it's not a fashion faux pas, it's a fundamental misunderstanding of who they are. Forget the armored vehicles with the gun turrets, forget the faceless, helmeted, anonymous Robocops, and just listen to how these "policemen" talk. Look at the video as they're arresting the New York Times and Huffington Post reporters. Watch the St Louis County deputy ordering everyone to leave, and then adding: "This is not up for discussion."

American police have grown too comfortable with the routine use of lethal force.