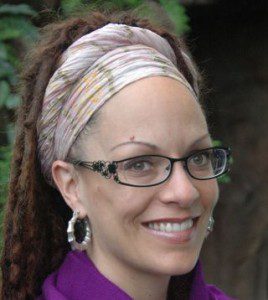 When Swami Vivekananda spoke at the World Parliament of Religions in 1893, he ignited the West's interest in Hinduism and created a heart-opening moment for the global north to move back into its connection to the world. Welcoming everyone with the words, "Sisters and Brothers of America," he invoked a sensibility of relationality and warmed the room. What most didn't know when he received a standing ovation was that his own personal heart had been consumed by the Dark Goddess, Kali. While he didn't speak of it, Vivekananda's devotion to the Mother of All was unshakable. Inspired by Her, his ability to speak across differences to those gathered proved to be one of the strongest examples set at this convening (one designed to unite humanity across faiths) of our common yearning for the grace of the Divine to be made known among us, regardless of chosen path.
On October 19, 2015, I walked into Ballroom B at the World Parliament of Religions in Salt Lake City unaware of whether anyone had consciously or moreover willfully attempted to bring Kali forward in the intervening years since Vivekananda's stirring words. But as I came into the space, my intention was to do so. I wanted to call Her forth using simple symbols, tools and techniques. I sought through "Kali Puja: Coming to Peace on the Path of the Dark Goddess," to convey Her qualities that we might know Her as embodied, cyclical, relational, chthonic and antinomian (
as I've written about before
). I wanted to awaken awareness by offering examples of the religio-cultural taboos She fights around birth, blood, sex, and death; of how She uncurses the feminine and the dark. In uttering Kali's names, in speaking her mantra (sacred syllables), my goal was to open space for us in that room to begin to feel Her, a goddess who inspires us toward personal healing and the larger cause of social justice that we may all find peace.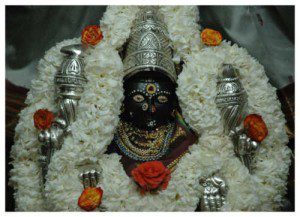 Thinking on it now, I'm aware that of course there have been other manifestations of the female principle or Goddess invoked at other assemblages of the Parliament. But Kali's drive to bring the marginal to center, to overthrow inaction, and to demand transformation is something else entirely, something important to be named and made wholly heard at such a prestigious event as the World Parliament of Religions. Times have certainly changed since Vivekananda made his address. Yet we still face many of the same tensions between heart and profit, spirit and progress, that consumed the world then. With crisis motivating many of our debates, my hope is that the Mother of All planted a seed that day over 120 years ago that has now sprouted new shoots, and we may again find among us a common yearning for Divine grace–only this time, She will have a name and will be called by it as we seek a way forward on whatever may be our chosen path.
Chandra Alexandre is a Tantric Bhairavi, a priestess in the tradition of Kali who received her lineage through initiation in India. Founding director of SHARANYA, a Devi Mandir (Goddess Temple) dedicated to social justice through engaged spirituality, she resides in San Francisco with her daughter, husband, and kaula (spiritual family) offering puja, teachings and spiritual guidance.