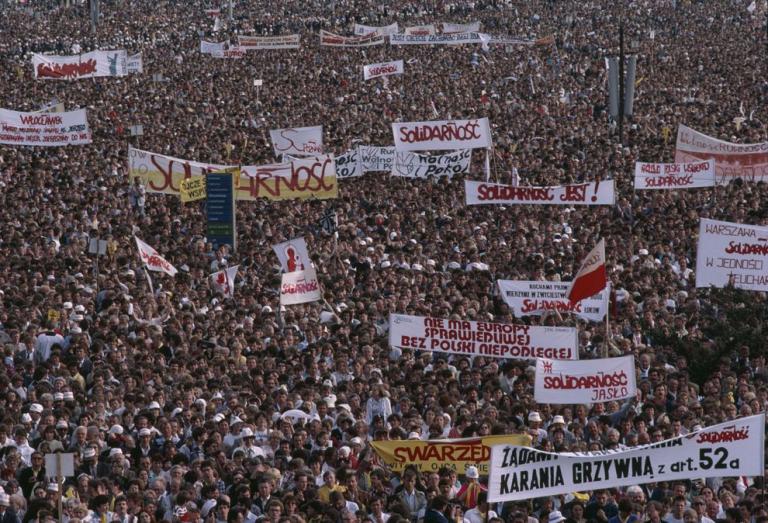 Laudato Si': perhaps the most important papal document since Rerum Novarum, Pope Francis' "eco-encyclical" arrived in May 2015 to extraordinary acclaim from the global environmental community, the global justice movement, and millions of fellow Christians, not to mention millions of Catholics in countries already under siege from the effects of climate change and extractive global capitalism.
And yet the newly-elected Donald Trump announced in his first presidential year his intention to take the U.S. out of the Paris Accords, making us the only country do so. "We must seriously ask ourselves," the Pope remarked on December 4, "if there is the political will to allocate with honesty, responsibility and courage, more human, financial and technological resources to mitigate the negative effects of climate change."
Leaving climate change aside, there's the Pope's insistence that our neoliberal economic system has become an extractive engine of misery for millions, especially in the global South where a lethal mix of collapsing commodity prices and punishing austerity measures is roiling societies and creating millions of economic refugees, in additional to those fleeing due to climate change.
To further underline his message, Pope Francis will be speaking to an international group of 500 people under 35 — entrepreneurs, economists, and change-makers — gathered in Assisi March 26 – 28.
"The Economy of Francesco" is co-sponsored by the Economy of Communion (Focolare) movement and features such notables as Amartya Sen, Muhammad Yunus, Vandana Shiva, Jeffrey Sachs, Carlo Petrini, Kate Raworth, Luigino Bruni, and Stefano Zamagni (the latter two key figures in Emeritus Pope Benedict XVI's encyclical Caritas in Veritate).
Given the public perception of not only a hostile White House but even an indifferent national bishops' conference (in the four years since Laudato Si's release, the USCCB has apparently never devoted a single significant moment to its discussion), a group of mostly younger U.S. Catholics decided recently to take what some might see in these times as the controversial, slightly radical-sounding step of publicly defending their own Pope(!).
After a heads-up about the Assisi event from Nathan Schneider of America magazine, I (on behalf of Solidarity Hall) reached out to Elizabeth Garlow of the Economy of Communion (North America) and Felipe Witchger of the Community Purchasing Alliance, the two key organizers of the U.S. team on this event. We then scheduled a web conference for noon ET, December 16, thinking that "large" probably meant 20 – 30 attendees.
After working our networks hard with email and texts, we discovered by the morning of December 16 that over 200 people from a wide range of organizations had signed up to attend online.
A sampling of the attendees' affiliations: Georgetown University, Oxford University, Boston University, Democracy At Work Institute, Madison Workers Cooperatives, The Working World, Leadership Roundtable, Co-op Cincy, Order of Secular Franciscans, Felician Sisters of North America, Nuns and Nones, Wellbeing Economy Alliance, Pax Christi International, Vote Common Good, Stanford University, Maryknoll Office for Global Concerns, Duke University, Citizens' Climate Lobby, the Catholic Worker movement, and Duke University.
The two-hour initial meeting (recorded and now available to view) was a mix of networking, brainstorming, and (frankly) euphoria as attendees — including Protestants, Muslims, and non-religious — traded stories about their own work toward integral ecology and economic democracy. Virtually all claimed the inspiration of Pope Francis and Laudato Si' as a key factor in their efforts: teaching alternative economics, running a shelter for the homeless, working in the local food movement, organizing a new credit union, expanding an immigrant rights center.
This new U.S. network — still newborn and nameless for the moment — will come together again for a large-group session on February 19, 7 – 9 PM ET, a few weeks before the Assisi event.
In the meanwhile, collaboration of several kinds is now underway — toward a group statement of support, enlisting educational partners, developing and distributing new content (possibly to include a parish- and other small group-based handbook on implementing Laudato Si' and the Economy of Francesco), and an increasingly heavy social media blitz.
For more information on getting involved with this project, reach out to us at info@solidarityhall.org.