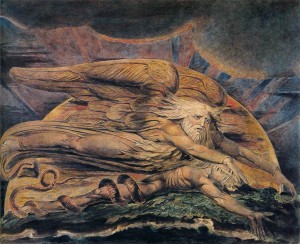 Dear reader, be advised this will not be a standard book review. I have before me a review copy of Michael Martin's new anthology, The Heavenly Country, An Anthology of Primary Sources, Poetry, and Critical Essays on Sophiology. I want to respond not in a scholarly fashion–I am not that much of a scholar–but in an amatory mode, i.e., that of the amateur of these ideas. And as to the relevance of this review to our mission here, I think Dorothy Day's statements of her particular debt to Dostoyevsky (and to other Russians) give us license to proceed.
So let us speak of the way of sophia and my belief that our recognition of its power must be preceded by a kind of metanoia, a turning-around of the mind and spirit.
There was a moment in my undergraduate years at UT Austin when I first felt a sense of shock before something of great–indeed sophianic–beauty. I had chosen to live in an academic dormitory populated by a mix of hippies, radicals, Rhodes Scholars, and deep eccentrics of various flavors. Tim was an upperclassman and a classics major, a choice which struck me as agreeably impractical, especially for an aspiring Bertie Wooster such as I was at the time. Sitting around in his room, we were speaking of classical Greek and my growing interest in studying the subject. Rather than offering any prosaic endorsements, Tim simply began reciting, as mellifluously as might be imagined, Sappho's famous Hymn to Aphrodite in the original Greek.
As the syllables poured over my ears, I sensed a new mental landscape opening up, one which has only grown in expanse and delight over the years. I felt like the rustic mountain dweller on his first visit to the city of Florence as described in Dante's wonderful simile:
And as a mountain man stands overawed
And stares in speechless wonder all about
when, rough and rude, he comes to the big town…
(Purgatorio XXVI, 67-69, transl. Esolen)
As I proceeded in my studies, despite my growing sense of how the poetic imagination from Homer to Yeats was a certain way of knowing, I was not aware that underlying this tradition–which included the Wisdom Books, Christian Kabbalah, Thomas Traherne, William Blake, and much else–there was a submerged reality (as Martin entitled his earlier collection of essays), a hidden river of poetic metaphysics with numerous and luminous origins. These authors were up to something much more important than simply sharing "influences," as the literary critics like to notice. The pursuit of a holy wisdom, even if sometimes issuing in somewhat fantastical and heterodox visions, is innately reconstructive of the world, bringing religion, science and art into fruitful relation, as Martin's work is brilliantly demonstrating.
The voices in the poetry section of this book include St. Hildegard of Bingen, Dante, Herrick, Vaughan, Wordsworth, Holderlin, Novalis, MacDonald, Hopkins, Solovyov, Yeats, Claudel, Rilke, Blok, David Jones, and Thomas Merton. Reading them again, I note that Martin's final essay states his belief that "poetry, the utterance of the poetic, is impervious to technological colonization." I believe this is so and I rejoice that sophiology has now been so clearly named and celebrated. In gratitude, I could only think of the lines from Blake's "Jerusalem":
I give you the end of a golden string
Only wind it into a ball
It will lead you in at Heaven's gate
Built in Jerusalem's wall.