To all people of good will fighting for social, economic, and environmental justice, defending the poor & the marginalized, ministering to the world's sick and wounded, or working for peace and reconciliation among both men and nations- rejoice! You do not labor to build the Beloved Community in vain, but are instead the harbingers of a Kingdom that is, even now, triumphantly breaking into our world.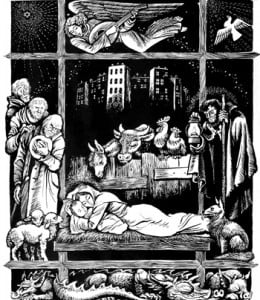 To all people in darkness- the poor, the oppressed and abused, the migrants, the forgotten- rejoice! The Lord has heard your cry, and the Good News is word of your deliverance! The chain is broken, the prison gate is thrown open- and you are free!
But to the rich and the powerful, the tech tycoons, the multinational corporate CEOs, the banksters, the warmongers, and to the armies of courtiers and sycophants that serve them and the Money Power- for you the manger birth in Bethlehem is both invitation and warning. The child whose coming we celebrate overthrows the powers of this world, including your own- He is King, and you are not. His birth signals that your day is done. Repent, while you still have time.