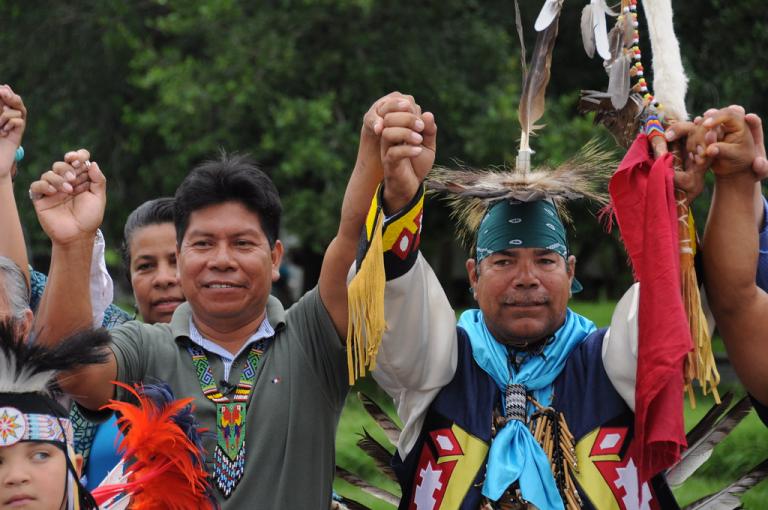 From the grateful welcome given to the Three Magi (i.e., pagan wise men) at Bethlehem to St. Paul's quotations from Greek philosophers to St. Thomas' labors of commentary on Aristotle (which twice earned him condemnation in his day from the otherwise long-forgotten Bishop of Paris), the Church has always engaged with the wisdom of other cultures. (A short tour of the astonishing collections of the Vatican Museums will make the same point.)
Drawing on the teachings of Vatican II, St. John Paul II often referred to "the ancient doctrine formulated by the Fathers of the Church, which says that we must recognize 'the seeds of the Word' present and active in the various religions." (See his Crossing the Threshold of Hope for the late pope's informed appreciations of various major faith traditions.)
Among the remarkable new things happening at the Amazonian Synod, the agenda (the Instrumentum Laboris) includes "Good Living — Buen Vivir," a new source of spiritual seeds, about which we find the following:
The quest of the indigenous Amazon peoples for life in abundance finds expression in what they call "good living" ( buen vivir ). It is about living in "harmony with oneself, with nature, with human beings and with the supreme being, since there is an inter-communication between the whole cosmos, where there is neither excluding nor excluded, and that among all of us we can forge a project of full life" (Section 1, 12).
Many readers — especially North American Catholics — must wonder where this term came from and to what it really refers. (Hint: it does not refer to individualistic material comfort or standards of living.)
The concept of buen vivir (sometimes referred to by its Quechua name, sumak kawsay ) is a blanket term for numerous belief systems (or "cosmovisions") of South American indigenous people. Besides the Quechua of the Peruvian Andes, we find the Aymara (Bolivia), the Mapuche (Chile and Argentina), and the Guaraní and Shuar of Brazil, among others, sharing these values.
Other translations of the term include "plentiful life," "sweet life," and especially "harmonious life in a community and with nature." To readers familiar with Native American spirituality, none of this will seem "foreign," including the idea that humans and nature must work in harmony.
Rather than a quaint exercise in anthropological recovery, buen vivir is now an informal international coalition of communities which share an endangered way of life and a desire to seek an alternative to our current ecocidal approach to development.
This coalition is neither statist (it is instead bottom-up in strategy) nor political in nature (it does not have a political party). It represents a regional, cultural response to a half-century of extractivism and a parallel social movement to those of global justice, the recovery of the commons, movements for the rights of nature, and decolonization. (For more on the indigenous "theology of creation," see here.)
We forget that over recent centuries, many indigenous people originally moved into the rainforest in order to escape colonization and slavery. Today, within Amazonia's nine countries of 3 million indigenous people, the population is now about 70% urban, many of them undocumented refugees.
As explained by Uruguayan scholar Eduardo Gudynas, several common threads can be found in the buen vivir movement, including an agreement to collaborate on a new vision of development, a desire to move away from a technocratic understanding of the world, and an emphasis on non-material values. Does all this sound like any recent papal documents you can think of?
If we are truly to become a Church of and for the poor, then solidarity with the indigenous peoples of Amazonia — especially the many Catholics among them — is a critical moral test, particularly as expressed in Laudato Si'.
For their world is literally on fire and yet it is their unique spiritual resources which can offer a way forward toward the integral ecology Pope Francis has been urging.
It is the poor who evangelize the Church, as we keep discovering, as much as the other way round. Let's pray we are beginning to listen to them just in time.