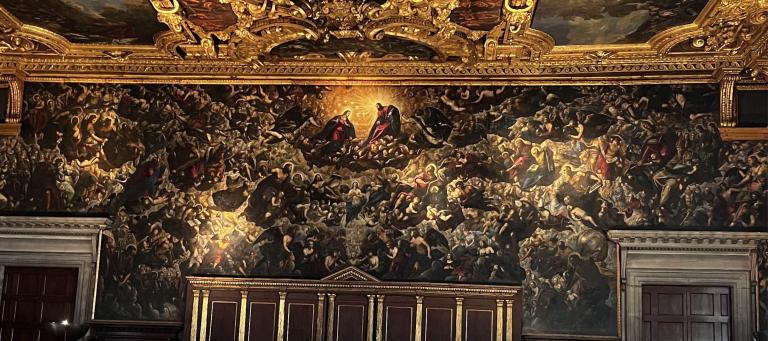 The image above depicts the artist's vision of heaven on earth, packed with saints looking down on the doge (ruler) of Venice as inspiration to make wise decisions on behalf of the Venetians. When I took the photo on my recent trip to Italy, I noted "Heaven looks … crowded."
Heaven is getting crowded with people I love.
The Bible tells us that eternity will be full of the faithful through the ages—those we'd love to meet and those we desperately hope to meet again. We trust that the vision of John in Revelation 7:9 describes our future:
After this I looked, and there was a vast multitude from every nation, tribe, people, and language,

 which no one could number,

 standing before the throne and before the Lamb. They were clothed in white robes with palm branches in their hands.

And they cried out in a loud voice: "

Salvation belongs to our God,

who is seated on the throne, and to the Lamb!"
The throne room scene in Rev 7 comforts during times of loss. It reminds us that God's plan for humanity is moving toward a joyful culmination in which the saints—maybe I need to pause and explain that word. When I say 'saints' I mean all who have aligned themselves with Christ, believing in his deity and
trusting in his death
and resurrection as victory over sin and death. To use 'Saints' with a capital S typically refers to those who distinguished themselves publicly and were recognized by the church leaders as models of faith and obedience. We celebrate them on special feast days all year long (recognize the names Patrick and Valentine?). Little-s saints may not be as well known, but they are just as saved as big-S Saints, just as loved and rewarded by God.
So, God's plan for the world will come to its finalé when he returns to gather his S/saints to himself. We will be out of our minds with joy. Think "concert at
Red Rocks
" magnified by thousands or millions.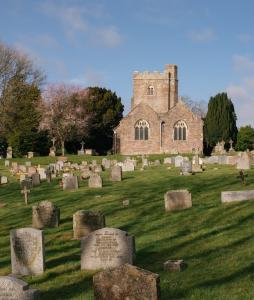 But that day is not yet here, and those we hope to meet again have gone ahead of us for now. We are left to work out our own purposes in the bodies and places we inhabit. In a recent article, renowned author Anne Lamott wrote,
"When I was younger, I was fixated on looking good and impressing people and being so big in the world. By 60, I didn't care nearly as much what people thought of me, mostly.

And anyway, you know by 60 that people are rarely thinking of you. They are thinking about their own finances, family problems and upper arms.

I have no idea of the process that released some of that clench and self-consciousness, except that by a certain age some people beloved to me had died. And then you seriously get real about how short and precious life is. You have bigger fish to fry than your saggy butt."
I'm closer to 60 than 40, and more people beloved to me have died. All three of my fathers (Dad, stepdad, and honorary Pop) are gone now, two of them recent enough that I still feel the sting and am overcome by unexpected—and inconvenient—waves of grief. I'm at that age when those calls will come more often, some expected and others surprising, but none welcome.
I'm at that age when my own mortality looms larger than ever before. It's not something I dwell on or worry about, but it lingers around the edges of my consciousness.
How does a Christ-follower deal with the inevitability of death?
Remember and celebrate those who are gone. All Saints' Day is the church's long-held tradition of honoring the faithful whose lives set an example before us. Not just the big-S Saints, but all the saints who make up the

"great cloud of witnesses" and inspire us to "throw off everything that hinders and the sin that so easily entangles… run with perseverance the race marked out for us,

fixing our eyes on Jesus, the pioneer and perfecter of faith" (see Hebrews 12:1–2). Thank God for sending them into the world, for the blessing they were in your life, for their encouragement to you as you continue on without them.

Rejoice in the promise of the gospel of Christ, that those who love him are secure in his presence. "We would prefer to be away from the body and at home with the Lord" (2 Corinthians 5:8). Trust that they are truly in paradise if they are with the author of love itself.
Choose virtues to emulate and heroes to admire. The famous Saints and those saints you knew personally had character traits worth admiring and living out. What qualities did the church see in Augustine, Julian of Norwich, Catherine of Siena, and Anselm? How did your loved ones teach you about Jesus through their words and actions? Which qualities can you work into your own daily life?
Love the saints who are still with you. The apostle Paul regularly addressed his letter to churches with "To the saints of ___" (see the opening lines of 1 Corinthians, Philippians, Colossians, etc.) We don't have to wait til they're gone to appreciate, serve, and love them.
The older he got, the more easily and frequently my Pop told me and all his girls "I love you so." But it wasn't just words—his memorial service was filled with testimonies about his hospitality, generosity, loyalty, and affection. He knew how to love and he did it well. It's tough to find a more meaningful legacy. When we are part of that cloud of witnesses, we'll leave a reputation that we are building right now. "By this everyone will know that you are my disciples, if you love one another" (John 13:35),
All Saints' Day has become more meaningful to me since I know more of them personally. If you are in a similar situation, I pray this annual day of remembrance will bring you comfort and inspiration.