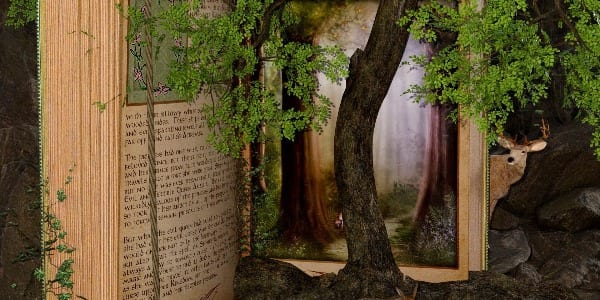 Fairy Tales and Witchcraft seem to hold much fascination and mystery to the seeker. Through the pages of Fairy Tales, magick springs into life. Some even believe that the Secrets from the Ancient Goddess Tradition live on in the stories themselves. If you look closely, a spell may even come to light.
When I discovered the link between Fairy Tales and Witchcraft, I thought that it was a fairly new concept. I could not have been more wrong. Take a look at the following books to explore the findings and start your path, into the woods, creating your very own Fairy Tale as you go.
"The Mother Goose Code was one of my first books to help me link the connection between Fairy Tales and Witchcraft. One could argue that Mother Goose and her nursery rhymes are not Fairy Tales but I would have to disagree to some extent. Regardless, this book is packed full of philosophy and ideas linking Mother Goose herself to many different Goddesses. Studebaker introduces many different ideas but has research to back up her ideas. She even offers a section about using Fairy Tales as Magick Spells and Indications.
If you have been in the craft for awhile, you probably are familiar with Starhawk's icon book "Spiral Dance." In "The Twelve Wild Swans," Starhawk and Hilary Valentine give a taste of their "Reclaiming Tradition of Witchcraft." Contained in the pages of this book are working rituals, exercises and exploration.
"The Initiatory Path in Fairy Tales: The Alchemical Secrets of Mother Goose" is a book that looks at Fairy Tales (not just nursery rhymes) and relates them to High Magick concepts. Roger also gives us an account to look at the secret between the pages of Fairy Tales. This book tackles raw Fairy Tales and not the kid-friendly versions that many of us are familiar with. It is also in alignment to  Studebaker's (The Mother Goose Code) ideas and research.
Judika Illes has to be one of my favorite magickal beings! There is so much knowledge in any one of her numerous books. In "The Element Encyclopedia of Witchcraft," Judika has devoted a few pages to Disney Fairy Tales (pages 259-263). It was interesting to find in such a complete edition of the craft.
One of my newest editions, this book encompasses much of the magickal symbolism in fairy tales. My only peeve with this book is that the tales are not from an original source. Even with this being the case, it is easy to relate the information to the original tales. Lucy Cavendish partners with illustrator, Jasmine Becket-Griffith for this book but they have quite a history together, including a wonderful little oracle deck called "The Faery Tale Oracle."