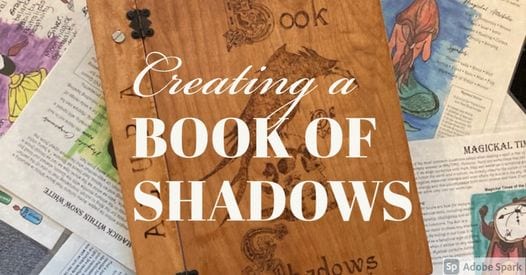 A Book of Shadows is probably the most famous of tools used by Witches, next to a broom, of course. Many of us wooed in awe over the BOS that the sisters in TV Series, "Charmed." I personally wanted the Spellbook that Winny had in "Hocus Pocus." There could be debate that a spell book is not a Book of Shadows. My thoughts are that a Book of Shadows should indeed contain some of your most precious and successful spells.
First Things First: Grimoire or Book of Shadows
Technically, there IS a difference between a Grimoire and a Book of Shadows. It can get a tad confusing. The titles are used interchangeably much of the time. A Grimoire is a book, binder or journal that holds spells, rituals and useful information. A book of knowledge that you can share with others. A Book of Shadows is more personal to the holder. It will contain spells used personally and what the outcome was. Some even put their personal magick journey within the pages.
If you belong to a coven or a specific tradition, it is likely that they will have their own "group" Book of Shadows. As members graduate to higher degrees within the tradition, they gain access to the group BOS and certain information is allowed to be copied into the members own personal book.
For my own purposes, I am creating a combined Grimoire and Book of Shadows, all in one. The benefit to this is having all information contained to one place. If I decide to share my book to others, I may rethink this. You will need to decide which way to go. Whether you are looking to create a Grimoire or Book of Shadows, you can start with the information in this article.
Where do I start?
I have always wanted to create my own Book of Shadows. I put it off for almost a decade because I just did not know where to start. Guess what people? There is a whole internet of ideas out there. Doing a simple search of BOS pages on Pinterest or Google will give one many ideas to bounce off of. Take a look at each search and pick out an idea or come up with one of your own. Write down what you know and create a beautiful page.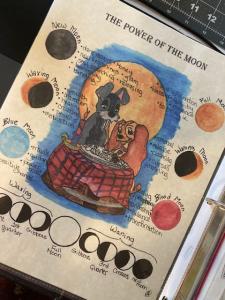 If you are still having trouble with where to get started, think about what you have learned so far in the craft. What was your favorite Sabbat? Was there a spell that worked really well for you? Did you make your own wand? how? document it on a page. Is there something that you wish you knew how to do? Make a reference page for your BOS.
What supplies do I need?
The wonderful thing about creating your own BOS is that there are no rules. You can use anything your heart desires. You can cut and paste to create a fancy page. A simple notebook and colored pencils work lovely. The computer offers multiply platforms to create. Start with one and you may find that you expand as you go on.
Are there any books to help me?
There are always books to help. "A Witch's Grimoire; Create your own Book of Shadows," by Judy Ann Nock is a good one to start with. Part guide book and part workbook, this will help to get ideas flowing. "The Witch's Book of Shadows; The Craft, Lore & Magick of the Witch's Grimoire," by Jason Mankey is a great book of information on our subject, complete with tips to create your own.
Other Resources
If you get really lost or stuck, do not fret. There are so many options to help. There are blank pages to download. If you are looking for finished pages, many are for sale on Etsy, through Google or even in my shop, Poisoned Apple.
If you still are having trouble, I would like to personally invite you to join my "Creating a Book of Shadows" Group on Facebook. There we bounce ideas off of each other. In a world of uncertainty, it is fun to come together with like-minded. Feel free to join us.
Bottom Line
Bottom line is that this should be a fun project. Yes, it can get frustrating at times but it is a work in progress. Enjoy that progress.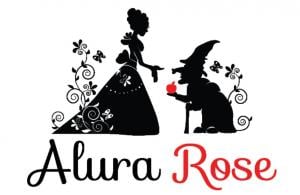 Facebook / Shop / Book a Reading