LAST year John Kerry, currently serving as the first US Special Presidential Envoy for Climate, quipped on Twitter that Kentucky lawmaker Thomas Massie had "tested positive for stupidity."

On Saturday, Massie proved Kerry right by posting a grossly insensitive Christmas photo on on social media showing his feeble-minded family all bearing arms and grinning like loons.
British broadcaster Piers Morgan was among many who was appalled by the picture, as were many others: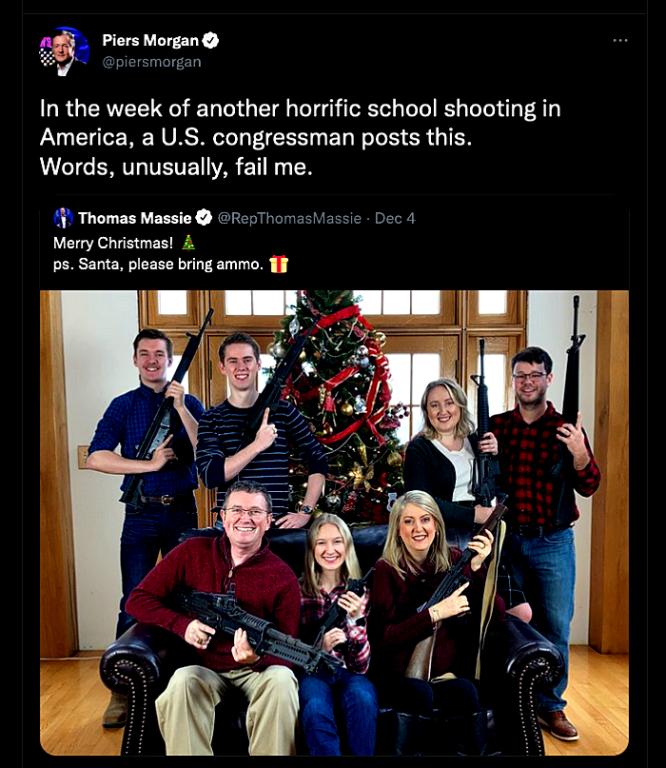 In a 2018 interview, Massie revealed he was a United Methodist, "working with my colleagues to help prevent violence and war."
Today, Dean Obeidallah, in an op-ed for CNN, said:
At another time, using guns and ammunition to mark the birth of Jesus Christ– known as the "Prince of Peace" who preached a message of love – likely would've rankled at least some Christians and gun control advocates. But given that this photo was shared just days after a horrific shooting at Michigan's Oxford High School, in which a 15-year-old is accused of killing four fellow students, it should be insulting to all Americans who value life and decency.

Massie's comment to "please bring ammo" is all the more disturbing given that the accused Oxford gunman was reportedly searching for ammunition on his phone the day before the shooting, which raised alarm for school officials. I find it difficult to believe that Massie – an MIT graduate who has served in Congress since 2012 – was not aware of that fact. At best, Massie's Christmas card was spectacularly ill-timed, but there seems to be more to it than that.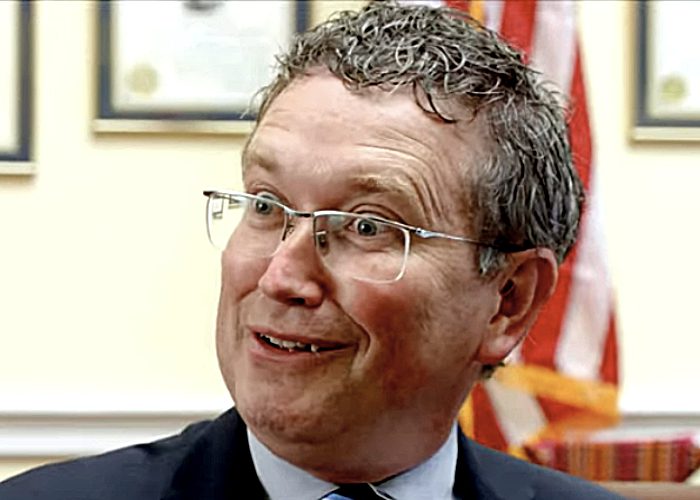 Any doubts that Massie released this photo for a reason other than to provoke were answered by Massie himself in the way he responded to those praising as well as slamming his so-called Christmas card. For example, Massie retweeted the comments of conservative podcaster Todd Starnes, who called it the "Best Christmas photo ever!," while also sharing Anthony Scaramucci's scathing response ("If you are running against this a-shole please contact me I will give you dough").
Obeidallah added:
Massie's self-indulgent photo of his family brandishing a range of weapons stands in painful contrast to the grief of the families who are mourning the loss of their loved ones killed in last week's shooting.

Massie should apologize, not only to the families of those killed in last week's school shooting and others, but also to those who are still recovering from their wounds, such as the 14-year-old girl whose injury from the gunfire meant she was initially placed on a ventilator following surgery. But it's unlikely Massie will. Compassion and caring appear to be seen as weaknesses in today's GOP, while intolerance is too often given a pass.

Massie will joyfully celebrate this holiday season with his family as he basks in the glory of trolling people with his guns and ammo "Christmas card," while the families of those who were killed in the Michigan school shooting will bury their children. It's clear that this lack of humanity is no longer simply a symptom of a Republican party led by former President Donald Trump, who was known for his own inflammatory rhetoric. Instead of that callousness ending with Trump's 2020 defeat, it's becoming a staple of today's GOP.
• Please report any typos/errors to barry@freethinker.co.uk
If you'd like to buy me a cup of coffee – and boy, do I get through a LOT of coffee keeping this site active – please click the link below.
I'd love a cup of coffee