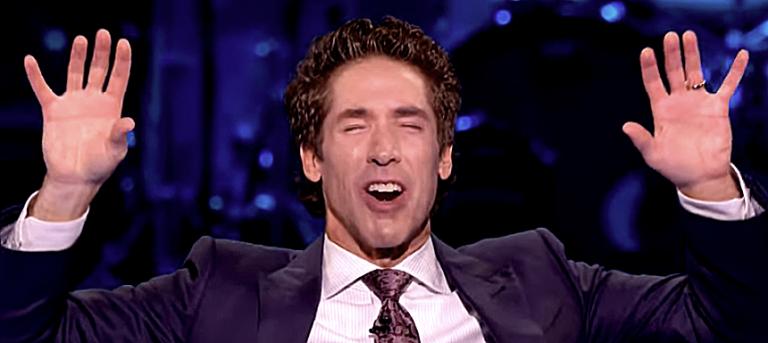 THE discovery last month of $600,000 behind a toilet wall in a Texas church run by mega-rich televangelist Joel Osteen, above, raised several questions.
First off, people began asking why Osteen's Lakewood Church in Houston, Texas, was hoarding so much money in a safe, which got robbed back in 2014.
Next came the question "will the the 28-year-old plumber who found the cash and cheques be rewarded?"
No answers have yet been given to the first question, and as for the second, no, because the statute of limitations regarding the theft had expired.
But Crime Stoppers of Houston, according to Christianity Daily, had a change of heart, and now the plumber, identified only as "Justin" is $20,000 better off.
Crime Stoppers CEO Rania Mankarious said:
In 2014, Lakewood Church gave us $20,000 to work on this case. In 2016, they chose to gift us those funds for operations. Today, we are gifting that same [amount] of money to this Good Samaritan and wishing he and his family a wonderful holiday season.
Last week, Justin spoke to KWTX, arguing that he should have been compensated by Lakewood Church for his discovery. He lamented:
I didn't solve their case, but I solved very key important clues as to what could or may have happened there. I feel like I should get something. I feel like some type of reward should get offered to me.
Crime Stoppers of Houston Deputy Director Nichole Christoph said that the plumber:
Has a young son, and they've been on some hard times, and they were expecting Christmas would be difficult.
Meanwhile, Lakewood Church Senior Executive Don Iloff said that Justin had been thanked by church officials several times since the discovery of the hidden money. Iloff, who is Osteen's brother-in-law, said that Justin:
Has been invited to the church … I know Joel would be happy to meet with him, say hello to him and thank him.
Iloff added that there are several theories as to how the money had gotten behind the wall. He explained that the toilet was a single-use public facility  in which one can push the ceiling out. Someone, he surmised, must have pushed the cash and cheques into the space above the ceiling so hard  that fell into the wall.
For the record, Osteen's net worth is $100-m.
His church garnered a great deal of bad publicity when it was revealed that it had received  $4.4 million from the government's Paycheck Protection Program (PPI) intended to help small businesses during the the height of the Covid-19 pandemic.  As a consequence, Osteen was shamed into paying back the money.
In a statement to the Houston Chronicle, Lakewood defended its decision to seek PPI support and insisted that neither Osteen nor his wife received any of the money.
A church representative told the paper:
Like many organisations temporarily shuttered by the pandemic, this loan provided Lakewood Church short-term financial assistance in 2020 ensuring that its approximately 350 employees and their families would continue to receive a paycheck and full health care benefits.
Lakewood – America's largest megachurch – has 368 full-time and part-time employees.
• Please report any typos/errors to barry@freethinker.co.uk
If you'd like to buy me a cup of coffee – and boy, do I get through a LOT of coffee keeping this site active – please click the link below.
I'd love a cup of coffee