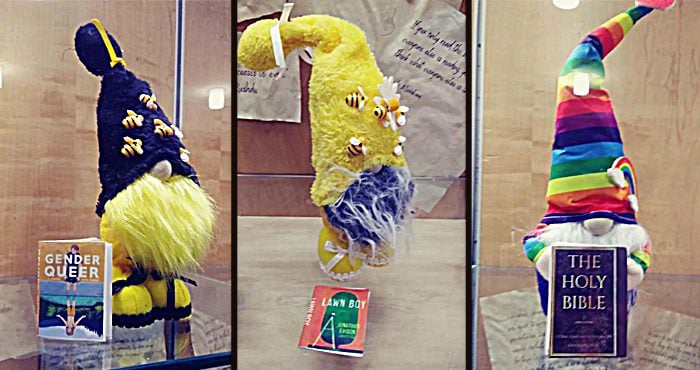 A LIBRARY  in Fairfax County, Virginia, has been forced to remove a festive holiday reading display after local residents branded it "offensive" – even though it included a Bible.

One angry prodnose, Stacy Langton, said "it's so outrageously offensive" – then made sure that millions, who would never have seen the display, got to view it when she posted pictures on Twitter.
"It was intentional, it was meant to be offensive," Langton told Fox News. She called the display "pretty brazen."
Langton, who calls herself "Mama Grizzly", plans to hold a protest outside the library tomorrow.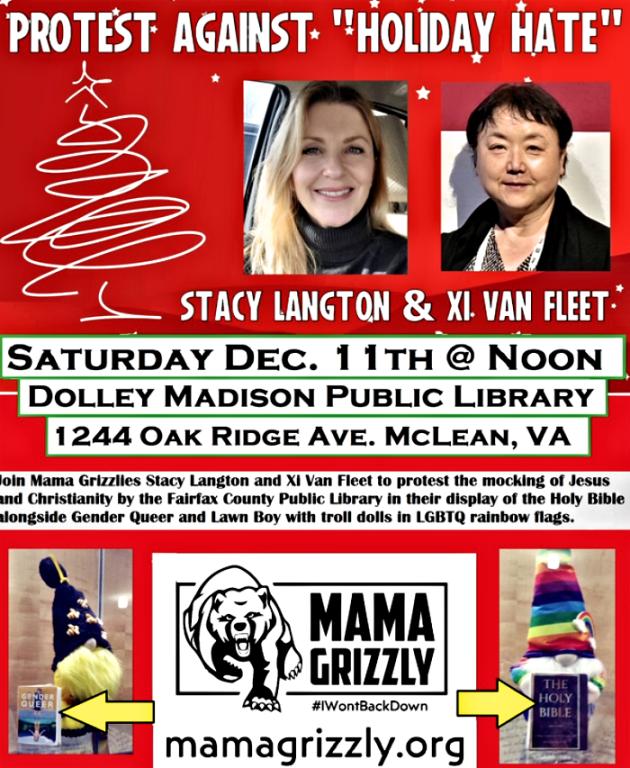 Langton said of the display:
The timing on this – it's an intentional dig. It's a dig on the parents who object to pornography and paedophilia-themed materials in the library, and it's a dig on Christians as a whole. I think everybody knows where Jesus stands on paedophilia. The tolerant Left is giving you guys some holiday hate.

She claims the books Gender Queer and Lawn Boy feature paedophilia and obscene material – but neglected to mention the obscenities, hatred and violence contained in the Bible.
Fairfax County Public Library Director Jessica Hudson told Fox News:
The Dolley Madison Library holiday reading display was intended to highlight the freedom to read and the fact that many library patrons have more time during the holidays to do so. It was not the intention of staff to create a display that could be construed as offensive. The display has been removed.
The display also featured quotes from controversial books, such as Salman Rushdie's The Satanic Verses.
I'd love to join Mama Grisly's protest  – solely to vent my fury at the inclusion of the Bible, but I've an appointment with my hairdresser tomorrow.

• Please report any typos/errors to barry@freethinker.co.uk
If you'd like to buy me a cup of coffee – and boy, do I get through a LOT of coffee keeping this site active – please click the link below.
I'd love a cup of coffee