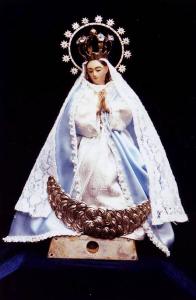 Surpassed only by Syria in the number of violent deaths in the past decade, Mexico is a country where supernatural protection is in great demand. Now in its second decade the drug war has claimed most of the lives of the more than 200,000 Mexicans who have suffered violent deaths over the past ten years. If leftist presidential candidate Andres Manuel Lopez Obrador (AMLO) is nearing a double-digit lead over his rivals it is in part due to rejection of the paroxysm of violence which has taken place under successive administrations of the two leading political parties, the PAN (National Action Party) and now the PRI (Institutional Revolutionary Party) of outgoing president, Enrique Pena Nieto.
In a Mexico of much bad death (mala muerte), including a pandemic of femicide, many Mexicans feel their only source of protection lies in the realm of the divine or supernatural. It is no coincidence that devotion to two of the three giants of the Mexican religious landscape has been mushrooming over the past decade. Patron of Lost Causes, St. Jude, has become so popular in a Mexico of "difficult cases" (casos dificiles) that he has become the world's first Catholic saint with a monthly feast day, celebrated each 28th day in Mexico City and beyond. Many Mexicans who have struck out with the saint of last resort have gravitated toward Holy Death in these times of bad death. Folk saint Santa Muerte (both Holy Death and Saint Death in English) has proved so appealing in the context of Mexico's culture of violent death that devotion to the Skeleton Saint is now the fastest growing new religious movement not only in Mexico but also throughout the Americas.
Whereas Santa Muerte receives requests both to protect from violent acts and cause them, Our Lady of the Bullet is only petitioned for purposes of defense. For example, Hermelinda Hernandez was visiting the shrine in the notorious Ixtapalapa district of Mexico City to ask the Virgin to protect her husband who leaves for work at 4:00 a.m. in another crime-ridden barrio of the capital city. "They've assaulted him eight times, to get his cell phone, wallet, or whatever they can grab, but they've never hurt him thanks to me entrusting him to this Virgin." She continued, "If the bad guys have Santa Muerte, we have Our Lady of the Bullet."
While Hernandez seeks protection for her husband, the unique advocation of Mary, la Señora de la Bala, was made for defending women from murderous men. According to oral history, in the 1600s a jealous Mexico City husband who suspected his wife of cheating took aim at at her with his gun at which point she raised a statuette of the Virgin of the Immaculate Conception as a shield which took the femicidal bullet for her. Apparently in the Colonial era women mostly looked to the Virgin for ensuring successful childbirth and finding and retaining a husband, presumably not a femicidal one! In 1901 the image of the bulletproof saint was stolen from Hospital de Jesús de Nazareno only to reappear in 1913 at a Mexico City pawn shop where a priest came across it and enshrined it at its present location in Ixtapalapa.
Given these times of leaden projectiles piercing thousands of Mexican bodies, it's no wonder that Our Lady of the Bullet has newfound popularity as a supernatural flak jacket. The resident priest at the Ixtapalapa shrine states that unsurprisingly the diminutive Virgin has become a favorite among soldiers and cops who are on the front lines in the interminable drug war. But given Ixtalapa's notoriety as ground zero for Mexico's pandemic of femicide in which an average of seven women are killed each day, it is Our Lady of the Bullet's role as protectress from murderous men that is most compelling.
In Mexico, it is not death per se that is feared, after all in a culture where the Day of the Dead and other such events permeate the cultural calendar, death is deemed inevitable. Mexicans might generally agree with the fact that as Shakespeare wrote 'all that lives must die, Passing through nature to eternity'. Death is not something talked about in hushed tones as it is in much of the Western world. However, the manner in which one dies is deemed essential as to whether one enjoys a propitious journey to heaven, or falls into the fiery flames of hell. Someone who dies a bad death, through violent means, such as in a murder or a hit-and-run, indeed in any event that was unpredictable, vicious or cruel is seen to have inauspiciously entered the realm of purgatory which they must pass through, 'unprepared', as the Mexicans believe, thereby making their successful trajectory to heaven much more arduous and in a worst case scenario unattainable.
The deceased, it is said, may then haunt the living as ghosts or be forced to spend their afterlife in the inferno. Families who experience such a dire death may spend hours in nightly prayer, giving oblations of food, candles and many other items to ensure the deceased travel safely to heaven. On the other hand, someone who dies a natural death, perhaps due to a long illness or other more foreseeable circumstances, is seen as prepared, having prayed with their families and done the requisite religious rituals to ensure a safe and facile passage to heaven. Our Lady of the Bullet may therefore be seen as a helper to those men and in particular women, at risk, not to avoid death but rather to elude an ill-omened death.
Women in Mexico, typically have far less agency and ability than men to protect themselves from the nefarious characters that loom large in their neighbourhoods, posing a constant threat to themselves and their families. As such Our Lady of the Bullet is a weapon of the weak for women, a means of seeking agency through the medium of a supernatural intermediary. The fact that Our Lady of the Bullet is herself a woman, allows devotees to appeal to her not only on the basis of their shared gender, thus rendering her into a familiar figure, who would be more likely to understand their vulnerability and the dangers of being a woman than a male saint.
But additionally, this Marian figure, epitomises the eternal, divine mother, procreatress, a source of life and maternal affection who devotees can turn to as a child would to a mother, for security and protection. Mary is believed by Christians to have been intimately involved in Christ's life, giving birth to him and aiding him in his path to greatness. Today, in the form of Our Lady of the Bullet, she remains a heavenly queen and spiritual mother caring for her children by protecting them from an untimely and ill-fated death.
Co-authored by Dr. Kate Kingsbury* and Dr. Andrew Chesnut
*Dr. Kate Kingsbury obtained her doctorate in anthropology at the University of Oxford, where she also did her Mphil. Dr. Kingsbury is a polyglot fluent in English, French, Spanish. She is a polymath interested in exploring the intersections between anthropology, religious studies, philosophy, psychology, sociology and critical theory. Dr. Kingsbury is Adjunct Professor at the University of Alberta, Canada. She is fascinated by religious phenomena, not only in terms of their continuity across the Holocene and into the Anthropocene but equally interested in the changes wrought to praxis and belief by humans ensuring the infinite esemplasticity that is inherent to all religions, allowing for their inception, survival, alteration, regeneration and expansion across time and space. Dr. Kingsbury is a staunch believer in equal rights and the power of education to ameliorate global disparities. She also works pro bono for a non profit organisation that aims to empower and educate girls in Uganda. Follow Dr. Kingsbury on Twitter