by Bob Robinson
How well do our educational institutions support and promote living out our faith in our work?
Not very well, according to two experts who addressed those attending the Faith@Work Summit in Boston this weekend.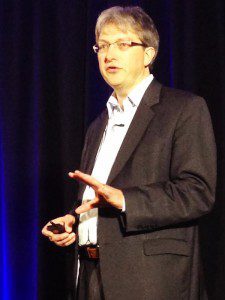 Paul Williams of Regent College addressed some major problems that he sees in North American seminary education.
In spite of all the decades of teaching on faith/work integration, why do so many Christians still struggle with a sacred/secular divide in their lives? Why are they still unable to connect their faith with their work?
Williams stated that it is because most Christians have an anemic theology of work, vocation and mission. While many people have four to eight years of complex higher education for their vocations, they have the equivalent of a ninth or tenth grade education in theology. They have not been equipped with the depth that they need to live a holistic Christian life in which their faith impacts every aspect of their lives, including that which they spend most of their time and energy doing, their careers.
Williams quoted Mark Greene of The London Institute for Contemporary Christianity, when he stated that churches see their primary mission as, "to recruit the people of God to use some of their leisure time to join the missionary initiatives of church-paid workers."
Williams blames our seminaries for this faulty view of the church's mission. And he said, "Our seminaries' education strategy is just not going to cut it" because it is based on a "Clerical and Scholastic" model that will not meet the challenges of our day. By this Williams means that, as a vestige of the age of Christendom, we train our people for a careers as pastors funded primarily by the tithe and give them an education in theology and Bible and think that they will be effective. But what this often leads to is an intellectual insecurity when it comes to real-world marketplace issues.
As a result, many of our pastors do not make it a priority to understand and engage the members of their congregation in the matters of their work.
He suggests that seminaries begin training people in a way that joins scholars with practitioners. Pastors should be required to experience what it is like to work in the secular world as part of their training. Practical discipleship for those seeking ordination must be done in the context of community, with real-life experiences.
But in an age where there are seminaries (which have increased by 7%), these schools are experiencing lower enrollment (down 12%) and increased cost (up 20%). There is oversupply and under-demand. This is a crisis in seminary education that must be met, but the temptation for schools may be to make seminary education less robust for the sake of keeping their doors open.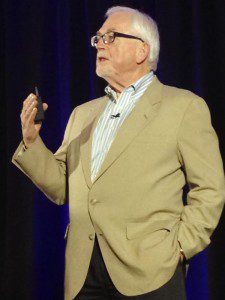 Al Erisman echoed this concern. Erisman is Executive in Residence, Seattle Pacific University for their School of Business & Economics. Showing a chart that showed the cost of tuition at an average university over the past decade, the annual cost had increased from $4,000 to over $10,000. That's a factor of 2-1/2 times, which if continues would mean that annual college tuition at this school will be $1.6 Million in 2090. This is clearly not sustainable.
Along with the crisis of cost, according to Erisman, there are also crises in the educational content and the lack of character development in today's universities.
For over three decades Erisman was at The Boeing Company, where he ultimately served as Director of Technology R&D and Senior Technical Fellow. While there, he fought against the prevailing ideas of economist Milton Friedman who famously advocated in 1970 that a company should only be concerned with maximizing shareholder value. According to the Friedman School of Economics, there is no real reason for business people to have a sense of social responsibility.
Erisman believes that too many university graduates still seem to believe that the main reason for business is to make profits.
Contrary to Freidman's philosophy, Erisman spoke of Daniel Kahneman, another Nobel-Prize winning economist and the author of Thinking, Fast and Slow. Kahneman's research, which combined psychology with economics, proved that business leaders' behavior often is not merely in their self-interest. They often do indeed act in the interest of others. Erisman wants universities to embrace a servant-leadership paradigm for business leaders.
How can we address the challenges facing university and seminary education? The Faith@Work Summit was not about having experts espouse solutions to all these issues, but to create a conversation among overlapping networks of faith-at-work sectors for finding collaborative solutions.
What do you have to offer the conversation?
---
Bob Robinson is a writer, speaker, mistake repeater, forgetful husband, silly father, and depender on God's grace and mercy. He consults with (re)integrate, he ministers with CCO, and he edits with The High Calling. Read more of his work at www.re-integrate.org/magazine. Follow his tweets @Bob_Robinson_re.
Images by Bob Robinson. Used with permission.