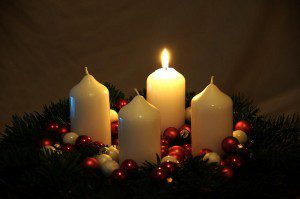 by Keri Wyatt Kent
As we awaken from our post-Thankgiving food/shopping/football coma, we find December looming. Some of us feel our blood pressure ticking slowly upward. For others, there's a low-grade stress, like static in the background of the playlist in our minds. Perhaps a few of us feel excited or eager to begin the season of Advent.
The next four weeks are an opportunity to celebrate, a time of waiting and joyful anticipation. Advent comes from the Latin "adventus" which means arrival or coming.
Who, or what, is coming? Jesus. And what did Jesus bring? Grace. Forgiveness of sin. A great light to illumine the lives of the people walking in darkness.
Adventus is also the Latin root from which springs our word, "adventure."
This year, I hope to find moments for contemplation, but also, for action, for the adventure of Advent. The adventure of extending grace and forgiveness. Whether in the boardroom or the shopping mall, to be an agent of that forgiveness that arrived with Christ. I want to embrace the challenge of Advent in us.
The arrival of grace
We celebrate the coming of Christ. What arrived with the Messiah? Grace. How can it arrive each Advent season? Through Jesus' followers living out that grace. Advent in us goes beyond mere contemplation of the "reason for the season." Advent in us is the word become flesh—when we, like Christ, arrive with forgiveness and grace in a world that has come to expect, unfortunately, condemnation from Christians.
For me, the challenge of Advent in us is the challenge to forgive. This is not theoretical. People in my life, at work and elsewhere, have behaved badly of late. Maybe this only happens to me—but God seems to give me plenty of opportunities on a regular basis to grow in grace.
Christ's mission: forgiveness. He came, bearing grace, and forgiveness, to a broken world. It's written: "For God did not send his Son into the world to condemn the world, but to save the world through him." (John 3:17). Eugene Peterson cunningly translates this, "God didn't go to all the trouble of sending his Son merely to point an accusing finger, telling the world how bad it was. He came to help, to put the world right again."
He came to help. He came to forgive. As recipients and bearers of His grace, how can we do the same? Do we do that, or do we "tell the world how bad it is"?
Our work provides an opportunity to contribute beauty and meaning to the world. It also provides us opportunities to get hurt, to get dinged. To be wronged, hurt, lied to, cheated. In the workplace, other people sometimes take credit for our ideas. They sometimes go back on their word, spin the story a bit too much. They ask us to do a project, then change the parameters once we're too far in to back out. They break promises, even financial ones.
In other words, at work, we have daily opportunities to extend grace. It is a place where we can, not just this month but every day, find abundant adventures in forgiveness.
We who are Jesus followers are (supposedly) filled with grace. God works through us by means of his grace (see 1 Corinthians 15:10).
This time of year, we feel stressed. We also, inaccurately, cry out about "persecution" when someone wishes us a "Happy Holidays" instead of saying "Merry Christmas" or wants to plant a menorah next to the crèche in the village square. If you insist on seeing that as an affront (which it is rarely intended to be), choose to forgive. Choose to extend grace.
Exuberant giving
John 1:17 reminds of the radical shift from law to grace that arrived that first Advent: "For the law was given through Moses; grace and truth came through Jesus Christ." Peterson's Message version offers a poetic riff on this:
"We all live off his generous bounty,
gift after gift after gift.
We got the basics from Moses,
and then this exuberant giving and receiving,
This endless knowing and understanding—
all this came through Jesus, the Messiah."
Can we be agents of "exuberant giving and receiving"? I'm not issuing a call to materialism, but to exuberant and lavish giving of grace, of forgiveness—the things that Jesus arrived to bring.
Forgiveness is, in fact, required of us year round. Our own receiving of grace and forgiveness depends on our willingness to forgive others. It seems God's forgiveness is conditional. We will not receive what we are not willing to give others. When Jesus taught his disciples to pray, he told them to say, "forgive us, as we forgive."
In case we weren't clear on what that little word, as, means, he added a postscript to this prayer:
"You can't get forgiveness from God, for instance, without also forgiving others. If you refuse to do your part, you cut yourself off from God's part." (Matthew 6:15,
MSG)
If you don't forgive, you won't be forgiven. The good news is that God initiates, pours his grace into our lives. We are recipients of abundant grace, given that it might flow to others. It cannot be contained or it will become contaminated (see Jesus' parable on the unforgiving servant in Matthew 18:21-35).
At work, where people steal our ideas and take credit for them, or where our boss channels Ebenezer Scrooge and demands that we work long hours, where competition and stress can eclipse grace, forgiveness is a challenge. But when we open ourselves to the adventure of Advent, Jesus can do the miraculous. Starting in us.
Keri Wyatt Kent is the author of ten books, including Breathe and Rest: Living In Sabbath Simplicity. She is a regular contributor to The High Calling. Learn more at www.keriwyattkent.com.
[Photo by Martina Gaßner, used under a creative commons license, sourced via Flickr.]