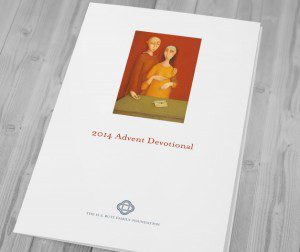 Every year I cringe a bit when we dig out the decorations for the holidays. "The season of clutter," I sometimes grumble. In the end, though, I love it when the tree is lit and the piano is covered with twenty photos of my kids posing with Santa over the years (no kidding, I just counted).
My favorite holiday decoration, though, is our Advent wreath, handmade by our kids several years ago at church.
In a world of fake trees, LEDs, and cotton snow, the reality of an Advent wreath is startling. Real taper candles with real burning flames. The kids light them at dinner while we eat and read from a short devotional about the coming of Christ.
My favorite devotional reading of the season comes from Isaiah 40: "A voice of one crying in the wilderness, 'Prepare the way of the Lord.'" In some ways, my life is a far cry from any wilderness. I have air conditioning. I have an laptop and a smart phone and high speed internet with wifi hubs and video streaming. I drink tea called Cozy Chamomile.
But I do feel the pressure of the world around me. Technology sometimes creates a world that is too much with us. My devices invite me to be always available and always sharing until my mind feels as chaotic as any wilderness. I long for a voice to speak into that chaos, to prepare the way for the Lord, to make a highway for him right through the middle of this noisy century.
Advent is a time of waiting and a time of reflecting on what is worth waiting for.
Peace and love and goodness. Creativity, inspiration, and creation. Service, humility, sacrifice.
Soon we will sing the "12 Days of Christmas" and "Hark the Herald Angels," and it will be Christmas. Until then, we wait. And Christmas waits with us, just out of reach.
This past Sunday, waiting for creativity and inspiration and Christmas, I wrote an Advent sonnet. As I wrote, Christmas hid itself in the poem, the "12 Days of Christmas" to be specific. Some of them are so close to the surface, they almost smack a reader in the face. Others are barely there at all. See if you can find references to all 12 days.
And God bless us as we wait for him this Advent.
A Prophet in a Pear Tree
The birth of God begins in wilderness,
a voice piping in the desert, "Make way
for the Lord." Let turtledoves rebuild the nest.
Under feathered breast will rest the eggs they lay.
Tomorrow cracks of life will line the shells
and baby birds will sound their drums and fight
for worms. When winter rings those Christmas bells,
chicks become doves. White wings take flight into light.
You shoppers, swimming through crowds for things—things!—
you deckers of halls and eaves and trees cut dead,
un-nest dove homes from French shutters and string
the colored bulbs—blue, green, milky white and red.
Announce tonight your dance against the dark
until herald angels call their Christmas hark.