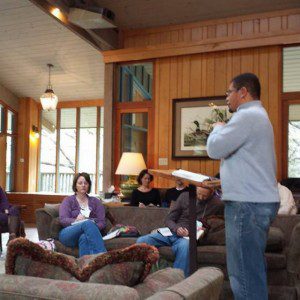 by Laura Boggess
"It feels weird after being gone for a while to step back into the same old, same old," I tell my boys this morning as we eat our breakfast.
I have just returned from a retreat in the Texas hill country, at Laity Lodge, where God used water-hands to carve stone into one of the loveliest places on earth. Tomorrow I will return to work but I took today off to catch up on all the stuff of life that continued humming while I was gone.
"Welcome to the real world," says my youngest—who seems to have grown a couple inches since I left him five days ago.
And I smile as I wipe toast crumbs from the counter, because I know that he's partly right. That this—the "real world"—I often miss the holy in it. It's the going away and coming back home that opens my eyes to the beauty. I don't know why it is in the stepping away that the everyday ordinary becomes the everyday extraordinary.
"I missed you," I say, planting a kiss on the top of his head and breathing in the smell of cinnamon boy-skin.
Redemption Reclaims
I want to hold on to this, savor the sweetness of the happy that I feel when I look at the mess of this life that is my "real world". One of the speakers at the retreat talked about this—how we tend to divide the world into holy and secular. Dr. Vince Bacote, Associate Professor of Theology and the Director of the Center for Applied Christian Ethics at Wheaton College, said that because we are a redeemed people, all of life—our vocational work, our day-to-day tasks, everything we do—is holy.
"Sometimes what happens in redemption is that redemption ends up being an escape from creation. The point of redemption is not escaping creation, it's reclaiming it… ," he said.
We are called to be salt and light in the world, Bacote reminded us. What that means is to actively work for renewal in every aspect of our lives.
"To be a disciple is to be a kind of force for good—a force that prevents decay."
Because of common grace, we can find good in this broken world and claim it all for God's glory.
Common Grace
Common grace is, as Bacote says in the introduction to Wisdom and Wonder, Abraham Kuyper's manuscript that explores common grace in science and art, "God's preserving work in the created order … God's restraint of the full effects of sin after the Fall, preservation and maintenance of the created order, and distribution of talents to human beings."
Matthew 5:45 says, "He causes his sun to rise on the evil and the good, and sends rain on the righteous and the unrighteous." This is common grace at work. It is not
saving grace
, but
preserving grace
for this world that God created and called good.
Abraham Kuyper famously said, "There is not a square inch in the whole domain of our human existence over which Christ, who is Sovereign over all, does not cry, Mine!"
The Real World—God's World
That Texas canyon is a thin place—a place where the veil between heaven and earth is translucent. But today I am realizing that my home and my work are too. Making a practice of keeping Sabbath, stepping away from the usual, creates a rhythm that allows my eye to see the holy of the work I do every day. This is how God made human beings, in his image; to thrive on a steady rhythm of work and rest. This is one lesson I carry home from the canyon: work and rest are two sides of the same coin. One without the other closes my eyes to the holiness of God's entire world.
Welcome to the real world. A world where retreats and laundry and going to work on Monday morning are all sacred.
Welcome to God's world.
Author of the newly-released Playdates with God: Having a Childlike Faith in a Grown-up World, Laura Boggess lives in a little valley in West Virginia with her husband and two sons. She is a content editor for The High Calling and blogs atlauraboggess.com. Connect with Laura on Facebook and Twitter.
[Photo by Dan King, used with permission.]