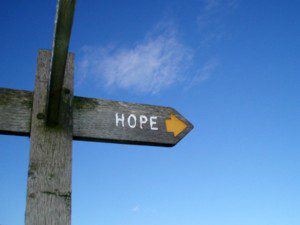 by Keri Wyatt Kent
"A thrill of hope
A weary world rejoices
For yonder breaks
A new and glorious morn…"
This time of year, we hear the word "hope" frequently. But people often use it carelessly. In fact, we use to the word hope to wishful thinking not based in reality, when we say things like, for instance, I hope the Bears make the playoffs.
Biblical hope is something altogether different.  When it comes to matters of faith, hope is anything but wishful thinking. It is confident assurance (something even the most ardent Bears fan is not experiencing this year). But the path to experiencing real hope is narrow and rocky.
In fact, strengthening our hope is not something many of us would actually sign up for if we read the fine print:
"…we know that suffering produces perseverance; perseverance, character; and character, hope. And hope does not put us to shame, because God's love has been poured out into our hearts through the Holy Spirit, who has been given to us." (Romans 5:4-5)
We want that end result, hope. We might even desire to have strength of character. But the path to get these things: we have to persevere, not just through the daily grind, but even through difficulties, through suffering—that's not as palatable. Like the ancient song says, we live in a weary world, full of darkness. We long for morning to break, for hope to appear.
A closer look at this passage and its context makes it clear: Real hope is impossible apart from God, since God is the object of our hope. Hope is also one of the outcomes of our spiritual formation—what God's Spirit is forming in us. God's love, poured into the human heart, brings hope that goes far beyond wishful thinking or pretending to be happy. Hope is a gift.
When we are weary, how can we rejoice? How can we find hope?
Light and momentary troubles
For many, holiday sadness is a fierce reality. Countless people find themselves fighting depression during the holidays. Telling people to buck up or that they should be happy, or hopeful, rarely helps. Sometimes, we have to acknowledge that this is a difficult season.
However, focusing on the external trappings of the season, especially in our materialistic culture, is exactly the opposite of what the Bible recommends. This passage recommends an eternal perspective:
Therefore we do not lose heart. Though outwardly we are wasting away, yet inwardly we are being renewed day by day. For our light and momentary troubles are achieving for us an eternal glory that far outweighs them all. So we fix our eyes not on what is seen, but on what is unseen, since what is seen is temporary, but what is unseen is eternal. (2 Corinthians 4:16-18)
How can you fix your eyes on what is unseen? Isn't that a contradiction, an impossibility?
Several years ago, I heard John Ortberg preach a great sermon on this passage. But it was a chance encounter after the service that really schooled me on Christian hope.
I heard someone call my name and turned to see a small woman beaming at me with what I can only call an unusual joy, for her appearance otherwise was rather rough. She was sporting a severe gray crew cut, which did not hide the large scar winding laterally across her bumpy scalp. Her bright eyes peered at me from a dry and fragile complexion.
"Lisa, how are you?" I said, trying unsuccessfully to keep my eyes from drifting toward her battered scalp. She's a foot shorter than me, making this all the more difficult.
"Well, I'm a survivor," she said. "Yes," I said, waiting, listening—a little afraid of what I was going to hear but knowing at the same time God wanted me to hear it.
"I just recently had to have brain surgery to remove a tennis-ball-sized tumor," she said. But the expression in her voice didn't match this rather hopeless pronouncement. It was like she was telling me she had won the lottery.
She went on to describe a near-death experience during the surgery, complete with angelic choirs singing in the background, light shining from under a door in a mysterious white room, and God telling her, no, don't go through the door, it's not yet your time, I have things for you to do.
She would have left five children under the age of eight if God had told her to open the door. Even more astonishing: the youngest child had pneumonia as a newborn and nearly died. Instead, she peered at me shyly from Lisa's arms.
Outwardly, she appeared to be wasting away. But inwardly, she was renewed. Happiness, which we often chase, is dependent upon our circumstances. Joy, which we often misunderstand, comes in spite of them. She had hope, produced by persevering through suffering that few of us can imagine. That hope bloomed in her, not because of her circumstances, but because God had given her a gift in the midst of those dreadful challenges. She understood that her troubles were, indeed, light and momentary.
Hope in God
In both English and Greek, the original language of the New Testament, hope can be a noun or a verb. We can hope or trust (in Greek, the verb is elpizo), or we can have hope, a confident expectation (the Greek noun is elpis).
The word hope is typically combined with prepositions—hope in God, or hope of glory, for example. Our hope is directed and specific, not vague and uncertain. It is connected with the virtues of patience or suffering, but ultimately, these do not give us hope. Rather, God gives us hope in spite of suffering, and enables us to be patient, so that we are able to grow in faith—which is the hope of things unseen.
Perhaps this Advent, you are not recovering from brain surgery, or anything near that extreme. But still—there are quiet little losses, or stresses, that make the holidays a time when depression invades along with the incessant Christmas music. Then again, maybe you are facing a diagnosis, or a loss. Perhaps you've lost your job, or fear you might, or just feel overwhelmed by your workload. Perhaps this is the first Christmas without a certain person who has died, or left you, or become estranged from you. Perhaps you're dreading having to entertain family that you secretly wish were estranged from you, so that you wouldn't have to deal with them invading your house.
We cannot manufacture hope, the real hope of the Bible. We cannot just dredge up some hope. Our hope is not in ourselves, it is in God, in fact, it comes from God—as a gift, not something we earn. The experience of that kind of hope often comes, as the Bible reminds us, when we realize God is with us in the suffering, in the small and large losses, in the stress that stretches our character.
When the Bible mentions hope, you'll often find the word faith in the same sentence. Our faith in God is the basis and foundation for our hope: "Now faith is being sure of what we hope for and certain of what we do not see" (Heb. 11:1); "And now these three remain: faith, hope and love" (1 Cor. 13:13); "But by faith we eagerly await through the Spirit the righteousness for which we hope" (Gal. 5:5).
In fact, faith, hope and love are inseparable pieces of one reality—God's gift to us. This season, rather trying really hard to be hopeful, why not just see hope for what it is—the gift of the season.
KERI WYATT KENT is the author of ten books, including 99 Bible Words You Should Know. She is a regular contributor to The High Calling. Learn more at www.keriwyattkent.com
[Photo by pol sifter, used under a creative commons license, sourced via Flickr.]