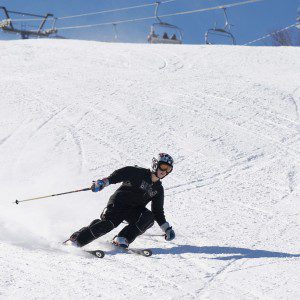 by Tamilyn Banno
Avid skiers dream of powder. The snow is feathery light, and require a different technique than skiing on a packed surface. Powder can get pretty deep, and some of the best runs are made when it's piled high. Balance is centered, and momentum is forward; otherwise, the skier sinks and gets stuck in the snow. There's skill in mastering the maneuver, but once it's learned, the sensation of floating down the mountain is epic.
Mastering leadership is about balance, momentum, and being centered on the people we serve. It's an engaging role, guiding individuals toward a specific goal. However, according to Gallup's 2013 State of the American Workplace Report, 87% of employees are disengaged and even hate their jobs. There's little guidance, little trust, and little evidence of leadership.
When the economy took a nose dive back in 2007, the stock market, housing market, and job market all resulted in evictions, foreclosures, and the closing of businesses. Were you on your knees praying? I was! Every person I know hunkered down; we entertained less, spent less, and smiled less. In 2007, we became leader-less.
How do we rise above the fear and betrayal of our circumstances in order to serve again? We face more giants than David and only have tiny pebbles to fill our slingshot. It takes enormous energy to disconnect from anger and fear and reconnect to the inspiration of leadership. However, when we give up the hope to engage and influence others, we allow the deposits of darkness to win.
We are tested and refined, always. People will make us want to fall, they want us to sink and never get up. If we're not deeply grounded in faith, then we will turn to something or someone else, trusting the golden calf or false gods, to make things right. It is our choice to put our faith into whom or what we believe. Whomever we designate as our 'go-to', will have a major effect on our decisions and attitudes in our work and home life.
Paul says in 2 Corinthians 12, "For when I am weak, then I am strong." When we are put through trials it's not our personal strength that gets us through; as Christians, it's believing that His power will fill us, giving us the strength to get us through. It's not about our reputation and saving our face; it's about His redemption and saving our faith.
The decisions you make as a leader will profoundly influence many people. You are faced with tough confrontations, every day. Without a guide, you are left to depend on your own wisdom and, inevitably, you will fumble. What if you chose the authenticity of God's love to influence your behavior? What if you consciously invited Him to every occasion, in everything you do, at home and at the office? What if you ascribed to His aid before making decisions or taking on the troubles of this world? What if you forgave more and allowed Him to make the final judgment?  Communication is important between you and God. He will help you make the right choices if you invite the conversation.
We live a full life when we acknowledge and trust in our Father. We can only be who we were truly meant to be when we live in harmony with Him. I truly believe that, as leaders, we are able to lead others to their innate potential when our thoughts and actions align with His.
Momentum will happen when leaders once again respect their value and the value of others, when their faith in leadership turns fearless, and when they desire to deepen their gift of leadership in order to serve and strengthen others. And when they do…the momentum will be epic.
TAMILYN BANNO is a Thought Leader and mentor in personal and leadership development. She was the first Regional Sales Director in Beijo, Inc. (now retired) where she took her team from being stuck at the #3 position to #1, in 30 days. Known for her inspirational leadership retreats and the Momentum Model of Leadership, she engages and produces highly proficient leaders and teams. Learn more about Tami at her website, tamilynbanno.com, and check out her latest book The Momentum Factor: How to Keep Your Team Motivated Through Building Purpose, Direction, and Trust.
[Photo by New Brunswick Tourism, used under a creative commons license, sourced via Flickr.]