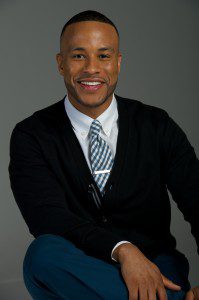 It seems that Scrooge has hit the new "Annie" remake (starring Academy Award winner Jamie Foxx and Quvenzhane Wallis, the award's youngest ever nominee) with a one-two punch, as both bad reviews and a Sony Pictures Entertainment hacking scandal have thwarted high holiday hopes for the film's opening December 19. Before this gloomy news made headlines, The High Calling talked to the film's creative executive, Devon Franklin, who is also president and CEO of Franklin Entertainment (a production company in conjunction with Sony Pictures Entertainment). While requests for comment about the breach that resulted in "Annie" being released online by a group calling itself #GOP went unanswered, Franklin's responses to other questions shed light on his approach to this and other troubling events, like the state of racial diversity in film and nationwide protests catalyzed by two high-profile killings of unarmed black men by police. The interview has been edited for length and clarity.
The High Calling: You're a creative executive on "Annie." What does that mean? 
Devon Franklin: I was one of the executives who developed the script, put the movie together, oversaw its production, and now I'm helping to spread the world about why people should go see it.
Why should they see it?
Because "Annie" is one of those classic stories that throughout generations has always been a phenomenal story about faith, about the power of connection and community, and about family. This reimagining of the classic tale is going to be as relevant for this generation as it has been for previous generations.
Is there a different angle? What's unique about it?
What's unique about it is for the first time, we're doing "Annie" with a diverse cast, and capturing modern day New York with a different flavor. When you see the story, the whole idea of "Annie" believing that one day she will find her parents, and ultimately finding her family in a way that she never anticipated. I think that story is very resonant for today, as it has been for previous generations.
Obviously Jamie Foxx is a great box office draw and Quvenzhane Wallis is a wonderful young actress, but there's been a lot of criticism regarding the lack of racial diversity in the recent "Noah" and "Exodus: Gods and Kings" films. Did you experience any resistance to the idea of remaking the film with a diverse cast?
Noah was criticized?
Yes. The cast of "Noah" was predominantly white.
I wasn't aware of that criticism.
It was out there.
There was no hesitation in reimagining "Annie" in this way. One of the movies that I worked on previously was "The Karate Kid" remake. I think it's important for these incredibly powerful stories that have great universal themes to also be done in ways that are relevant today. So, diversifying the movie was never a hesitancy on any of our parts. We felt that it was a really fresh way to make the story even more relevant.
Can the lessons of "Annie" be applied to some of the volatile, troubling, heartbreaking racial injustice issues of the day, like the Mike Brown shooting in Ferguson, Missouri?
Here's the thing, the perception of people of color has been traditionally misconstrued at times, so I absolutely think that when we can do movies like "Annie," and we can put out a new face and a new dialogue, and we can show people of color in a different light, that helps. The role of entertainment can be very effective in changing the perception, the conversation, and ultimately the treatment around diverse groups that find injustice in situations like you referenced.
It truly is a hard knock life for many people, but you've had enormous success. What's been key for you in overcoming challenges?
God. Prayer. Faith. Believing that God has a plan for my life and even though I may not always see it, that that plan is happening and I have a God who loves me, cares for me, and wants the best for me. That really has been one of the key things to help me stay focused during the times when I've wanted to give up. Life definitely gets hard and is hard, but certainly for me, having my faith has really helped me.
You're very outspoken about your faith. Was that a risk for you initially in your career? When did you feel comfortable being an outspoken person of faith in your professional context?
I'm just being myself. The first movie I worked on at Columbia Pictures was "Pursuit of Happyness." It was a movie that was incredibly inspirational and that had a tremendous amount of faith in it. On that movie, I put together a marketing and publicity campaign for how to translate the themes of the movie to an audience that really wanted it. That came from me growing up in the church, being a Christian, and having a feel for what people are going through, and having a sense that the themes of that movie could really reach that audience. It was a very organic thing when I started my time at Columbia Pictures to incorporate faith into what I did, because it was what I was passionate about and was also part of who I was. There really wasn't a trepidation in being me. If anything, part of success, I believe, is when you are your authentic self. I've never talked about my faith in a preachy way. It's just, "Hey, yeah, I go to church. I believe in God. I can do this. I can't do that." It's been a part of me and that identity has been very, very helpful. There really hasn't been a moment when I've been like, "Oh, you know, if I am Christian, what's going to happen?" My biggest concern originally was more about me preaching on the side. It was more about, "Wow, if I'm out here preaching, how is that going to work with my job?" Ultimately everything found a way to work in sync with each other.
You are quite a dynamic preacher. Did you ever sense a calling to traditional vocational ministry?
Nope, nope. I never felt that I had a calling to a traditional ministry. I think it's interesting that God is continuing to give me opportunities. Again, my profession is in Hollywood, and to have opportunities to do ministry, I think, has been what has made my story and my point of view unique. I've had the call to continue to use my gift and continue to preach, to speak, and to motivate from the vantage point of where I am. I've felt called to keep doing ministry in the way that God has called me to do it.
I think you just answered our last question: Do you view your work in film as a high calling? It sounds like you do.
Oh, absolutely. Absolutely! I personally couldn't be here if I didn't. No way.
The challenges are such that you wouldn't be? Is that what you're saying?
If I didn't believe I was doing God's work, the day-to-day of it wouldn't be fulfilling. Working in any field is hard. Work is hard. There are challenges every day and knowing that you're doing this as part of a calling, and as part of a purpose is what keeps you in it, keeps you consistent, and keeps you persevering in the face of great obstacles. You ultimately believe that you're perseverance and your calling is what will allow you to find success, even on those days when you don't think success is really that close.
---
CHRISTINE A. SCHELLER is a widely published journalist and essayist. She lives with her husband at the Jersey Shore and in Washington, DC, where she helps facilitate dialogue between scientific and religious communities.
DEVON FRANKLIN is a rarity: an African-American studio executive at the forefront of Hollywood's hit machine. He currently serves as Senior Vice President of Production for Columbia Tristar Pictures, a division of Sony Pictures Entertainment, making him one of the youngest individuals in that position in the industry. He recently oversaw the remakes Sparkle, starring the late Whitney Houston in her last on screen role, and The Karate Kid, starring Jackie Chan and Jaden Smith, which grossed over $350 million worldwide. He also worked on The Pursuit of Happyness and Hancock both starring Will Smith, as well as the faith-based hit Not Easily Broken, and the family comedy, Jumping the Broom starring Angela Bassett and Paula Patton, both produced by Bishop T. D. Jakes. He was formerly a studio executive at Metro-Goldwyn-Mayer (MGM) where he worked on John Travolta's Be Cool and Queen Latifah's Beautyshop, and got his start as an intern for Will Smith and James Lassiter.
Photo is courtesy of Devon Franklin.