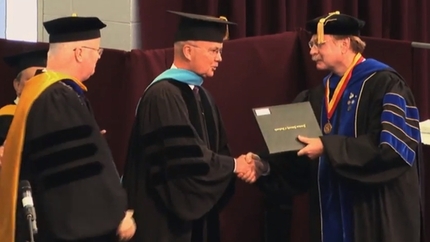 "Truth eventually wins out; facts are stubborn things."  These were the words of General Michael Hayden when he gave the commencement speech at Franciscan University of Steubenville on May 12, 2012.  He continued: "stand your ground, don't forget the moral compass you have been given here at Franciscan University."
As a proud graduate of Franciscan University of Steubenville, I echo his sentiments.  The truth does eventually win out, and I was given a firm moral compass, a commitment to the truth, as a result of my education and formation at Franciscan.
There has been quite the furor the past few days over a petition making its way around Facebook.  This petition, initiated by a group of students called the "Students for a Fair Society," is asking Franciscan to rescind the honorary degree granted to Michael Hayden in 2012.   It has fomented quite a bit of push back.
Much of the response to the petition has accused the students of calumny — the making of false statements in order to damage someone's reputation — an accusation to be taken quite seriously.  Many have argued that, until Michael Hayden is indeed proven to be guilty of torture, Franciscan University should not take any action. In fact, even Dr. Patrick Lee, who has written very clearly on the immorality of torture, has weighed in on Facebook to argue: "Before accusing someone of torture, just of general fairness one should have solid evidence."  I perfectly agree with this statement.
The point that I would like to make is not that Michael Hayden is guilty of torture.  That may or may not be true.  According to the report, he lied to the Senate Intelligence Committee.  Hayden denies this.  To Brian Williams he explains concerning certain "enhanced techniques": "I endorsed their use going forward in a very minimized form."  And he told Fox News that, "These interrogations … gave us kind of a Home Depot-like storage of information on Al Qaeda on which we relied."  On his end, he's painting himself as a moderate who endorses the techniques that at the time were "lawful, effective and appropriate." The Washington Post has put together a neat graphic detailing the differences between Hayden's statements and the Senate's report.  On the surface, it appears like Hayden is engaged in quite a bit of cover up for the Agency.  Hopefully time will reveal the full truth.
The point that I would like to make is that this is a perfect opportunity for Franciscan University to step up and witness to the intrinsic evil of torture and the inhumanity of enhanced interrogation techniques.  As Matthew Schmitz astutely
points out at First Things
, if someone
really believes there is a "moral duty" to hang this man by his thumbs so as to avert a terrible end, he must be ready to perform even more horrible acts. He must think there would be a moral duty to beat the man to within an inch of his life, to sodomize him, to do much else besides. He must believe these things even if the man is a child, or if he is a she. Evil does not confine itself to unsympathetic actors.
When granting the honorary degree to Hayden, Fr. Terence Henry explained that, "This year's commencement speakers have distinguished themselves by defending our shores, protecting the sacredness of human life, and shaping our form of worship as Catholics."  My concern is that Hayden was not concerned enough about protecting the sacredness of human life.  As he told Brian Williams: "We knew as bad as these people were, we were doing this to fellow human beings."
"We were doing this to fellow human beings."  With its long and courageous history of standing up for human life, I would not like to see my Alma Mater come out on the wrong side of this one.  I would like them to distance themselves from partisan politics and make a bold statement against torture.  I would like to see them carefully follow the evidence, and if necessary, rescind the honorary degree.  Just as the University erred on the side of moral caution when it dropped its requirement for student health insurance, an action that was surely not morally required, so I would hope that in this instance too it would err on the side of moral caution.  And I hope that it will be bold again in looking for every opportunity to protect the sacredness of human life.