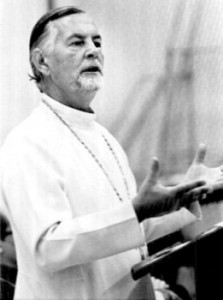 My work has been very heavily influenced by Fr. Alexander Schmemann and I think he has a great deal to say on the subjects of liturgy, sacraments, and the church.
For those of you who may not know him: Fr. Schmemann was a priest of Russian descent in the Orthodox Church committed to liturgical theology and renewal. After a teaching period in Paris (1946-1951), he joined the faculty at St. Vladimir's Seminary in New York where he remained until his death in 1983. Married to Juliana, he was awarded the title of Protopresbyter, the highest accolade available for a married priest in the Orthodox tradition. His writings cover the liturgical life of Orthodox Christianity and call people to a deeper understanding of and participation in the church's worship and sacraments. I don't think it is a stretch to claim that Fr. Schmemann is to liturgical studies/theology what N. T. Wright is to New Testament studies.
Fr. Schmemann introduced the idea of a "liturgical coefficient" early in his book, Introduction to Liturgical Theology. This concept is utterly essential to understanding the meaning, nature, and value of liturgical theology in both the parish pew and academy. He describes it this way in a paper entitled "Theology and Eucharist":
But from the standpoint of Tradition the sacramental character of the Eucharist cannot be artificially narrowed to one act, to one moment of the whole rite. We have an "ordo" in which all parts and all elements are essential, are organically linked together in one sacramental structure. In other words, the Eucharist is a sacrament from the beginning to the end and its fulfillment or consummation is "made possible" by the entire liturgy. Liturgy here is not opposed to sacrament, as "symbolism to realism," but indeed is sacrament: one, organic, consistent passage, in which each step prepares and "makes possible" the following one.

– http://www.schmemann.org/byhim/theologyandeucharist.html
The idea is that each element of the liturgy or ordo gains meaning from that which both precedes and follows. The Lord's Prayer is still the Lord's Prayer but it carries an extra layer of interpretation when said as part of the Eucharistic prayer versus at another point in the Church's worship. We must understand the context of the liturgy in addition to it's content in order to faithfully interpret its robust theological meaning.
I was also captivated by a paper from Fr. Schmemann about "Great Saturday" or "Holy Saturday" as the Blessed Sabbath. He relates the tension of waiting-for-Pascha-in-the-shadow-of-the-cross and our existence between the already, but not yet of redemption and consummation. He says:
Every year, on Great Saturday, after this morning service, we wait for the Easter night and the fullness of Paschal joy. We know that they are approaching — and yet, how slow is this approach, how long is this day! But is not the wonderful quiet of Great Saturday the symbol of our very life in this world? Are we not always in this "middle day," waiting for the Pascha of Christ, preparing ourselves for the day without evening of His Kingdom?

– http://www.schmemann.org/byhim/matinsholysaturday.html
If Great Saturday is the "middle day" between Good Friday and Easter Sunday, then we are living in the "middle day" between the first and second advent of the King of kings and Lord of lords. Furthermore, our lives should reflect this holy and active waiting as we trust that God will accomplish all that He has promised and that His Kingdom will have no end.
How then should our lives look? How then should we be living?
"Christ has died. Christ has risen. Christ will come again" (emphasis mine).
Perhaps our preparation for the final consummation of God's Kingdom should be intentional, holy, and a continuous act of self-offering unto the triune God.