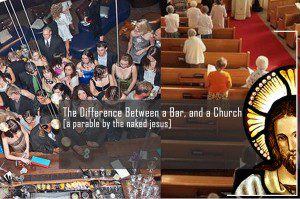 One day, while speaking to a gathering of people, The Naked Jesus was confronted by a church member who asked, "What if a gay person asked if they could go to church, what would you tell them?" The Naked Jesus shared this story:
One Friday night, a Pastor decided to go to a local bar, known to others as a "Gay Bar" He had never been in a bar, and he wanted see what it was all about. He was nerves, he knew if the people in his church found out, he would be fired. So, after praying, and thinking about it, he decided to go. So, he put on his clerical collar and headed to the bar. When he did, he was shocked.
As soon as he walked in the door, people in the bar welcomed him introduced themselves, and were honestly happy to see him. They were friendly, and were willing to take the time to sit, and talk with him. After a few moments, a large, tattooed covered man came over. He sat next to the Pastor, introduced himself, and bought the Pastor a beer. Over the next hour, or longer, they laughed, cried, talked, and got to know each other. As the Pastor was leaving, they shared contact information, and promised they would talk again.
That evening, the man from the bar thought about the time he spent with the Pastor – and it brought out memories of a person who just wanted to talk, and get to know him. The next day, he decided to take the plunge, and visit the Pastor's Church.
The man was nerves, he'd never been in a Church before, and he was certain his friends would think it was weird that he wanted to go to a church – so he told no one. When he got up that Sunday morning, he put on his best t-shirt [the one with just a few stains, and small holes], he even ironed his best oil infested jeans. When he was all dressed up, he got on his bike and rode to the church, not knowing what to expect.
When he entered the church, no one spoke with him; no one even made eye contact with him. In fact, people moved aside as he walked up to them. As the service started, he sat in the back, all by himself, there were actually two empty pews between him and the rest of those gathered. During the "Passing of the Peace" no one reached out to him to shake his hand. At the end of the service, as everyone was gathering for coffee, he was ignored still. He got a cup of coffee, and sat at a table all by himself. When he left, he decided to never go back again.
The Naked Jesus asked, "So, which place was the most welcoming, the bar, or the church?" The church member answered, "The bar was more welcoming." The Naked Jesus smiled and replied, "Right. So, would those who were different than you be welcomed in your Community of Faith?"