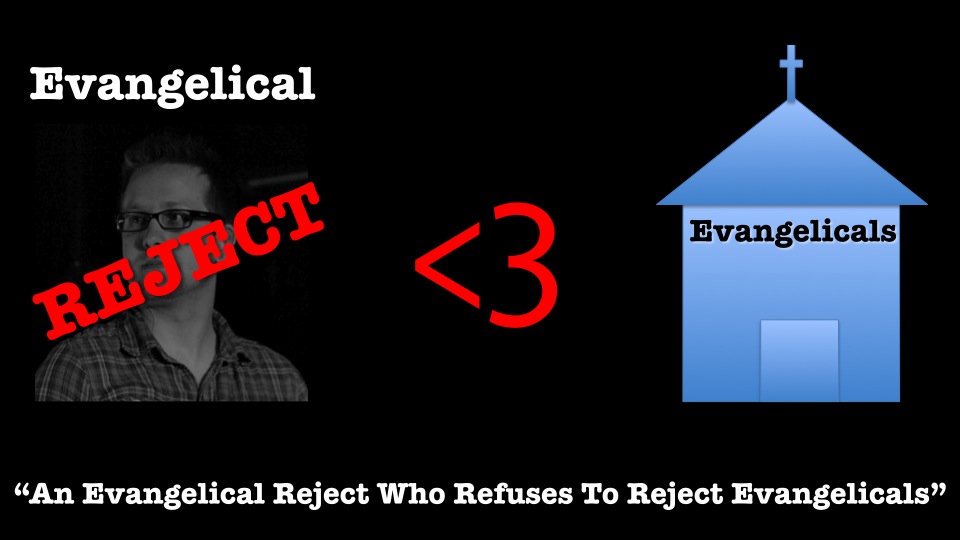 Last week I posted an article called "You Might Be an Evangelical Reject If…"  Many of you read with laughs, perhaps at the picture I created in PowerPoint (as I know zilch about graphic design) or at the clearly tongue-in-cheek nature of the article as a whole.  Yet some folks resonated on a deeper level.  For you, it spoke into a deep part of your encounters with many evangelicals in local churches.  You know rejection and as fun as it is to poke fun at this, much hurt remains.  Sometimes church-ianity within evangelicalism can be brutal.
One theme that comes through the comments is that "its not that we sought to be alienated from the evangelicals in our faith community, but that they rejected us."  This certainly demonstrates where I come from on this issue.  Some of you have lost jobs within the church or leadership positions because of some of the "ifs" that I listed or some that fit on your own unique list.  Fear gives birth to this rejection.
Many in our evangelical churches are afraid.  Afraid to explore.  Afraid to disrupt the status quo. Afraid to have congregations turn on them because what is accepted as the Truth in the pew.  This reflects the sad state of evangelical discipleship.  For us rejects, "easy answers" fluster our souls and present an intellectual gap for missional dialogues.  Postmodern culture won't settle for the so-called right answers and neither should the people of God!
A second theme in the comments of the first post was "what kind of evangelicalism are you hanging around because this doesn't reflect my experiences?"  To answer this, I have a bit of a theory.  In the evangelical academy, there's more freedom to explore than in the average church.  Radio preachers and pop-theology influenced the average congregation.  Anything that poses a threat to the hyper-literal box conservative modernism put God into relinquishes trepidation for many church attendees.  Evangelicalism of this form looks oddly similar to its fundamentalist roots.
A final theme that came through was "yes! Let's reject evangelicalism!"  May I kindly say: no, no, no, NO!  I understand this impulse, but in my own journey of becoming a reject, I'm now convinced that an essential truth of Scripture is that God is reconciling all things.  Consider this passage in 2 Corinthians 5:
Therefore, if anyone is in Christ, the new creation has come: The old has gone, the new is here! 18 All this is from God, who reconciled us to himself through Christ and gave us the ministry of reconciliation: 19 that God was reconciling the world to himself in Christ, not counting people's sins against them. And he has committed to us the message of reconciliation.
I want to draw out three levels of this passage as it pertains to reconciliation.
The new creation has been kick started in Christ's accomplishment of resurrection.  This began the process of God reconciling all of created reality.  God is redeeming the cosmos and will return one day to make this process complete.  Heaven's justice will purge earth's corruption!
From out of the cosmic healing we're invited into personal reconciliation as well.  Any person who chooses to walk into the relationship that God offers all people, leaves behind alienation and discovers a life made whole as image bearer of the Divine.
Finally, reconciliation is a reality between humans.  If God is reclaiming ever square inch of the cosmos and if this includes every individual open to the opportunity, then it follows that we be reconciled to each other.  And this includes those who would reject us!  This is our message!
Therefore, may those of us who know rejection refuse to reject those in the evangelical church who alienate themselves from us.  May we open up our arms to those who would reject us, in order to seek reconciliation to them as much as it depends on us.  And may we rejects reject anything that appears to reject the reconciling nature of the Gospel of Jesus, including rejecting those who reject us.
I end with a final "if" to consider: You might be an evangelical reject if… you refuse to reject evangelicals.