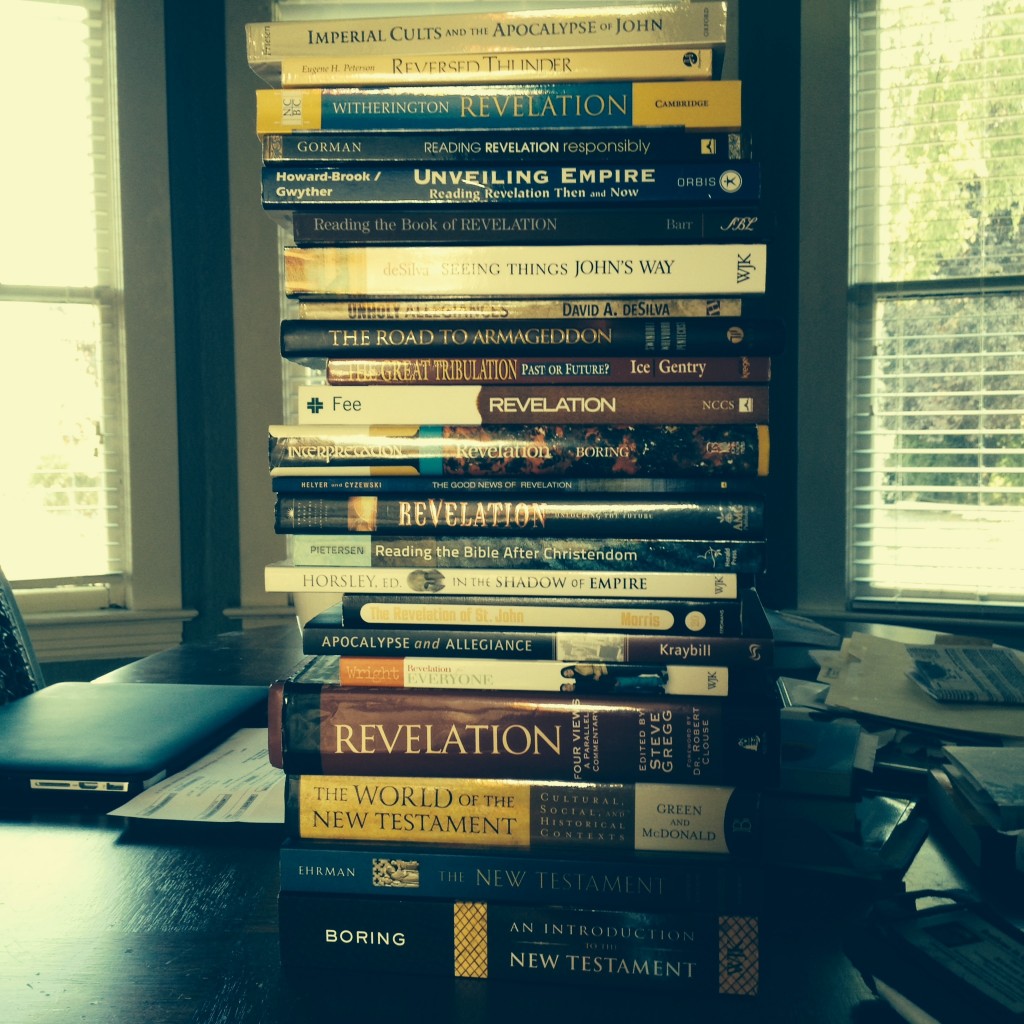 This post is going to be short. As some readers may know, we will be starting an ongoing sermon through the book of Revelation at Pangea Communities in September. By ongoing… we are going to take it slow… and sometimes take breaks… but someday in the far distant future we will get through the whole thing. (you can subscribe to the podcast here to stay caught up with the Revelation series)
In this post, let me simply point you to a list of resources that I'm reading as I prepare these messages. Most of these are books I basically I agree with. A few are to remind me of the counter-points. And a couple are simply resources for historical backdrop stuff. So, here's the beginning of a list that I'll probably add to over time. Books marked with an [*] are those that require a bit more patience for advanced lingo and concepts.
In no particular order….
Imperial Cults and the Apocalypse of John: Reading Revelation in the Ruins by Steven J. Friesen*
Reversed Thunder by Eugene Peterson
Revelation (commentary) by Ben Witherington III*
Reading Revelation Responsibly by Michael Gorman
Unveiling Empire: Reading Revelation Then and Now (Bible & Liberation) by Wes Howard-Brook, Anthony Gwyther*
Reading the Book of Revelation: A Resource for Students (Resources for Biblical Study) by David L. Barr*
Seeing Things John's Way by David deSilva*
Unholy Allegiances by David deSilva
Revelation (NCCS) by Gordon Fee*
Revelation (Interpretation) by Eugene Boring*
The Good News of Revelation by Ed Cyzewski and Helyer
In the Shadow of Empire (chapter on Revelation as a "Counter-Imperial Script") edited by Richard Horsley
Revelation: Believers Bible Commentary by John Yeats
Apocalypse and Allegiance: Worship, Politics, and Devotion in the Book of Revelation by J. Nelson Kraybill*
Revelation for Everyone by N.T. Wright
Revelation: Four Views by Steve Greg (ed.)
The World of the New Testament: Cultural, Social, and Historical Contexts by Joel B. Green and Lee Martin McDonald*
Reading the Bible After Christendom by Pietersen
The New Testament by Bart Ehrman* [Let me add that I don't often agree with Ehrman… he's a bit extreme and pessimistic… but he has helpful historical insights at times]
An Introduction to the New Testament by Eugene Boring
The Theology of the Book of Revelation (New Testament Theology) Bauckham, Richard*
New Testament Cities in Western Asia Minor: Light from Archaeology on Cities of Paul and the Seven Churches of Revelation Yamauchi, Edwin M.*

Seven Deadly Spirits: The Message of Revelation's Letters for Today's Church Daniels, T. Scott

AND THEN A FEW BOOKS THAT ARE EITHER YET TO BE LISTED OR PROVIDE THE "FUTURIST" OR "DISPENSATIONALIST" VIEW THAT I NO LONGER EMBRACE (some of which are in the image above).