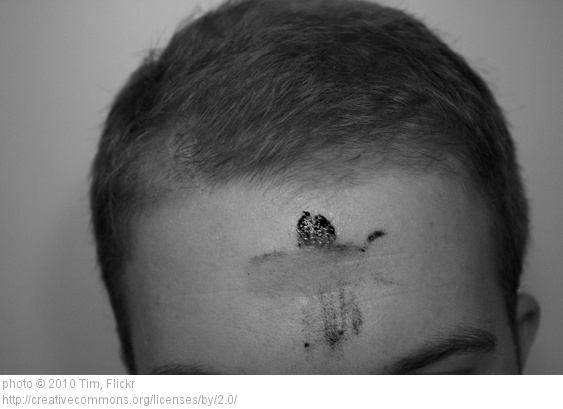 "Remember that you are dust, and to dust you shall return."
These are powerful words that are often recited as ashes are applied to the forehead of Christians. For the past few years of my life, Ash Wednesday and the season of Lent has been a time of focused commitment to journey with Christians around the world to the cross. This season is marked by heaviness, knowing the weight of what the Son of God will have to endure at the end of these 40 days. Hope lingers in the air, however, because at the end of our perpetual "dark night of the soul," we find that death is overcome by life.
We are mere mortals, deserving of death. We fail to live up to the glorious standard of a holy God, and yet, by the mercies of Christ, death will be swallowed up by life. It's the dichotomy of death and life, alienation from and union with the Divine, mortality and immortality, that marks out Ash Wednesday as unique. We remember our broken image-bearing identity and yet because of the resurrection we find that we are on a path towards becoming fully human. We are indeed made of dust and will return to such one day, but the end of the story is resurrection. Robert Webber wrote the following about the origins of this holy day:
The beginnings of Ash Wednesday are obscure. It was in use by the fifth century, and the meaning of it was derived from the use of ashes as a penitential symbol, which originated in the Old Testament and was used in the church as early as the second century to symbolize repentance.[1]
The beauty of the Christian Calendar is that it enacts the story of God afresh each year. As I've made clear elsewhere, I consider myself (amongst other things) a liturgical Anabaptist. Like the ancient (and modern) Jews chose to relive the story of their exodus out of Egypt through Passover annually, so the life-cycle of the church year helps our faith communities to be narrated by the biblical story.
Lent and the Darkness
This particular season, Lent, is a time to enter into the dark places within our souls. We are invited to allow the Holy Spirit to search us and to know our hearts. We call attention to the things that bind us up from living out the reality of the Kingdom of God and attempt to starve them. In a nation of affluence and values that often corrupts the beauty of the cross, sometimes our gluttonous lives need to have a time to experience a hint of starvation. For some this is literal (those who fast from food during Lent) and for others this is metaphorical (those who starve their subtle idols). Here, Robert Webber offers more insight:
We too easily forget our Maker and Redeemer; replacing God with things and ambition. Lent is the season that does something about this situation. It calls us back to God, back to the basics, back to the spiritual realities of life. It calls us to put to death the sin and the indifference we have in our hearts toward God and our fellow persons. And it beckons us to enter once again into the joy of the Lord–the joy of a new life born out of a death to the old life. That is what Ash Wednesday is all about–the fundamental change of life required of those who would die with Jesus and be raised to a new life in him.[2]
My default, often influenced by my American affluence, is to abstractly believe in "the fundamental change of life required of those who would die with Jesus and be raised to new life in him," but to concretely reach for comfort. Ash Wednesday (and all of Lent) is a chance to confront these sorts of tendencies—to starve them.
#1 Starving our idols places our lives with Jesus in the desert.
Prior to entering into full time ministry, Jesus was led into the desert by the Holy Spirit. Jesus was tempted by Satan in three ways: 1) food, 2) power, and 3) manipulating God. In so many instances, I've been guilty of falling into the temptations that Jesus successfully resisted.
Food – I often allow my appetite to rule my day. Eating, especially foods that "sound good" in the moment, dictates how I spend my money and time. Certainly, eating can be a moment for fellowship, but often, the food on our plates lacks anything that could be considered ethical. Food might represent other "stuff" that supplies a fill greater than allowed to God. Be it through the default grind of life or through intentional disobedience, we can stuff ourselves so full that we neglect "every word spoken by God."
Power – Each day I have to struggle against self-centered desires for power. Whether it is in my marriage, friendships, ministry, work, or writing, the temptation to expand the "kingdom of Kurt" always lingers. Collectively, when good people give into this snare of Satan, oppressive organizations and nations cause harm to the powerless. We must call this out as what it is – Satanic! But, the first step to preventing oppression is to subvert these evil inclinations within our souls. Our desire for control through power demonstrates our lack of trust in God.
Manipulating God – Have you ever prayed: "If you will ______, then I will _______." I have. Sometimes these prayers come from a place of authenticity. More often, it would be safe to admit, such "God-talk" comes from our own longings for food (stuff) and power (control). When we are desperate we can either relinquish control to God or try to manipulate God. Lent invites us to choose the former over the latter.
Jesus starved himself of food, power, and the desire to "control" God. All idols remove us from knowing God as deeply as we could. On Ash Wednesday we are invited to spend 40 days in the desert with Jesus to become like him.
#2 Starving places us in solidarity with our sisters and brothers throughout the world who barely have enough bread to live.
We know that millions of people throughout the world are literally starving. World Vision reports that each year, nearly one billion people deal with hunger. In fact, every 15 seconds a child dies of hunger or related causes.[3] We Americans, on the other hand, throw away food on a daily basis because it reaches the expiration date in our fridges. Our food expires while the lives of our sisters and brothers expire. Yet, if we were better at creating equity with our resources, then we might see the patterns of hunger disrupted. Starving ourselves during Lent reminds us rich Christians that we have been blessed to be a blessing. This vision to bless the world takes sacrifice.
#3 Starving reminds us that Jesus was a human who chose each moment to live by the "word of God."
During his temptation in the desert, Jesus responded to Satan's temptation to turn stones to bread by saying: "People won't live only by bread, but by every word spoken by God" (Mathew 4.4). He confronted Satan while simultaneously teaching us that we gain our life from learning to listen to God's voice and text. This is a way of life that all humans are invited into – a lifelong pursuit to knowing God.
On the cross Jesus needed a drink: "I thirst." Jesus, as a human, experienced all of the physical and emotional realities of being a human. In his "emptied" (Philippians 2) state of solidarity, he reminded us of the cost of discipleship: feeding the hungry, clothing the naked, and give water to the thirsty (Matthew 25). He doesn't ask us to do anything that he didn't do himself during his earthly ministry. His human ability to withstand the desert and the cross models for us how we too can starve our self-centered desires and experience intimacy with the Father. Jesus knew God, not because of his divinity, but because of his full humanity. Jesus knew the Father through the empowering presence of the Holy Spirit and told his disciples that they would do "greater things" than he did (John 14). We are invited to enter into a fully human life, just like Jesus.
#4 Starving creates space for a proverbial kick in the @$$ to remind us that the American Dream is the very thing robbing us of a more intimate relationship with God.
On Ash Wednesday, as the sign of the cross is placed on our foreheads in soot, we are reminded of our mortality. We are reminded that no amount of wealth or resources can make us invincible. As we starve ourselves of our need for "things," God will fill us with our true need: relationship with the Divine.
The season of Lent offers an opportunity to opt out of the American Dream in some subtle way just long enough to recognize that what we actually long for in the deepest crevasses of our inner-selves is not the pseudo-satisfaction of food, power, or manipulating God. We long for, deep in our bones, to know and be known by our heavenly Father. It may take a proverbial kick in the @$$ (yes, the use of dollar signs is intentional) to wake us up to these true desires, and Lent offers a grace-filled approach to confronting our idols.
Dallas Willard often says: "Grace is not opposed to effort; it is opposed to earning." Perhaps the "kick" is more like a gentle nudge or our Greatest Fan cheering us on during the exhausting fourth quarter of play. Nevertheless, we all need moments that take us out of routine to be able to evaluate how our regular patterns derail the spiritual life.
"Remember that you are dust, and to dust you shall return."
Sometimes, we American Christians simply need to starve a little. Yet, the way in which we enter into Ash Wednesday and the rest of Lent doesn't have to be out of a posture of guilt. Rather, grace compels us to starve ourselves of the things that potentially block our awareness of God and neighbor. For those of us who are rich Christians (any of us who live in the West), our mortality unites us to all people everywhere. It also reminds of the beauty of grace. We will one day return to dust, but our ultimate hope is that our dust will be reanimated on that Final Day of resurrection.
***A version of this article originally appeared on The Pangea Blog on Feb 13, 2013. 
---
[1] Robert Webber, Worship Old and New: Revised Edition (Grand Rapids: Zondervan, 1994), 224.