Nature offers to us one of its most majestic sites when it presents a waterfall. There is something magical about watching water tumble over a cliff and descend thunderingly into a gorge, creating a crack of sound that often deafens, or at least shuts us up with conviction. The grand image of the poet of Psalm 42:7 springs to mind: "Deep calls to deep at the thunder of your cataracts; all your waves and your billows have gone over me." One hardly thinks of the landscape of Israel providing such an image, though it is often assumed by commentators that during the sometimes prodigious rains in the area, added to the snow melt from Mt. Hermon, create a raging Jordan that could indeed "thunder" and foment surging waves that might sweep away the unwary. In any case, when Amos searched for just the right metaphor to capture his longing for real justice in his time, it is hardly an accident that the picture of falling water fit the bill: "Let justice roll down like waters and righteousness like a perpetual stream." Waterfalls have a certain effect on those who encounter them.
I have seen many lovely and awe-inspiring waterfalls in my many travels over the years, and I want to share some of those with you. Four beauties spring to mind.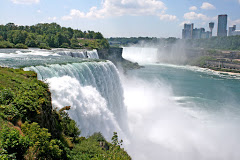 The most obvious is Niagara, that fabled and noisy fall of water that borders Canada and the US. I first saw it years ago—at least 35 years, I imagine—and I remember being duly impressed by its size and volume of water. Yes, we did do the boat trip that promises a dousing by the spray, and were not disappointed. The images of Niagara have become nearly clichéd as one of the symbols that marks our country. My only disappointment was the way one has to get to the falls. Seldom have a seen a more sorry group of curio stands and tee shirt shops that litter the way to the cataract. Those crude places did nothing to increase the grandeur of the spot, but it is unfortunately true that many of our natural wonders, when they are not protected by state or national park designations, are too often polluted by commercial desire for the quick buck. I can still picture Niagara, but I fear the pathetic shops stay in my mind nearly as much as the falls themselves.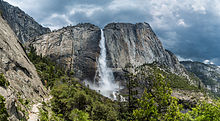 An altogether different falls experience is to be had at Yosemite National Park. There one encounters Yosemite Falls, whose total height, including upper and lower cascades, is nearly 2500', just short of one-half mile. Impressive indeed! I have seen the falls three times, I think, and have loved it each time. In the past, enterprising park personnel used to drop fire from the top of the falls at dusk to create a magical portrait for the awed onlookers. This practice was stopped for environmental and safety reasons, though I understand that on occasion one can still see the infamous fire fall. These falls are quite narrow, the water being forced through a comparatively tiny crack in the rocks at the top of the mountain, and especially in spring, create a continuous ribbon of watery beauty, plunging 1450' to the lower pool and another nearly 1000' to the pool below. Seeing such a lovely falls readily brings to mind Amos' hope for justice cascading into the world from the God of justice.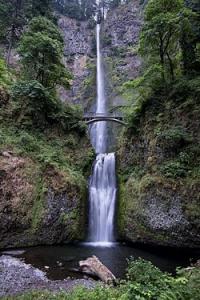 The third example of waterfalls I have experienced can be found in the Columbia Gorge of Oregon. The highest falls in the state is Multnomah Falls, barely 30 minutes from the city of Portland. This stunning cataract descends 620' and can readily be seen from the highway, and has been made particularly accessible by means of a trail that winds to a point some 100 feet above the falls' beginning. I have been twice to Multnomah, and both of my trips have been memorable. The falls are a wonder to see from below, near the Multnomah Lodge that has been at the site since 1915. My wife and I climbed to the top of the trail both times to gaze down at the origin of the water's cascade which is a combination of a local spring and spring snow melt from the mountains around. Again, as I looked at Multnomah, I was reminded of the noisy cataracts of Ps.47, a potent picture of YHWH's presence in the natural world.
But fourth, I wish to tell you of my visit to one of the world's most unforgettable and astonishing waterfalls, the amazing confluence of multiple rivers known as Iguazu. These incredible multiple falls of water form one of the borders of Argentina and Brazil. Words do no justice to what a viewer experiences when standing at the base of these myriad waters as they plunge together into vast pools below. Iguazu is the world's largest waterfall, and beggars simple description. I have attached two photos, neither of which does any justice to what I saw in that place.
It was completely impossible to talk, since the waters' roar drowned out all speech. But that was as it should have been. In the presence of such grandeur, speech is finally irrelevant, description useless. One can only gaze in awed silence as witness to the power of nature's display. Truly, as I looked at this site, I immediately thought of Amos and his attempts to capture his hope for the justice of God. Little wonder that on the tomb of the Rev. Martin Luther King, Jr. in Atlanta is chiseled those very words: "Let justice roll down like waters." In the cascades of Iguazu I saw a living representation of that hope: may God's justice indeed roll down like the waters of Iguazu and Multnomah and Yosemite and Niagara on our troubled world, for without God's life-giving cataracts we can find no final hope.