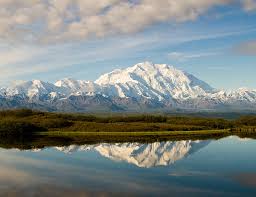 I have been privileged to go to Alaska five or six times in my life, but only in September. Though I have no comparisons to make, that month brings yellow trees, snow-capped peaks, and far fewer tourists. In short, I have found September to be a grand month to go. Each time I have gone, I have been asked to preach and teach in one church or conference or another, and that has been a wonderful way to see something of that astonishing country. But because I have always been centered in Anchorage, I had never seen the magic of Denali until the last visit. This massive mountain is no longer known as Mt. McKinley, since a recent, sensitive president proclaimed the name preferred by those who call the mountain sacred. Denali it was, Denali it is, and until the current occupant of the White House lifts his slashing presidential pen to change the name back, something I would not be surprised for him to do, Denali it will, I hope, ever be.
Human beings have been fascinated by mountains since the dawn of history. Few ancient texts lack a discussion of mountains, usually seen as the place of the gods, places that bring worshippers closer to the skies where the gods are often said to dwell. Mountains are often so enormous, so solid, so immoveable, that human observers have been awed and equally terrified by the secrets they imagined were hidden within them and on their summits.
The Bible is liberally sprinkled with references to mountains. The famous Psalm 121 intones, "I lift up my eyes to the hills (mountains); where does my help come from?" Despite myriad dorm room posters that feature this quotation written on the face of one massive and gorgeous mountain or another, the point of the psalm is to say very clearly that the mountains in fact are not the source of anyone's strength. That strength is only found in God, the maker of the mountains. The famous lines from the prophet Micah about justice and mercy and a "humble" walk with God (though I doubt the Hebrew word refers in any way to humility) are contexted by an imaginative courtroom scene wherein the mountains are called as witnesses to YHWH's case against a recalcitrant Israel (Micah 6:1). The mountains are called, precisely because they are so ancient, so seemingly wise, so much more powerful and aged than humans who are rather more like fleshly grass, whose lives are but brief.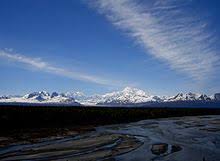 So, mountains have figured in the human imagination for eons, and I have long loved the mountains. I was raised in Phoenix, and during my grade school and high school years could see from my bedroom window Camelback Mountain, hunkering down in Scottsdale just like a snoozing one-humped camel that gave it its name. This was back in the days when the Phoenix air was nearly always crystalline, unlike its sometimes dirty quality today. Phoenix was ringed by mountains, and we were only some two hours from the much grander Mount Wilson in Flagstaff which carried a load of snow up to 8 months a year. It was an irony that I ended up in mountainless places for the next 40 years of my life, from Grinnell, Iowa for college to Dallas, TX for more school to Lake Charles, LA for some work and back to Dallas/Ft. Worth for 36 years of teaching. No mountains to be seen anywhere! We built a cabin in the Pecos wilderness of New Mexico primarily to have a place "in the mountains," and it has served us very well in that capacity for the past 30 years. Still, we could only go at best for two or three weeks each year, so most of my vistas were flat ones.
Now that we have moved to southern California, we are much closer to real mountains, and, on clear days, we can see tall peaks easily in two directions. Still, none of these mountains, in California, or in New Mexico, or even in Colorado are like the amazing Denali. So, my wife and I determined that we would see it if at all possible. But we did have a problem. Since again we were asked to teach in mid-September, the National Park surrounding Denali was already closed, so there was no way to get very close to the mountain.
However, we were told that if we wanted actually to see Denali in all its full majesty, getting too close defeated that purpose anyway. If you wanted a vista, you had to stay some distance away. I learned that among the very best views was to be had in the town of Talkeetna, about 175 miles south of Denali. We booked three nights in the Talkeetna Alaskan Lodge, which suggested that great views of the mountain could be had. We arrived on the very last week they were open, and as we pulled up the sky was thoroughly overcast, the mountains to the north completely obscured by the thick clouds.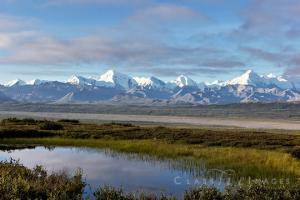 As we checked in, we asked the question that I imagine all visitors ask, "Will we be able to see Denali from our room?" The kind clerk replied, "Maybe, if you are really lucky, but this time of the year is a complete crap shoot." As we unpacked our bags and settled into the room, we drew the shades and saw precisely nothing of the great range that we knew was lurking behind the veil of clouds.
We woke the next morning and anxiously peered out the large picture window, but again the clouds were low and appeared to be lowering, bringing with them a cold mist. After breakfast, we returned to our room, still hoping for a glimpse. As a way to brighten our mood, we turned on Diana's computer, logged into the internet, and searched for a performance of Richard Strauss' "Alpine Symphony," a loudly dramatic depiction of the Alps that the composer loved. And as the music swelled into ever greater crescendos, I am not exaggerating, the clouds around Denali began to thin and lift. Soon, we could see the foot of the range, but the clouds continued to rise and dissipate until as the music reached its peak, the brass thundering the grand theme, the entire range of Denali and its sister mountains were revealed in all of their snow-capped splendor. We were quite literally struck mute with astonishment.
The Alaska Range, the center of which is Denali, is 400 miles long. Denali is slightly more than 20,000 feet high, and its nearest peak, Mt. Foraker, is about 17,400 feet. All 400 miles of the range opened up to our eyes, and we soaked in the view for the next several hours. The few people who were in the hotel rushed out on the deck, cameras, tripods, and phones at the ready, to attempt to capture the sight. But there was no earthly way to repeat what our eyes were seeing. I have the scene in my mind's eye as I write, but every picture we took and still have cannot begin to do justice to what we saw.
As I looked in silence, these marvelous lines from 2 Isaiah swam into my head. "For the mountains may depart and the hills be removed, but my chesed will not depart from you, and my covenant of shalom shall not be removed, says YHWH" (Is.54:10). The great mountain Denali had worked its magic on us and rendered us small, insignificant in the presence of its enormous and starkly white beauty. But the passage from Isaiah reminded me, just as it did the Israelite exiles 2500 years ago, that even if Denali were somehow to be removed from its vast range, the unbreakable love of God would simply never disappear from our lives. And that fact is something to genuinely be grateful for and completely astounded by, even more than any sight of any mountain, no matter how high, no matter how grand.