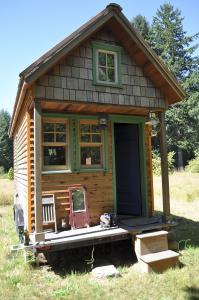 As I have hinted over the past few months of my "Peripatetic Preacher" blog, my wife and I have been anxiously awaiting the final touches on our new Los Angeles home. When we arrived in LA in May of 2017, our prospective home was a two-car garage, complete with oil-stained concrete floor and wire-rack shelving, festooned with dirty rags, half-filled paint cans, and one filthy window in the back wall. I admit to being rather suspicious that this place could be any sort of place where one might actually live! Yet, 17 months later, we are actually living here. We quickly named our new home the Garage Mahal—what else?
Let me give you a brief description of the place. One walks through the three-door French doors (only two of which actually open), which replaced the overhead garage door, and enter the 400 square foot main room. To the left, you see our television hanging on the wall, plus a bookcase containing shells, CD's and books of various sorts. To the right of the TV, there is a small table for two with two sturdy chairs where we regularly eat breakfast and a door leading to an outside walkway. That door, the over-sink window, and the large French doors offer sources of bright light for the main room. Left of the table is a large moveable kitchen island with a 6'x3' corian- covered counter top. In the island there are two larger cabinets and five drawers for silverware, placemats, dishcloths, etc.
Against the back wall there is the kitchen. From left to right, one sees: three cabinets surrounding a microwave that rests above a gas 5-burner stove and oven. A two-sided sink directly under that one window, mentioned above, tops another drawer for kitchen appliances and two more cabinets for various pots, pans, recycling and trash bins. More corian countertops sit on both sides of the sink and under the left cabinet. To the far right, there are dishwasher and refrigerator and one more cabinet that serves as a very small pantry.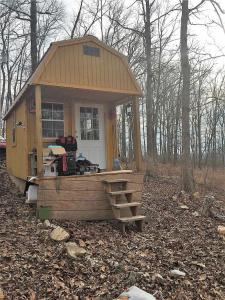 On the other wall of the main room, there are couch, stuffed chair, coffee table, two lamps. On that wall are five of our many pictures, photographs and oil paintings. Three bar stools are tucked under the countertop of the moveable island. On those stools our two granddaughters and one of us often perch for breakfast or snacks—or both.
Turning right at the end of the main room, right in front of the fridge, there is a six-foot hallway where there is an open closet for our hanging clothes along with one chest of drawers for our folded clothes and other items. To the right from the hallway there is our bathroom, 5 1⁄2'x 6 1⁄2' up to the spacious shower which is 5 1⁄2' x 3'. So far, all I have described was the original garage. As one proceeds through the hallway, one finds the bedroom, 9'x 15' with a large window in the side and a door that we cannot use since the bed must go against that door if it is to fit in the space. There are two bookcases for books, CD's, and DVD's, seven pictures and photographs on the walls, and another chest of drawers at the end opposite the bed. The ceilings throughout the space are 8'.
In addition to the interior spaces I have detailed, we have a landing on the second floor of the building where we plan to place two desks for our workspaces. That space is 20'x 5'. We already have another bookcase there where I keep many of my reference books. Through another set of French doors off the landing there is a second-story deck, topping our carport below, of some 100 square feet, protected by steel railing. We eventually will put chairs and lounges there and use the space for reading and relaxing.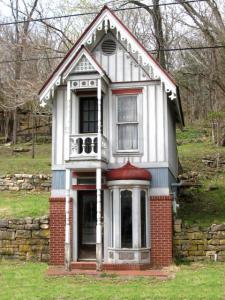 Also, in addition to that deck, there is another 100 square foot space in the front of our main room where we have put a long table and eight chairs. We regularly use that table as the spot for our dinners, either the two of us or the extended family. Our grandchildren and daughter-in-law live in the main house of our property in a three-bedroom, three-bath 1700 square foot home, and our piece of the property is behind theirs. Our son has a studio above us, off the landing and deck, for his work as a composer for film and TV.
In effect, we have about 800 square feet of actual living space that includes 200 square feet outside. Remember that we live in Southern California, and only 11⁄2 miles from the ocean. Hence, the weather is quite wonderful nearly all year around, so the outside spaces are almost always useable. That outside space expands our place by some 25%, and makes our tiny house rather more than tiny. Still, it is about half the living space we had in our old Dallas home of 33 years, and we have had to make allowances for the reduced circumstances. We divested ourselves of about 7/8 of our worldly goods when we moved, and still have made more than a few trips to the local Goodwill to lighten our load even more.
That is enough of my HGTV descriptor for today! Just why am I writing about our Garage Mahal in such detail? I thought this blog had something to do with preaching? I think it does, though I imagine you are wondering how. I am deeply concerned with the degradation of our planet due to global warming, partly brought on by the destruction of rain forests, the continued reliance on fossil fuels for all facets of our lives, and the constant drumbeat from many of our leaders in government that global warming is not happening. Any dolt can easily see that it is. What can we do?
By reducing my planetary footprint, I add my reduced life needs to what must become a worldwide movement against untrammeled growth. I drive a hybrid car that by itself reduces our carbon demand by some 60%. We have flash water heaters that reduce our fuel needs even more. Our smaller home makes heating and cooling requirements far less than our older larger home. We are also fortunate to live in a part of the vast metropolis of LA that requires in the main little driving. Within easy walking distance we have three grocery stores, two movie theaters, and countless restaurants, and of course the great weather makes those walks quite pleasant. Our location conspires with us to control our planetary demands. And, of course, this is California, a world leader in concern for the planet. The governor just this week signed an order urging the state by 2045 to satisfy all of its power needs with renewable energy only.
I am no fool; what my one family has done and is doing is a tiny drop in a vast ocean of problems that will tax the whole world in the coming years in ways terrible and wildly difficult. Yet, the Garage Mahal is in some sense a model for a more simplified life-style, and I would urge each of you to explore reducing your supposed needs for space and things. Diana and I are very pleased with our lovely home. If you ever come to LA, more specifically Culver City, drop by and visit and see how much one really needs to live comfortably and more simply on a planet that cries out for renewal and hope.
(Images from Wikimedia Commons: Please note that none of these photos depict our home; they are merely examples of tiny houses)