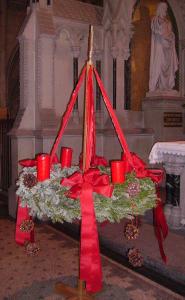 I admit that it is something of a pleasure not to have to deal with the usual Isaiah passages that regularly dot the lectionary for Advent. However grand and glorious those texts are, and however familiar and beloved, a constant recital of "peaceable kingdom" portraits can be dangerous, and I use that loaded term advisedly. If Is.11 becomes the determinative picture of our Advent and Christmas celebrations, we run the risk of experiencing the seasons as gooey confections of romanticized nostalgia, as the family sits together around the flocked tree, expressing to one another signs of teary-eyed love and affection. I admit to being quite attracted to such a scene, although in my 72 years of Christmases, seldom has that scene presented itself to me. I remember the scene as too often filled with no little tension; money was tight, Mom and Dad were not on the easiest of terms, my brothers and I were ripping open passages of socks and underwear, trying to hide our bitter disappointment. My mother was a night nurse at a local hospital for most of our growing-up years, and some Christmases, we waited until she came home from work, exhausted by her strenuous shift, her eyes clouded with lack of sleep.
During my adult Christmas mornings, there were, thank heaven, more of the hoped for love and joy and fun, but there were those years when our family was divided for various reasons, when we struggled for some sense of harmony. And this year, too, our family will not be together, since our son and his wife are in the midst of separation and eventual divorce. We will need to create new and different ways to celebrate, first with our son, then with our daughter-in-law, then with our daughter and her husband, and sometime with our two young grandchildren in some as yet not determined combination. There will be no dewy eyed romantic scene about the tree this year. The peaceable kingdom will not be in evidence at our multiple places of residence.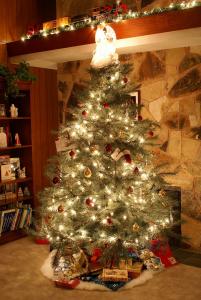 That is why, for me this year, Malachi 3 may be just the ticket. There is no "weaned child playing over the adder's den" in this text, no "wolf lying down with lamb." Instead, we find "the messenger of the covenant" of YHWH, a reminder that YHWH's covenant with the people remains in force, and that that covenant has been rejected and broken by YHWH's people. In short, YHWH's gift of land and promise seems far distant, as the people have gone to exile due to their refusal to become YHWH's children, despite YHWH's constant desire that they do so. Jeremiah's stark Temple sermon of Jer.7 where he admonishes God's people who "swear, lie, and steal," and then enter the sanctuary claiming to be God's people; it will not do, says the furious prophet. "Woe to you who say this is the temple of YHWH, the temple of YHWH, the temple of YHWH!" The covenant needs a rewriting, he says (Jer.31); the old one has been shattered.
Hence, the messenger of the covenant is coming, says YHWH through the later prophet Malachi, Hebrew for "my messenger." Instead of a lamb, we see here "a refiner's fire," a "caustic soap," that burns away the impurities, that scrubs off the grime of evil. The burning and the scrubbing will do their scouring work until "the descendants of Levi," the priestly caste of the people, will be "refined like gold and silver" until they at last present to YHWH "righteous offerings," rather than the trash they have been giving to God so recklessly. At vs.4, Malachi indulges in a bit of nostalgia himself as he tells Israel that after the purifying actions of YHWH, "their offerings will be pleasing to YHWH as in the days of old and as in former years." The fact is that there is precisely no evidence that the people have ever in their history with any consistency offered their God anything like righteous offerings; indeed, Israel's history is a record of rebellion far more than it is one of righteous offerings.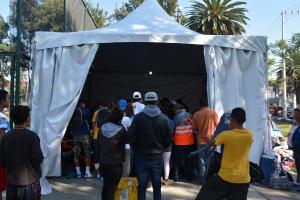 Malachi says to us that when we do think and act in those ways we reveal that "we do not fear YHWH" at all, no matter how grandly we celebrate the season, no matter how loudly we sing about the messiah, his mother, and the stars and camels and wise men who witness to his coming. Malachi speaks not of a babe in a manger but a fiery, demanding messenger who warns us that God's sharp demands do not take a break at Advent and Christmas. The one we celebrate may be babe, "mewling and puking in his mother's milk" (M. Luther), but he is also refiner's fire and caustic soap, come to cleanse us, even those of us who think we do not need a bath at all.
Our Christmas celebration this year will be far from easy, but it will happen. But however we are able to pull it off, I will strive to remember that the Christ child is far more than the little baby, "no crying he makes," but is also the gift of God who calls me to keep my eyes open for those among us who struggle to live at all, let alone experience a rich and comfortable Christmas. In them, in their care, says Malachi, we have the possibility finally of really fearing God. I wish for you and for me both a happy and an unsettling Advent.
That is why the text goes on in the subsequent verses to describe YHWH's furious judgment "against sorcerers, against adulterers, against those who swear falsely, against those who oppress hired workers with (too small) wages, against (those who misuse) widows and orphans, against those who shove immigrants aside," and thus demonstrate clearly that "they do not fear (or "stand in awe of") me, says YHWH of the armies" (Mal.3:5). We Christmas celebrants would do well to ponder this amazing and revealing list of charges. It may be easy for many of us to excoriate, along with YHWH, sorcerers, those who turn to magic and spells rather than to YHWH, or adulterers, those who shatter their most intimate relationships with loose sexual behaviors. But how many more of us are swept up in the other charges? How have we allowed our fellow human beings to be denied full wages for work, resting comfortably with our full bellies and bloated bank accounts? How have we closed our eyes to those among us who are on the margins of our sight, the homeless, the hopeless, the friendless? How many of us have referred to large caravans of anxious and hungry people who look to America as a place of hope and opportunity as "mobs of villains and thugs, seeking handouts and taking our jobs?"
(Images from Wikimedia Commons)