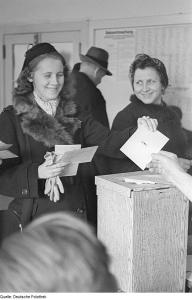 Yesterday was the long-awaited mid-term elections, and I am grateful that the Democrats retook the majority in the House of Representatives. Whether this fact will change the country's deep polarization remains to be seen, but at least there is now a chance that certain issues will get a louder hearing: climate change, shoring up the nation's health care system, more compassionate immigration policies, etc. Gridlock may ensue, but I feel somewhat better that various climate change deniers will no longer be chairs of several important committees. I have hopes, however muted they may be.
Elections always make me look inside myself as much as I look to the winners and losers in the world of politics. I am not quite sure why this is the case, but after every roiling series of contests, many of which I follow with an unseemly avidity, I find myself looking inward, exploring my now relatively long life, searching for the "what ifs" of my life. 50-60 years ago, I had rather different prospects and hopes than ever proved fulfillable or even were the slightest bit likely. At election times, they come back into my mind like neglected ghosts.
When I was about 10 years old, I was convinced that I was going to be a professional baseball player. I was attracted to the position of catcher with its lovely panoply of equipment—masks, shin guards, chest protectors. There was something decidedly heroic about squatting behind the plate and catching a pitcher's fastball after a swing and miss by a helpless hitter. I was also attracted to what has been called the "tools of ignorance" because I did not hit much and had learned from various major league backstops that a catcher was rarely expected to hit much, but he had to be a superior defensive player. I thought I could fit right in! One small problem is that I was very small! I entered High School at 4' 11", weighing under 100 pounds, and though I grew about 5 inches in my teen years, I was at a clear disadvantage when it came to blocking the plate against players twice my size! And, besides, my arm was mediocre at best, and I soon found I could not hit the curve ball, a reality that has derailed more than a few potential careers in the sport. I still love baseball and prefer it to the overly violent football and the acrobatic basketball, the latter of which has now been limited to superhuman beings at least a foot taller than I.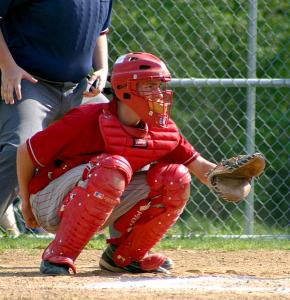 Then at 12 I discovered bowling and soon took to it like the proverbial duck. You did not need to be big or particularly strong to do this sport, and in a very few months I was pretty good. And after two or three years I became very good indeed, averaging well over 200 when 16 years old, bowling in numerous leagues with adults. I then fancied myself headed toward a career in the PBA, the Professional Bowler's Association, seeing myself on TV on Saturdays, competing for real money and giant trophies. The fact is I did compete with several men who later did appear on those shows, one of whom, Dave Davis, became a member of the Bowling Hall of Fame. I was certainly a better bowler than I was a baseball player, but I once again discovered that I was clearly not good enough to do it professionally.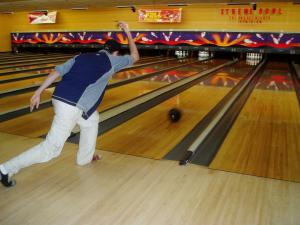 And then there was singing. Between my Junior and Senior year of High School, my voice inexplicably, and through no work of my own, turned big and dark, and soon I was singing all the solos in my mixed chorus of 100 voices in my large High School of some 3000 students. I was in those days what I now would call a budding Heldentenor, a heroic title given to those whose instruments were unusually large and dark, yet endowed with ringing high notes, up to and including high B's, above the staff, and yet could sound rich and full below the staff as well. I could do that, all of a sudden, having an easy range of over two octaves. Perhaps I could do this professionally, and I was encouraged to sing as often as I could. Those were heady days, as I appeared in several musicals and continued to sharpen my technique with vocal lessons.
All along the way, however, my real love was English literature, especially Shakespeare whom I adored and still cling to with genuine devotion. I just knew that I was going to go to Harvard, gain a PhD in English, and write heady tomes on the bard of Avon, and smoke a pipe, dressed in tan jackets with pads at the elbows, residing in a book-lined office, electrifying my colleagues with unmatched erudition. When the time came to apply to colleges, I applied to Harvard, but at the insistence of one of my teachers of English, I also applied to Grinnell College, a school I knew nothing about save that this teacher had gone there in the 1940's. I was admitted to both places, and received enough scholarship money to make attendance at either one of them possible. I chose Grinnell only because it was a bit closer to my Phoenix home, and because my teacher was very insistent, saying finally, "Anyone can go to Harvard, but only the select few attend Grinnell." I went to Grinnell, and as a result, my dreams took a sharp turn away from baseball and bowling and English literature.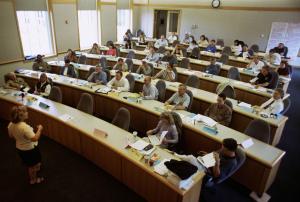 As I have recounted in my essays already, I met my wife of nearly 50 years now at Grinnell, and after we had dated for a few months, she announced that she simply could never marry anyone who was not a Methodist minister, and, as I am fond of saying, the call of God got exceedingly loud! And so, the would-be catcher and bowler and professor of English went off to seminary in Dallas, TX, not quite knowing what he was doing but convinced that he was in love and needed to pay attention to what this wonderful woman had said. What we both later learned was that she did not wish to marry a Methodist minister so much as she wished to become a Methodist minister herself, which she was able to do some 20 years later.
While in seminary I encountered the Hebrew language and once again my course changed; I simply had to study that language in depth and become its teacher. So, I gained a PhD, but not in English but in Hebrew Bible and Semitic languages. And after a brief stint as a Methodist pastor, I taught Hebrew Bible and Hebrew for 36 years before retiring as an endowed professor of homiletics at the school where I had done seminary 40 years before. If anyone had said to me that I would become an ordained minister and would spend a career teaching aspiring clergy, I would have laughed aloud, perhaps as loudly as God laughed to watch me do just that!
When people hear me tell this tale, they wonder, as do I, how it all happened quite like that. I joke that if I were a Presbyterian, I would claim that all this occurred because it had been prefigured from the foundation of the world, but because I am a Methodist it just sort of happened. I think that it just sort of happened. I was too small to catch, not quite good enough to bowl professionally, not quite driven enough to attempt a career in music, but all of those dreams filtered into my life's work: the physical requirements of baseball, the focus of the bowling alley, the skills as reader and writer fostered in my days of English, my stage experience as singing performer. All of them led to my life as preacher and teacher of preachers. It all counted; it all had great value.
How blessed I have been as I gaze back at all this from my now six years of retirement! What experiences I have had! What opportunities I have been afforded in my now over seven decades of life! Elections always do this to me, this reflecting, this recounting, this grand wondering at my vast good fortunes. I do think that every would- be preacher needs on occasion to go through something like this, a reflection on what has brought her to where she is. Your congregation has the right to know just who it is who dares stand in front of them and proclaim the gospel of God. For the gift of my own special life, I give God thanks each day. I hope you can say and do the same.