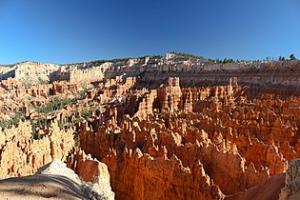 I warned you, dear reader, several weeks ago, that I was about to embark on another long road trip with my wife. In the past, such trips have resulted in this blog morphing into a sort of travelogue, a kind of highlights itinerary for my golden years. You may at least be grateful that I do not include any personal photos of me pointing at various signs, clad in red sweater, announcing the entrance to one delightful American high spot after another. I never intend to demand that you view several thousand of my most intimate snapshots of these jaunts, though I suppose you have been, and will be, bludgeoned with purple descriptions of a few of the wonders I have seen. That, I imagine, is one of the purposes of these essays I began some time ago, a record of some of the locations I have witnessed during my travels and some reflections on what those locations might suggest about faith and human meaning.
We returned last week from a near-5000 mile car trip from our home in LA to Dallas by way of Utah, Colorado, Texas, New Mexico, and Arizona. Our time in Denver was spent with my involvement with a meeting of the Academy of Homiletics, where I, and three colleagues, spoke on a panel concerning preaching and the environment. Unfortunately, this was rather more four speeches than an actual panel discussion, since the time was limited and the hour was too late for much genuine interchange. In a future blog, I will recount some of the powerful and important work that some are doing to confront the greatest challenge we all face, namely, a rapidly warming planet and our obvious involvement as the chief culprits of that warming.
But today I wish to focus on an earlier part of our recent trip—our visit to Bryce Canyon National Park. On earlier trips we had visited the other four National Parks that grace the southern beauties of Utah: Arches, Canyonlands, Capital Reef, and Zion. Each of these is worth several days to enjoy the riches they offer, and I would be hard pressed to choose which of them I found the "best;" such comparative language is probably inappropriate when discussing such places. Each is wonderful in its own way. But I confess that Bryce Canyon offered to me the greatest initial viewpoint upon entering the main amphitheater, the first stop that any visitor usually makes. No picture can encompass what the eye sees upon walking up to that grand vista.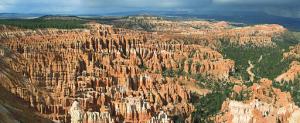 It is rather like a huge stage, festooned with towering red and white sheets of rocks, at certain places broken into hoodoos, tall chimneys of stone created by eons of water and wind that slice the sheets into separate silos. Here and there, one sees cracks forming on the sheets that presage, in hundreds or thousands of years, more hoodoos, more silos, more towers to astound the future visitor. We gazed for countless minutes at this scene, unable to swallow it whole; it was simply too vast, too exhilarating. Finally, we decided to make our way down one of the paths that are clearly marked in order to walk among these towers and sheets. Since both Diana and I are in our eighth decade of life, we decided that we would not follow our chosen path all the way to the bottom, since we knew that what went down would necessarily have to come up, and the coming up was steep indeed. So we went some distance, gaining a closer look while keeping a wary eye on the incline we were easily traversing while we were calculating what the climb up would be like. It was November, and it was cold, though not freezingly so. After a brisk walk down, we took a far less brisk walk back up, and drove to several more viewing points along the rim of the canyon that afforded alternative views of the stunning scene.
And that brings me back to the Denver conference and its focus on planetary degradation. The conference theme was "Preaching Creation," the title of one of my own books. I argued there, and continue to believe, that preachers have an important role in our struggle to save our planet by addressing as forcefully and directly as possible from the pulpit and in the church school classroom the requirements of all to live their lives more aware of the ongoing needs of the earth. We can simply no longer live as if what we do has no effect on the air, the water, the creatures, the rising temperatures. We must stop calling the ferocious storms and fires "natural" disasters. There is nothing finally natural about them; their intensity and destructive power are the direct result of our heedless burning of fossil fuels and our continued reliance on food sources that do not help the planet but rather degrade it. As horrible as it is to say, but unless we act boldly and today, there may be no human visitors to Bryce Canyon or Arches or Grand Canyon in the 22ndcentury. If that sounds apocalyptic, it is meant to. My youngest grandchild is three years old, and thus will be 85 years old at the turn of this century, a not unreasonable possibility. I want her to be able to see Bryce Canyon and Arches without donning a Hazmat suit to do so, some air conditioned garment to allow her to withstand the ferocious heat that the new century may present.
I loved my trip to Bryce Canyon, and I urge you to arrange a trip there for yourself. But more than that I urge you to get involved through your church in ways to heal the planet, by both your words and your actions. After all, a beautiful globe like ours, a lovely gift from the God we serve, is a terrible thing to waste.
(Images from Wikimedia Commons)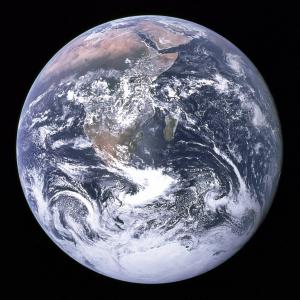 Heading back to the visitor's center, always superbly done in our National Parks, I learned something about the geology of this park and its connection to the other Utah parks as well as to other parks south of this one. It is a fact that Bryce Canyon, along with the four other Utah parks, and Monument Valley, Canyon de Chelly, and the Grand Canyon in Arizona, are all part of a huge Canyonlands geological formation that covers some 300 miles, north to south, dotted with towering formations of rock that represent perhaps a billion years of earth's geologic history. The forces of water, wind, and heat have formed these wonders and left them for our astonished gaze.