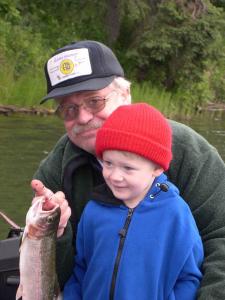 When I was growing up in Phoenix, AZ, I announced to my mother that I intended to be a life-long bachelor, and after gaining a PhD in English literature, I planned to settle into a teaching job in a small liberal arts college somewhere, wear jackets with patches on the sleeves, smoke a pipe, and give my life to scholarship and my students, a Mr. Chips reborn. That dream lasted until I met Diana Brown in college; she and I have been married now almost 50 years. As you can see, that bachelor thing went up in smoke, and, no, I do not smoke a pipe or anything else.
We had two children, a boy and girl. Both of them married, albeit rather later in their lives. Our daughter has a kind of epilepsy, well controlled by medicine fortunately, but she and her husband early on determined that it was too dangerous for her to have children. Our son, however, married the year after our daughter, and she and his wife had two daughters. Hence, I became not only a non-bachelor, but now a grandfather. When our son and his wife discovered that they were pregnant for the first time, he called and asked what Diana and I would prefer to be called by this child—after she had learned to talk of course. I quickly replied that anything was fine, save Mee-maw and Pee-paw, a grating southern habit that for me sounded appalling. That, of course, was exactly what my ornery son had decided we would be called. I protested that if a Pee-paw were directed at me out of the mouth of my first grandchild, no matter how cute she might be, I would immediately cut all of them out of our will, however puny such a will might be. Then what would you prefer, he asked? I said, "Dr. Holbert" will do nicely, only half kidding. So, when my two adorable granddaughters learned to talk, I was to them "doc." I find that quite acceptable.
Diana and I were able to be in attendance for both of these girls' births, the first in New York City (right after the terrible winter storm, Sandy!), and the second in LA. We came from Dallas to witness these lovely events. Then sometime in 2017, our son urged us to come and join their family in LA. They had found a place in Culver City and its excellent public schools that had on the property a good-sized front house of some 1700 square feet, as well as a large two-story back house with space on the upper floor for our son's music studio, and a downstairs garage that could be converted into a tiny house for Diana and me. He asked if we could help with the mortgage, which was quite large, and fund the conversion of the garage. After much thought we decided to make the move, leave our 40-year Dallas lives, sell 7/8 of our stuff, along with our house of 32 years, and come to LA.
While the garage was being converted, a far longer process than we ever imagined, and after we had moved in, our daughter-in-law filed for divorce from our son. Everything was immediately thrown into chaos. She and the grandchildren now live in the front house, our son lives in an apartment about 1 1⁄2 miles away, while Diana and I occupy our tiny house which we already have grown to love. Well, what sort of grandfather am I now? We have been in our place about four months, the divorce was filed some eight months ago, and our relationship to our daughter-in-law has obviously become strained. She wants little to do with any Holberts, though her daughters both bear that name, yet here we are living within 40 feet of one another. The situation is hardly what we imagined, but it is the situation we are now certainly in.
I love our grandchildren deeply. Both of them are fun to be with, though each is quite different from the other. Saoirse, the older, now 6, is rather quiet, quite contemplative, given to art and all things princess. Moxie, now 3 1/2 , is overt, quite loud, very physical, and though she follows her big sister in nearly all ways, even to the demands for princess stuff, she does all that quite flamboyantly. I admit that though she loves to wear those princess dresses, they certainly do look different on her than they do on Saoirse; Moxie is compact, while Saoirse is willowy. Who knows just how these sharp distinctions will play out as they grow, but I do know that we have two singular individuals on our hands, and it will be a wonderful pleasure to see them emerge over the next years. Both Diana and I are 72 years old, so we can hardly anticipate having unlimited days to interact with these two beings, but we are anxious to have as much time with them as we are allowed.
In light of the divorce, many things have changed and will change in ways we cannot calculate. Caroline, our son's nearly ex-wife, may move from the front house to another property that they own some distance away in the city. And if the two of them cannot come to an amicable distribution of their resources, Diana and I may be forced to move as well. All of that continues to weigh heavily on all of us. But what does it mean for grandfatherness?
The old cliché is that the best thing about being a grandfather is that you can play with them as much as you want, but then can give them back to their ultimate caregivers, the parents, when your limits have been reached. There is truth there, but in our situation, that taking and giving back is not so simple. After all, our son and his ex-wife have to work out some sort of joint custody of these children. So far, that has worked fairly well, though I can see the strain on all four of them as the children are shunted between Mommy's house and Daddy's apartment. On certain days, Mee-maw (yes, she got stuck!) and Doc get the girls, and we attempt to take full advantage of those times, as we read and color and go to the beach and eat food that kids love.
I know I have yet to answer my question: what does it mean to be a grandfather? It means, I think, to show these precious girls that Diana and I are a couple, that we love one another, that we work together to show them all the love we can, whenever we have the chance. We are forever a part of their family, and though their immediate family is now fractured, they are a huge part of our family and will always be. Our 72-year-old bodies can hardly do anymore what once they could, but we wrestle and tickle and laugh with all the energy we can muster, and we read and draw and tell stories as we are able. I love to read aloud, and fortunately, my grandchildren love to have me read to them; I am always ready, though certain of their books I have read so many times that I grow weary of the same words and pictures. But not them; they love those books and they love me reading them, so read them I surely do over and over again.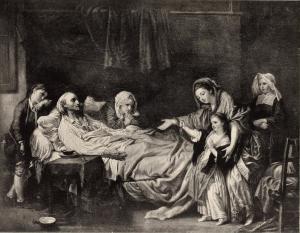 God has called me to be a grandfather to these two girls, and for that calling I am profoundly grateful. And because they are now caught between divided parents, that calling remains, no matter where they and I are living, no matter the distances between us. No matter how long I live, I will die as grandfather to Saiorse and Moxie, and I would have it no other way. How blessed I am to have a loving wife, two loving children, and two priceless grandchildren! My life is so full; I have left far behind my dream of bachelorhood, finding in this web of relationships, however torn, however scattered, multiple reasons to thank the living God for the richly complex life that God has given to me.
(Images from Wikimedia Commons)