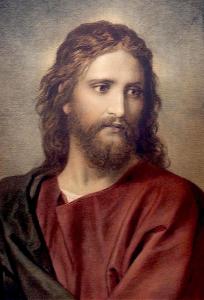 The story of Jesus according to Mark accelerates its pace, as Jesus and his first four followers head first to Capernaum and its synagogue where Jesus proceeds to teach. Presumably, his teaching consists of the summary Mark offered at 1:15 that it is no longer necessary to wait for the coming of God's rule in the world, since it has now drawn near, and as a result, all must now turn in a completely different direction and believe in the good news that is present, the good news made manifest in the teacher, Jesus. The teaching of Jesus, Mark announces, is given "as one having authority," unlike the teaching of the scribes. What this may mean is that the usual scribal teachers teach only what they have been taught, from the tradition they have learned, while this new teacher teaches on his own authority. This implies that the announcement of the good news of God's reign is something fresh, not merely a rehashing of older ideas. Mark here very quickly plants the seed of a growing conflict between Jesus and those who have religious power in 1st century Palestine.
Capernaum is located on the NW coast of the Sea of Galilee, a quite new city at the time, founded several decades before the coming of Jesus. The synagogue mentioned by Mark was built in the city soon after its founding and sits below the visible one on the site from the 4th-5th century CE. The discovery of that synagogue was a very recent one, excavated, along with Peter's house, toward the middle and end of the 20th century. Capernaum was clearly not far from the spot where Jesus had called his first disciples. All pilgrims to Israel now are inevitably taken to this site as one of the earliest spots of Jesus' ministry.
It is very important to note precisely how Mark describes the initial work of Jesus. His central point is that Jesus has come primarily to teach of God's rule in the world, while those who first encountered him were far too interested in the powers of healing that he displayed. Of course, ironically, Mark himself adds to this reality by focusing his narrative on three specific healings among numerous deeds of healing power demonstrated by Jesus. It is thus the miraculous actions that we remember, thanks to Mark's rich portrayals of them, and not the true heart of the new ministry as Mark understands it. This peculiar focus is made quite clear, if rather disguised, in the first healing that Jesus performs on a man in the synagogue, plagued with an "unclean spirit" (Mark 1:23-26).
The man comes up to Jesus, and "he cried out, 'What have you to do with us, Jesus of Nazareth? Have you come to destroy us? I know who you are, the Holy One of God'" (Mark 1:24). As we will hear later in the narrative (see Mark 5 especially), unclean spirits regularly present themselves in plural form, hence the plural uses in the sentence spoken. But the more significant factor of the speech is the obvious fact that these unclean spirits know precisely who Jesus is. Not only is he "Jesus of Nazareth," but even more he is "the Holy One of God," who, according to the spirits, has come specifically to destroy them. Mark here begins to reveal the answer to the question that all would-be followers of Jesus must first answer, namely just who he is. As we will see again and again, the unclean spirits know all too well what the disciples have a very difficult time ascertaining: Jesus is someone far beyond their limited means of understanding. They think they know (see Peter at Mark 8), but they are not able to grasp fully just who is the one who has called them. And this difficulty will be extended even to those of us who are reading the Gospel, as we will see at the Gospel's end.
Jesus' reply to the shouting of the spirits is a sharp command. "Be silent, and come out of him" (Mark 1:25)! And immediately the spirits, with a loud cry, do exactly that (Mark 1:26). In other words the unclean spirits, upon hearing the commands of Jesus, follow those commands without hesitation. This too will be a theme that will persist in Mark: the demons know Jesus and obey him. However, the humans in the Gospel have a hard time doing either thing; they know only in part at best and they rarely obey what Jesus commands them.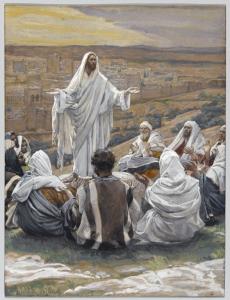 Even after this miraculous healing, Mark emphasizes what the healing basically means, as the witnesses in the synagogue exclaim, "What is this? A new teaching—with authority" (Mark 1:28)! The healing is characterized as teaching, not as miracle. But as a result of the healing Jesus's "fame began to spread throughout the surrounding region of Galilee" (Mark 1:28). It is quickly made clear that his fame is rather more a sign of his notoriety as healer, a notoriety that will soon make his teaching far more difficult. And Mark would have us remember that the first command to the unclean spirits was "be silent." "Don't tell anyone" will also be a theme for Mark's Jesus, that mysterious demand that scholars have long called the "Messianic Secret." Jesus is adamant that no one should blab out loud what has happened to them at the hands of the healer. Exactly why Mark tells his tale with that element will become clearer as we read on in his story.
Jesus soon moves to Peter's house, and quickly relieves Peter's mother of a fever (Mark 1:29-31). And now the problems caused by his growing fame become all too real, when "they brought to him all who were sick or possessed by demons. And the whole city was gathered around the door" (Mark 1:32-33). After a full night of healing, Jesus now gets up before first light, and heads for a "deserted place" for prayer. But his disciples, rather frantically searching for him, admonish him by saying "Everyone is looking for you" (Mark 1:37). It is clear by the way Mark constructs this scene that he portrays the disciples as taken in by the healing power and success of Jesus. The implication of their words is: "Why waste your time out here alone, Jesus? Everyone wants to experience and receive your healing touch. You have the power, man! Don't squander your growing fame! Get back to your healing!"
Jesus' reply is instructive and important for Mark's recital. "Let us go on to the neighboring towns, so that I may proclaim the message there also; for that is what I came out to do" (Mark 1:38). That response is pivotal for Mark's Gospel. It is the message of the rule of God that Jesus is thoroughly intent on presenting; the healing business is merely a sidelight, a dangerous distraction from the genuine work that Jesus has come to perform. Mark again would have us read 1:15, which will become for him the most important speech of Jesus in the entire story. And it is a very easy sentence to forget in the light of the deeds of power that Jesus continually accomplishes. So he leaves Capernaum, "and went throughout Galilee, proclaiming the message in their synagogues and casting out demons" (Mark 1:39). Note the order of those actions: proclaiming and then healing.
I would suggest that in certain modern expressions of Christianity, this crucial Markan distinction has been completely forgotten. The primary work of Jesus is to announce that God has come to rule in life, and that we are now called to turn our lives toward that rule and give up our desire to rule ourselves. We would much rather revere a Jesus of power, demand belief in his miraculous deeds, than change our lives to live under the authority of the rule of God. This Advent season a church not far from where I live presented its outdoor Nativity scene as a commentary on the recent American desire to make immigration into our country extremely difficult, if not impossible. One of the ways the current administration has tried to enforce its Draconian barriers to immigration is to separate families at the border and to demand that all would-be seekers after sanctuary wait in Mexico for long-postponed legal hearings. Hence, the Nativity scene presents Jesus, Mary, and Joseph separated in barbed wire cages, as a sign that they too were once seekers after sanctuary in a foreign country. This powerfully theological commentary on a very public social issue is that church's attempt to wake us up to the rule of God in our lives, made manifest in the coming of the Christ Child. It announces that Jesus is not only to be revered and adored; he is equally to be emulated and followed by those who care about him and about all those whom he and his God loves.
Mark's Gospel in his early portions warn us that Jesus has come to us not only for us to be in awe of who he is, but to hear his message of the reign of God in the world and to live and act according to that reign. How desperately we need Mark's story now in our world, where the reality of God's rule is so little heard, even, especially, among those who call themselves Christians! How important and exciting is Mark's Gospel story and how crucial is its power for us today!
(Images from Wikimedia Commons)