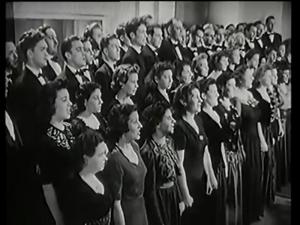 I have sung in choirs of one sort or another for about 65 years, beginning with my 3rd grade daily singing lessons with Mr. ten Harkel, an infinitely patient and talented man who drilled us aspirant choristers on tone, pitch, and a semblance of blend each morning at my local Phoenix public grade school. My, those were the days! Music every day in a public school! There is no doubt in my mind that those lessons set me on a course of choir participation that never flagged throughout my life. I entered High School in 1960, singing first in the boy's chorus, led by a gruff Welshman with massive arms and shoulders who urged his 40 or so boys, many of whose voices were just changing or some, like mine, that had not yet changed, into lifting his favorite choral tune, "Men of Harlech," a robust anthem to the warlike Welsh of long ago. You can only imagine what that quintessential male song sounded like, emanating from the throats of us would-be men. Our sound was perhaps reminiscent of the comment Rossini made upon hearing for the first time a tenor sing a high-C in full voice, a feat simply not done in those days— falsetto only, please! He said, "You sound like a dying chicken, just having had its head separated from its body!" It was falsetto only as long as the master composer was in the house. For us boys in 1960, it was the sound of would-be robustness, rather than full- throated battle cries.
The next year I entered the mixed chorus, conducted by a wonderfully talented and lively Mormon, Serge Huff. For my first two years in that choir, I sang what could only be described as a watery tenor, flutey and shrill, I imagine, and no more. Then, astonishingly, between my junior and senior years, unbeknownst to me completely, something happened to my voice. It grew much deeper and much darker and much, much bigger, though I remained barely 5 1⁄2 feet tall. I will never forget that first rehearsal of my senior year. I sat in my usual spot, and the choir began to sing. After a few minutes, everyone in the choir kept turning around to look in my direction, but I had not a clue just why that was happening. Was it something I said? Was I dressed funny? I was choir president that year, so maybe they wanted something from me, but I hardly knew what. After the rehearsal, Mr. Huff asked me to stay after a few moments, and he had me sing a few scales, while he accompanied me on the piano. "Well, John," he said, "Something has certainly happened to you over the summer!"
I became from that moment a soloist, singing all the major male solos for the choir, going to All-State choral competitions as a soloist, singing my first individual song, "The Hills of Home," a suitably sappy and romantic ditty that earned me a 1+ and a place in the state concert choir. All this had occurred without a shred of effort on my part; it just happened. Meanwhile, I sang the lead role in the big musical that year, Albert Peterson in "Bye, Bye, Birdie," a big deal in my 3000-student High School.
I entered college in 1964, and though I had no intention of majoring in music, English literature being my real passion, I of course sang in the chorus, directed by Don Jones, and had my share of solos as a rather dark tenor. I also sang in the Scarleteers, an 8-voice barbershop group, based at the college. During my sophomore year, I had to choose between the baseball team, which I loved, and the choir because the practices happened at the same afternoon time. I chose choir, figuring I could sing a lot longer than I could play baseball, a rational choice though a painful one.
In 1968, I went to seminary, and sang in the Seminary Singers, an all-male group in those days. The choir was led by Carlton "Sam" Young, the general editor of both the 1964 and 1989 United Methodist Hymnals, who remains to this day a good friend. Though I was not raised in the church, I found work as a singer in the Dallas area, primarily as the soloist at the Highland Park United Methodist Church from 1968-1973, getting the chance to sing many of the major works of the choral repertoire along with several staged performances of "Amahl and the Night Visitors," where I sang the silly tenor role of Caspar. As my voice deepened, I moved on to sing the baritone Melchoir, a far juicier role, in several locations around Texas and in Louisiana. (I have even much later sung the bass Balthasar in a non-staged performance in Dallas.)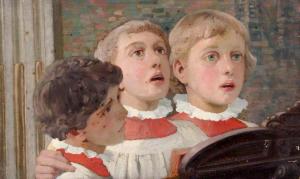 After finishing a PhD in 1975, I became a pastor of a church in Louisiana, again joined the choir, and sang solos for that choir and for the local choral society. I began my teaching career in Ft. Worth, sang in a local church choir and a professional choral group, while taking voice lessons from a faculty colleague at my college. Upon moving back to teach at the Dallas seminary, I joined a local church choir, and again had numerous opportunities to sing solos, from Handel to Bach to DuBois to Vaughn Williams. And as my wife was ordained to the ministry, I followed her to her various pastoral assignments, never missing the chance to sing in the choirs in her church, including being for a couple of years the only white member of a large choir in an all-black church she was serving, learning all of our music by ear, sheet music not being a part of their experience. It was different and exhilarating!
Until my retirement from full-time teaching in 2102, I sang in church choirs every year until that time, and after retirement continued to sing. Upon our move to Los Angeles in 2017, we chose the church we now attend primarily because it had a good choir, a fine organ, and a serious commitment to the kind of music I had always sung, namely classically based. We attend there still, though now, of course, only virtually, all choirs being banished by the pandemic. It appears to my utter horror that future choir singing may not occur for a very long time. Thus, my 65-year choir life has ended for a time, and given my advancing years, it may be true that my choir life has ended forever. I cannot begin to express how painful that last sentence was to write. "Never again to sing in a choir" is something I had hoped never to say, but so it may be.
It is of course quite true that my voice has become only a shell of its former self. In my current church the Christmas before last I attempted to sing a piece I had sung many times before, and to my shock my voice simply seized up, and I had to croak the song to the end, a wretchedly embarrassing event. Still, I love to sing, and not being able to do so now, due to the pandemic, is nothing less than wholly debilitating to my spirit. There is for me nothing that can replace the act of singing in a choir or, even more, as a soloist. I feel quite bereft because of this loss.
What to do? I can listen to fine choirs and soloists and do so regularly. I can sing quietly in the shower, as I have often done, but I used to do that as a beginning warm up for a solo event that day, so shower singing only reminds me of more pleasurable times. However, Psalm 96 enjoins us to "Sing to YHWH a new song; sing to YHWH all the earth! Sing to YHWH; bless God's name! Tell of God's salvation day after day!" What for me can this new song be? Now that I cannot sing, either due to COVID-19 or due to my failing voice, what may my new song be? Fortunately, my speaking voice remains largely intact, and thus I can still "tell of YHWH's salvation day after day," and have tried to do so whenever I can. YHWH's salvation, YHWH's search for unity and wholeness in our fractured world, still needs to be told in order that we may join God in that work. It may be that my singing days are over. I knew that day would come; it has merely been speeded up by the pandemic. But I plan to keep on telling of God's love and grace and unbreakable love as long as I am able, though I am afraid I can no longer sing it.
(Images from Wikimedia Commons)