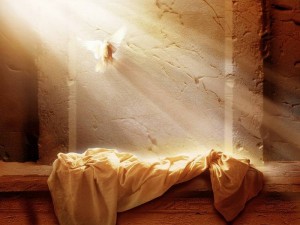 A number of years ago when I was still a young minister, a congregant told me the story of why she hated Easter.
"When I was a child, my house went into mourning and I could never understand why all the other kids were so happy, and sharing presents.
"My mother told us in graphic detail how Jesus was tortured to death, and then she would serve us lamb, after telling us Jesus was the Lamb of God. It was horrible."
When I asked for more information she explained that her family didn't attend church, and that her mother was a firm believer in the person of Jesus, but not in the resurrection.
Belief, as it turned out, was missing from her spiritual upbringing, and with it I could see went hope. Now as an adult, she was learning what it took to trust that there was something bigger than herself, and that there was a power for good that was present at all times and to all people.
Ernest Holmes had yet another take on who Jesus was. In his book The Hidden Power of the Bible he talked about how Adam typifies the material man with his false estimate of life, while Christ typifies the principle of holiness or wholeness.
He went on to say that every day we as humans "die" as Adam died, and continue to be resurrected as Christ was resurrected.
It takes a certain strength of character to go past the idea that we are "dying" every day – whether that means our cross to bear is an illness, a broken relationship, financial misfortune, or unfulfilling work conditions.  Each of these experiences provides us with opportunities to see past what appear to be transgressions and into the realm of possibility. It is through belief that we have the power to resurrect and change our experience.
In the final hours of Jesus's life – before he was said to have transcended to become 'the Christ', what we know is that he too became like Adam. He went to the Garden of Gethsemane, and basically asked God – his internal guiding light – to give this one a pass.
Think about that. What really happened there – and Holmes said this is the only time that it occurred – is that Jesus wavered. He lost his belief. Every time before that he declared what he wanted, and then it was done. Three times he wavered, asking that the cup be passed, before he came to the conclusion – thy will be done.
For my friend, it was only after her childhood passed that she learned of the resurrection – or as she put it: the other half of the story.
The resurrection then is a way for us to frame our ability to believe in that truest part of ourselves – our spiritual selves which never dies.
Who we truly are cannot be "crucified" to anyone or anything.
Our light is eternal. It guides us through our brightest days, and more importantly, in our darkest nights.
Our world may be a world of relative experience, but as we change our thinking – as Jesus did – we change our understanding of what the possibilities can be – for ourselves, and for the world around us.