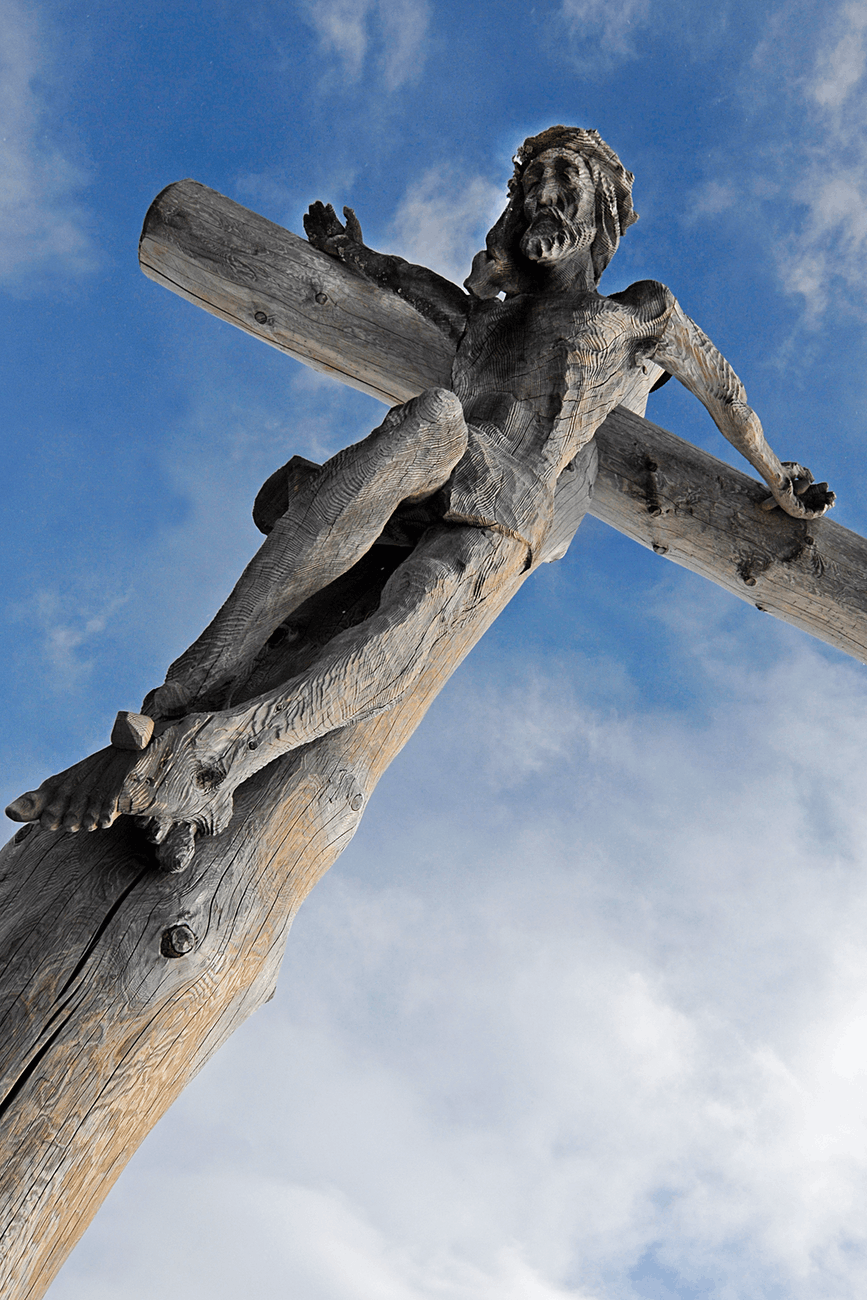 If you could summarize the gospel in one word, it would be LOVE. "I give you a new commandment: love one another. As I have loved you, so you also should love one another." (John 13:34) To love requires forgiveness when we are hurt by others. Jesus forgiving his executioners from the Cross is the ultimate example of mercy and forgiveness.
If you've ever been truly hurt or betrayed, you know how difficult it can be to forgive your offenders. Forgiveness often goes completely against our human nature, and sometimes requires a painful act of the will. As hard as it is, I believe it's the only way to freedom, peace, and happiness. When someone stabs us in the back, we can leave the knife in and continue to be angry and complain about it, or we can remove it and move on. The knife is like the hurtful action that was done to us. If we choose to leave it where it is, hold on to it, and wallow in the suffering, it will fester and lead to infection or worse. Often, we choose to cling to the pain and suffering because our pride tells us we should be angry and demand justice, so we leave the knife in and hold on to the unforgiveness.
The more difficult thing to do, but the thing that will lead to peace, is to remove the knife and clean the wound so it can heal. We remove it by giving up bitterness and anger and choosing forgiveness of our enemies. The wound is cleaned when we confess any wrongdoing on our part – anger, revenge, hatred – and decide to let go of the negative thoughts and feelings.
Forgiveness is an act of the will. We make a choice to move forward and put the past behind us. Jesus makes it very clear that we are to forgive repeatedly if necessary: "Then Peter approaching asked him, 'Lord, if my brother sins against me, how often must I forgive him? As many as seven times?' Jesus answered, 'I say to you, not seven times but seventy-seven times. '"(Matt.18:21-22) I think that the more we forgive, the easier it becomes.
Jesus stressed the importance of loving and forgiving one another throughout his ministry. The gospels are filled with examples of his love for others and his teachings on mercy. St. Paul also reminded the Ephesians to be merciful: [And] be kind to one another, compassionate, forgiving one another as God has forgiven you in Christ. (Eph. 4:32)
Getting past the hurt feelings doesn't often happen overnight, so we should be patient with ourselves if we find it difficult to forgive. I think the important thing is to continue to confess our faults when we harbor resentment or anger, and to rise each time we fall into sin. Just as the knife wound doesn't heal overnight but takes time, our hearts, when they are damaged and broken, sometimes take a long time to heal. While we are learning to forgive, we can always pray for those who have harmed us and avoid having unkind or uncharitable thoughts or actions towards them.
I was horrified back in 2002 when 14-year-old Elizabeth Smart was kidnapped, raped, abused, and held captive for nine months, and I followed the story throughout her ordeal. I wondered how she would be able to recover from that horrible event. Today she speaks about how her faith helped her through the trauma and, over time, to heal and begin to forgive. In 2018, she tweeted:
"A question I'm always asked when I speak is, "have you forgiven your captors?" Yes. But when I say yes, I don't mean I think their actions are acceptable. For example I will never be ok with rape, abuse, or kidnapping. But to me forgiveness is another word for self love, and perhaps the greatest form of self love. And I forgive my captors because I love myself enough to want happiness, joy, and freedom. And holding onto the negativity, pain, and suffering from my past doesn't allow me to embrace and live my life fully now. It didn't happen overnight, and my family and God we're absolutely instrumental in coming to this place. But I believe everyone should have a chance at happiness and I refuse to let mine pass me by."
Elizabeth's attitude toward her terrible ordeal is courageous and healthy. She forgives but doesn't excuse the actions of her torturers. She chooses to surrender the negative feelings so she can be free to live with joy and peace.
With all of the injustice, violence and division present today, our suffering world is desperately in need of Jesus' example of love and mercy from the Cross. We can be that example to others if we imitate him. Who do I need to forgive today, and what steps can I take toward fostering healing and forgiveness?