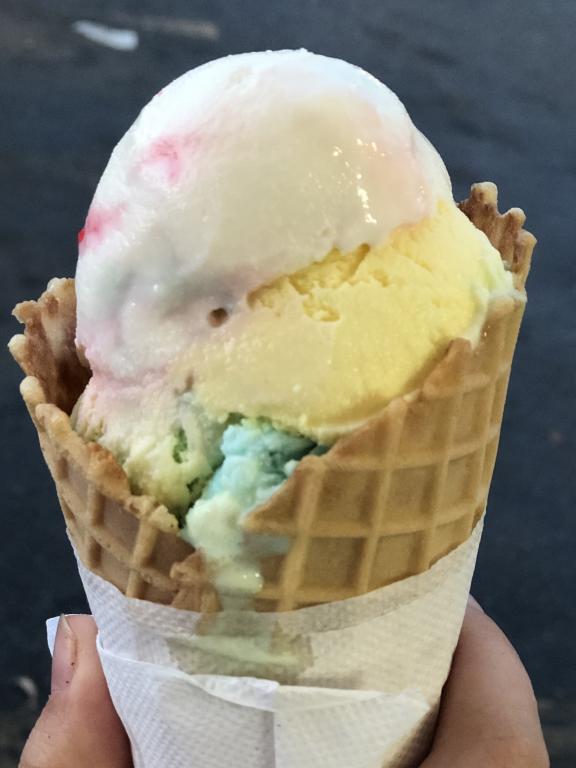 With the stress of school and standardized tests this week, our girls have been asking for an ice cream run, which we finally went on this evening. Their anticipation was rewarded with double scoops of S'mores and Peeps (yes, you heard right… 'tis the season!) ice cream from Cammie's Old Dutch tonight.
Think of a time when you were really looking forward to something – a vacation, a promotion, a party – and recall the excitement and anticipation you felt. It probably gave you hope and something to be eager and happy about, and made any difficulties you experienced during the waiting time seem, well… less difficult. Easter is like that. With the hope and joy of the glorious Easter season on the horizon, we continue our Lenten practices and penances, knowing that in less than three weeks we will enjoy the biggest celebration of the Church year. Like our girls trudging through the school week, waiting patiently on their ice cream, we continue to shoulder the burden of our Lenten practices and penances, as difficult as they can sometimes be.
Recalling Jesus' suffering during his Passion and death can help us to bear the sacrifice of Lent. We know, like Jesus did, that God wills us to take up our cross of Lenten penance, and our ordinary crosses, and that our patience will be rewarded on Easter Sunday as his was at the Resurrection. In addition to our Lenten sacrifices, we experience the ongoing trials and sufferings of life. Maybe we feel the sadness of pain, sickness, or rejection. Some of us feel the loneliness of having lost a loved one. Whatever our difficulties this Lent, we know that Jesus bore the suffering of the world before us, and that he carries a large share of our cross with us.
Sometimes I wonder and complain about the injustice, evil, and suffering in this world, like many do. Will we ever see justice? Where can we find hope in a world full of darkness and suffering? Pope Emeritus Benedict XVI, in one of his pre-papal writings, Seek That Which is Above: Meditations for the Year, answers that question:
"Christ is risen! There is justice for the world! There is complete justice for all, which is able retroactively to make good all past sufferings, and this is because God exists and he has the power to do it."
We can not expect to see complete and perfect equity or experience total happiness and satisfaction on this earth, but with God all things are possible, and we know in heaven all will be made whole and right. So we keep our eyes fixed on the coming celebration of Christ's Resurrection and continue on the journey. Easter, like our ice cream, is a sweet, satisfying reward after hard work; the perfect dessert to celebrate and be refreshed with after the long labor of the Lenten season. What are some things you are looking forward to about Easter?