Molded wax. A braided wick, most likely made of cotton or cotton and paper . A candle stick, a votive holder, an old wine bottle perhaps. A match or a lighter.
It doesn't take much to dispel the darkness. The light from just one candle, one single lumen, can make the unseen seen and the unsafe safer.
"How far that little candle throws his beams!

So shines a good deed in a weary world."

William Shakespeare – "The Merchant Of Venice"
Candle Magic might well be some of the first intentional magic I ever did. After all,  I've been blowing out candles and making wishes over birthday cakes for as long as I can remember.  Pick up any beginners books of spell craft and there will almost undoubtedly be a chapter on Candle Magic.
Preparing and lighting a magical candle is my preferred default spell work. I'm not a crafty witch by any stretch of the imagination. Put fabric and scissors and paper and paint in front of me and I'm likely to end up with paper cuts on every finger and bits of string glued onto my head. It is clearly evident that I don't put the crafts in witchcraft. But candle magic, I'm pretty good at.
I love candle magic and I know why. It's sympathetic magic at its absolute best. It's primal and fascinating. I can see the wax melting and the flame dancing. There's the heat that emanates and the oh so obvious visual cues that the candle is done burning. I'm able to do a quick spell with a small candle , like a tea light, or create an elaborate piece of magic by metering out how long a larger candle burns. I have two glass encased candles on my altar right now that I light  for a little bit each time I sit down to write.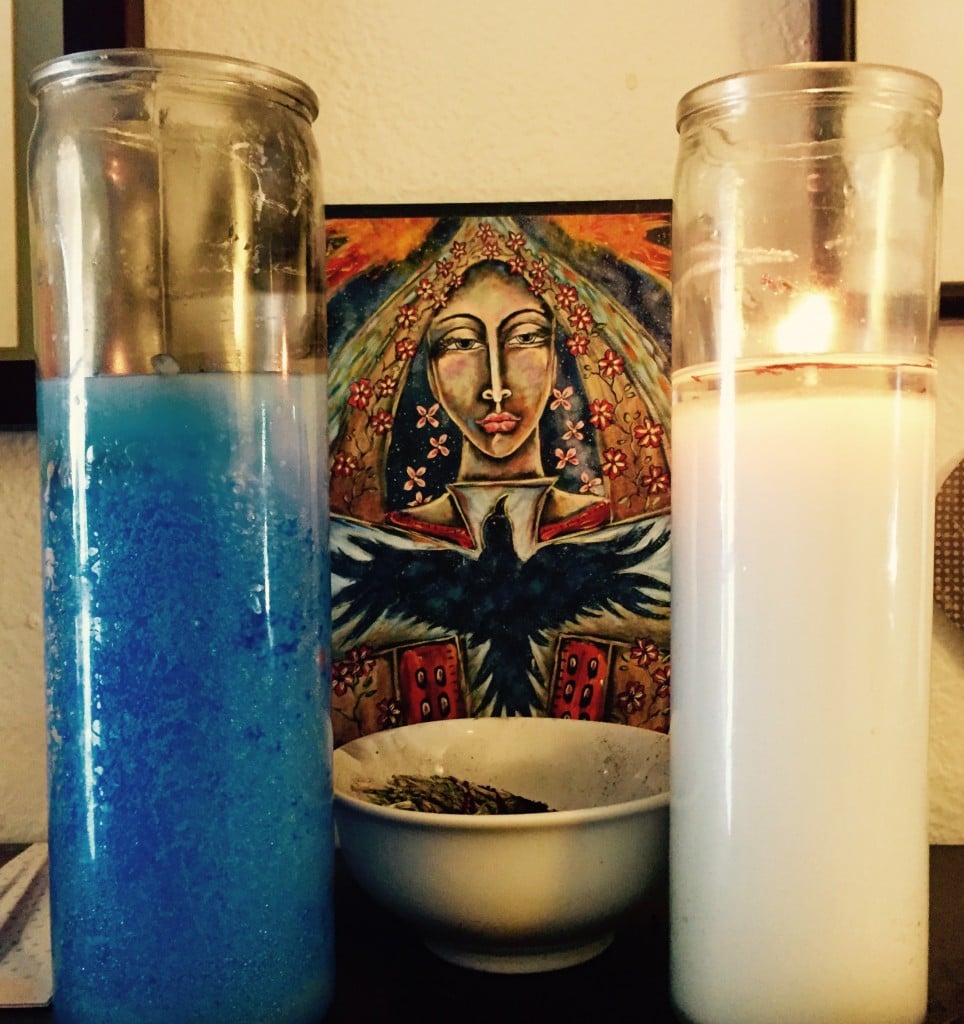 It's no secret that lately 
I've been struggling to find my way. 
 Lighting a candle illuminates the room. A path might present itself that I wouldn't have seen. The flickering shadows on the wall might create an image, like some ancient shadow puppeteers, telling a story just for me. I appreciate the places on non-light, the hidden. I dwell there often, but occasionally, even I crave some light and clear direction.
So without divulging my particular intention and spell work, here's what I took into account when I chose this candle to work with:
What do I want to illuminate at this time?
What colour candle most closely aligns with my intention?
What herbs and/or oils can I dress this candle with that align with my magical intention?
How long do I want this piece of magic to go on? A specific time? Let the candle burn right through? Work with it daily? From time to time?
What words or images do I want to adorn the outside of the glass candle holder with?
Do I want to inscribe anything on the candle itself? Like runes or sigils or numbers?
My spell is burning steadily on the altar. The work of it has begun and I can see that there's more for me to do to complete the magic I've begun or, if not complete it, at least nudge it in the right direction.
I'm seeking clarity and clear communication right now. Let this candle shine brightly for me.
You Can "Like" The Witches Next Door at our Facebook page