Samhain is the time of year for broken hearts. The opposite side of the wheel of the year being Beltane, the time for falling in love, but the depths of Samhain is all about heart break. This year, I am celebrating a broken hearted Samhain.
There is so much that I could point out about the world being broken right now. So much that I won't even bother writing it out. You already know.
Time to Mourn at Samhain
Samhain is when we witches mourn. In a world where we are not often given enough space for grief, Samhain creates that time. This is the time for wailing, keening, moaning. Now is the time to express that sadness that we are (and have been) feeling. Yes, part of Samhain is the honoring of our Beloved Dead. Taking a moment to celebrate and remember those that have passed, to remember our ancestors is the energy of this season. Remembering and honoring our Beloved Dead often comes with mourning, of course, but for a full broken hearted Samhain, we have to take it one step further.
I've found myself experiencing some deep grief this Samhain-tide. This grief is bigger than my Beloved Dead or my ancestors. This grief comes from my sadness for the world. My wailing is a cry for the doubts that I hold for humanity. The keening I want to express is for the fear I am holding for my descendants. I am moaning for a world in chaos and strife. My grief is heavy. It is much bigger than I am and that makes it really hard to manage.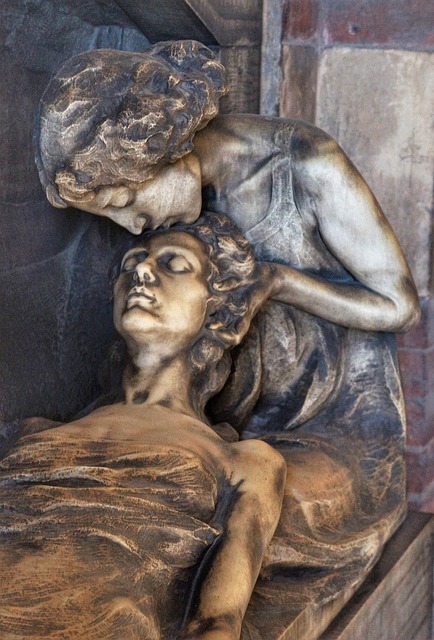 How to Honor the Grief
What I need this year for my broken hearted Samhain, is to be in community. I need to attend the public Samhain events and see other witches. I need to be in ritual with others who are honoring their Beloved Dead. II need to see that there are other witches and pagans in the world, in my local community, that are also feeling these same feelings. I need to hear wails of those around me. I need to hear the keens and moans of those folks who know the path that I walk and walk it along with me.
Whether you are honoring Samhain alone, with a coven, at a large public gathering, or with family, I would encourage you to make space for grief. Your grief, your loved ones grief, and the grief of the world. Set aside some time in your ritual for crying, sharing hurts, being witness in heartbreak. This may not be comfortable, but it is necessary.
Blessed Samhain.