It's no surprise to anyone that knows me that I love to cook. Equally, I like to eat. Preparing a meal and enjoying it with friends and beloveds is the best thing ever. This Samhain, I'll be making one of my favourites for our household Samhain feast. This recipe comes from England and reminds me of Sunday dinners with grandparents, great aunts and great uncles. Liberally sip cups of tea and/or glasses of sherry as you make this dish for an authentic feel.
Samhain Feast Meat Pie
There's nothing particularity Samhain-y about this recipe. I'll cook it pretty much anytime I get a hankering for a pie but it does remind me of my great uncle Tom Mole, whom I loved dearly. I make the crust myself but store bought works in a pinch. I like beef pies, but lamb is a good substitute. You can even replace all of the animal protein with even more mushrooms or soy products.
Ingredients:
1 pound of stewing meat
1 pound of mushrooms (I like crimini and shitake but any will do)
1/2 pound of cheese ( I like Gouda but English Cheddar was probably used by my great aunt)
1 carrot
1 leek (I prefer leeks. It's what auntie Mole would have used but you can use one medium onion instead)
2 stalks of celery
2 red bliss potatoes
1 bottle of brown ale (or stout)
A couple of sage leaves
A handful of savory
1 Egg for an egg wash
Salt and pepper to taste
A little flour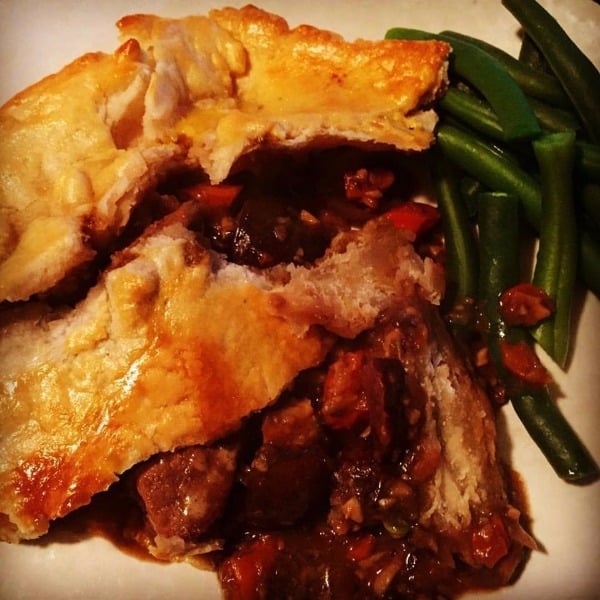 How to make it:
Coat the meat in a light dusting of flour and brown on all sides in a little oil over medium heat. We're talking maybe 5-7 minutes here. I do this in the same dutch oven I'm going to cook everything in. Remove the meat a set aside.
Chopped the leek or onion, carrot and celery. Toss them into a large oven proof dish. I use the cast iron dutch oven with the juicy meaty bits still at the bottom. Let them start to sweat down a bit. Stir occasionally. Keep on medium heat. we're talking about 10 minutes max for this.
Chop three quarters of the mushrooms into small pieces. Leave the remaining quarter in bigger chunks. If you are omitting the meat altogether, use more mushrooms and leave more of them chunky. Add these to the onions, celery and carrot mixture. Stir around a bit, mixing everything up.
Chop the potatoes into cubes. My aunt would sometimes use turnips here instead of potatoes. Toss them on in and stir.
Throw in the sage and savory. I just sort of rough chop or rip these up.
Add a level teaspoon of salt and another of pepper or add them to your taste
Here's my favourite ingredient. Add one bottle of brown ale, minus one gulp (that's for the cook!). Some folk use stout but my aunt always used the best brown ale she could find.
The ale should just about cover the ingredients. If it doesn't, just use a little beef stock or water. I usually don't need to add any more liquid, but you might.
Cover the pot and let this bubble away for about 90 minutes.
If you are making your own pie crust, here's the time to do it. Here's a simple enough recipe I like to use, although, truth be told, I kinda just do it my sight and feel these days. If you are using store bought pie crusts, take them out when the stew mix is about 10 minutes from being done.
Here's the bit I always forget. Add the cubed cheese into the stew just before you ladle it into the pie pan. Just let it melt of it's own accord. No need to stir.
Ladle the oh so very delicious, dark brown, steamy hot meat, cheese and veg concoction into the pie dish of your choice, lined with the bottom crust. Add the dough topper. Crimp the edges of the top and bottom crust together with a fork so nothing leaks out. Crack the egg into a small bowl and paint the top crust liberally with the egg. This will help it turn a lovely golden brown.
Pop this in an oven until golden brown (about 20 minutes) if you have your oven set at 450.
Then make yourself a proper cuppa tea in a proper teapot. By the time you're done with your tea, it'll be time to eat your Samhain pie!
It's my great delight to think that my great uncle Tom and my great aunt Maude Mole will be smiling from somewhere as you nosh on this tasty pie for your Samhain feast.
Happy Samhain.